A list of movies and video games available to patients at one of New Zealand's most high-profile forensic mental health facilities has been released amid concerns the residents are watching violent and inappropriate titles.
In March a video posted by the Waitemata DHB revealed patients at the Mason Clinic were given birthday cakes, special Easter treats and movie nights complete with soft drink and snacks including popcorn and chocolate bars.
In the video was a still photo from a movie night showing the snack table.
Behind the table were a series of promotional posters for movies - including the horror title Get Out, which has been described as "pretty gory" and "surprisingly filled with stunning violent sequences".
The Herald was contacted by a number of people including victim advocates who who were concerned about what movies were available to the patients.
The brother of a man bludgeoned to death in his home an offender who was later found not guilty of murder on the grounds of insanity was appalled at the thought of the killer watching violent movies.
"These patients are psychotic, paranoid, have auditory and visual hallucinations," the brother said.
"Allowing these individuals to view movies like these is irresponsible and dangerous, both to the community and the patients."
However the DHB said the movie posters were not indicative of what was shown to patients - they were simply there to "create a sense of being at the movies".

DHB specialist mental health and addiction services general manager Pam Lightbrown said all movies and video games shown to Mason Clinic patients had been "clinically reviewed and approved".
She supplied the Herald with a copy of the DHB's censorship policy which governs access to "objectionable" material for patients.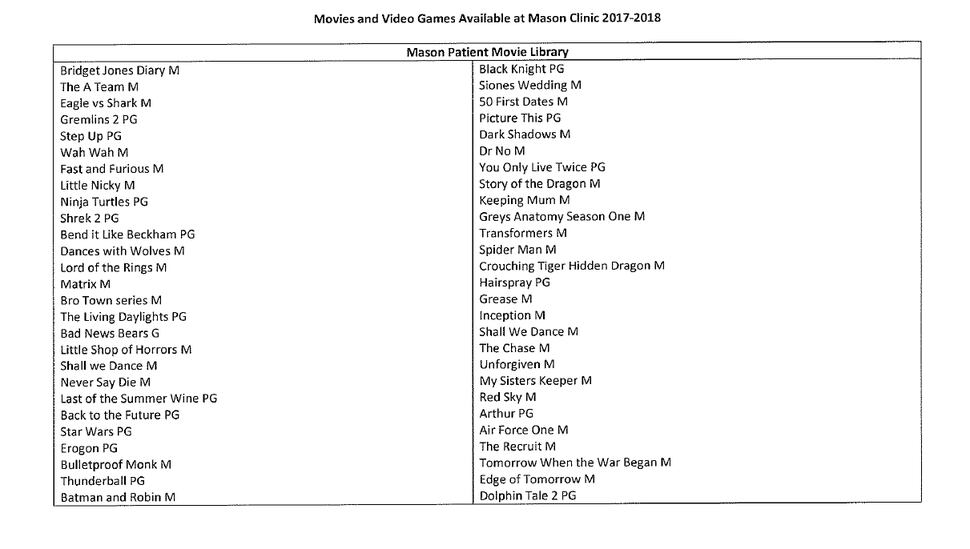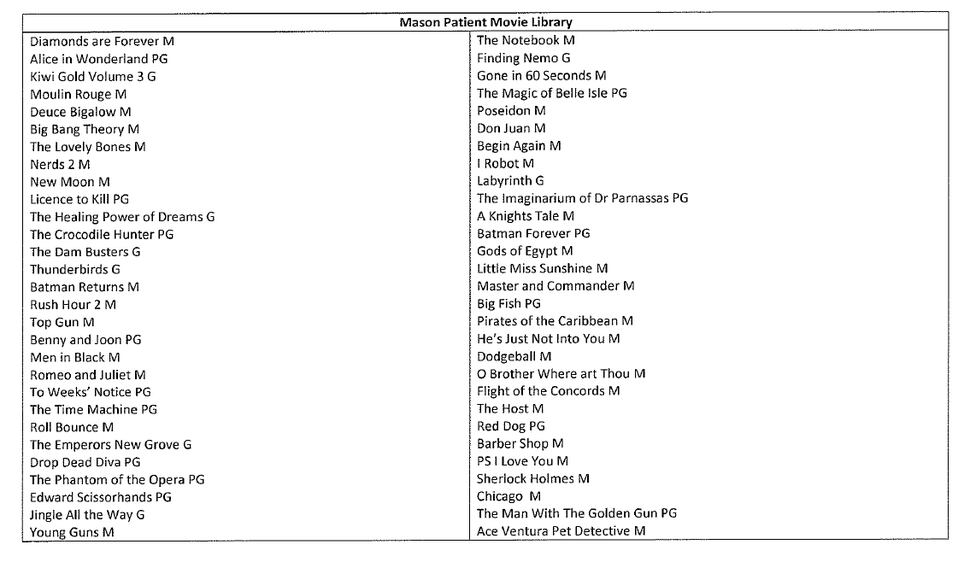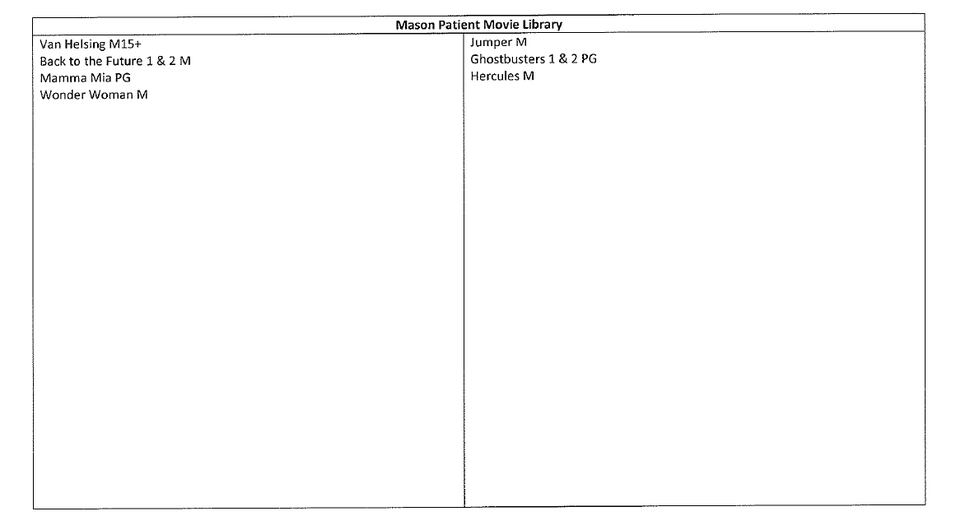 In the policy, objectionable material is categorised as anything that "describes, depicts, expresses or otherwise deals with matters such as sex, horror, crime, cruelty or violence in such a manner that the availability of the content is likely to be injurious to the public good".
Content is strictly limited and patients can effectively view only movies or games that have a G, PG or M rating.
"R rated material is not permitted in any area of the inpatient services," the policy states.
Patients deemed "acutely unwell" were not allowed to access any games or movies and late-night television - often more risqué and adult-themed - was controlled by a curfew, meaning early bedtimes to "prevent exposure to late-night television".
"Regular checks are carried out of privately owned material in the patients' possession," Lightbrown said.
"When any material is found that breaches the censorship policy, this is immediately confiscated."
Often those breaches were by minimum secure patients who spent time outside the clinic as part of their community reintegration.
"The DHB is currently in the process of reviewing operational procedures to ensure the content patients are able to access at Mason Clinic continues to be appropriate," said LIghtbrown.
There are more than 180 movies patients can choose from at the Mason Clinic library.
Many are family movies - including Frozen, Ice Age, Chicken Little, Finding Nemo, Pink Panther, Matilda and Mr Bean.
There are also romantic comedies like Love Actually, Bridget Jones' Diary, The Notebook, Romeo and Juliet and PS I Love You; action movies such as The Matrix, Batman Forever, Spiderman and a number of James Bond titles; musicals including Chicago, Hairspray, Grease and Mamma Mia and old classics like Labyrinth, Back to the Future, Edward Scissorhands and Ghostbusters.
The list of video games is much shorter, with just 48 titles available.
They include kids, sport, fantasy, racing and martial arts fighting games.