The massive tomo that opened after last month's deluge and revealed the ancient volcano beneath will grow even bigger, a GNS scientist says.
Bradley Scott, GNS volcanic information specialist, said what is not visible in photos, are the large cracks hidden by grass that are three metres back from the edge of the tomo.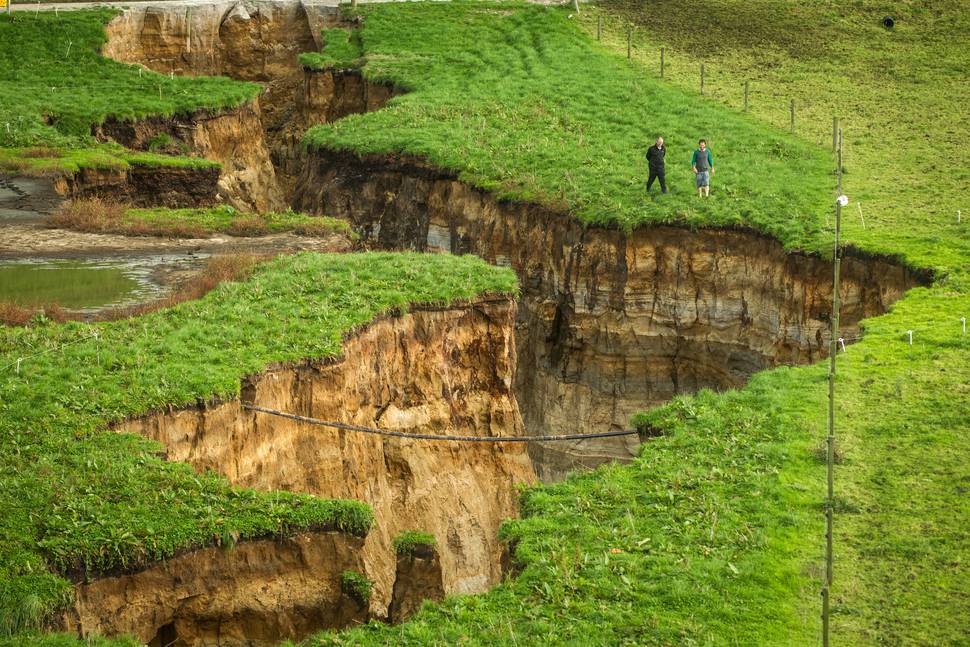 He said there would be further collapse events as part of the erosion process.
"Given enough time, the tomo will make its way to the hill in the background of the photos. This could take decades."
Scott said the area is known as Earthquake Flat and while many people believe the tomo may have eventuated because of earlier quakes, that isn't the case.
Earthquake Flat, he writes in a report prepared for the GNS website, is a unique area about 15km southeast of Rotorua.
"It is the summit crater of a volcano that erupted about 60,000 years ago, flinging 50 cubic kilometres of pumice across the surrounding countryside," Scott said.
"This has created a basin of internal drainage, which means that there no streams flowing out of the crater – all the rain that falls in the crater must slowly drain out through the pumice soils in the basin floor.
"The Earthquake Flat crater is also criss-crossed with faults of the Taupo Fault Belt, and it is these faults that provide a convenient path for water to seep into, eroding away the soil as it goes. Last weekend's downpour – almost 170mm of rain in 38 hours – created the perfect storm for a collapse hole to form.
"In 1967, part of State Highway 5 about 1km east of this latest tomo collapsed under similar circumstances, again along one of the faults in Earthquake Flat crater.
"And a smaller collapse hole opened up in June, 2016, near Wilson Rd in what is known as Rifle Range Crater, another basin of internal drainage just to the north of Earthquake Flat crater."
Scott said the enormous tomo on Tumunui South Farm is close to 200 metres long, up to 20m wide and almost 20m deep, and had allowed scientists a glimpse back in time at what had happened in the area.
Referring to a photo of the sinkhole, Scott said the bottom visible layer formed about 60,000 years ago when the volcano erupted.
"On top of that we have a disturbed layer, then there are layers of lake sediment when lakes have ponded in the crater.
"The sediments layers are punctuated by layers of ash and pumice from relatively short but violent eruptions."
One of the layers is ash from the 1886 Mount Tarawera eruption.
Scott said more scientific work would be carried out at the site.

Tumuni trustee Craig Kusabs said the tomo would be fenced and planted.