Thrillseekers young and old have been out enjoying the Royal Easter Show and there's more sunshine to come this long weekend after today's cloudy skies clear.
Plenty of Aucklanders who hadn't left the city for the holiday weekend headed instead to the ASB showgrounds in Greenlane to enjoy the fairground rides and inflatable slides. The show runs until Monday and Aucklanders can expect mostly fine days over the weekend marred only by a few showers this afternoon.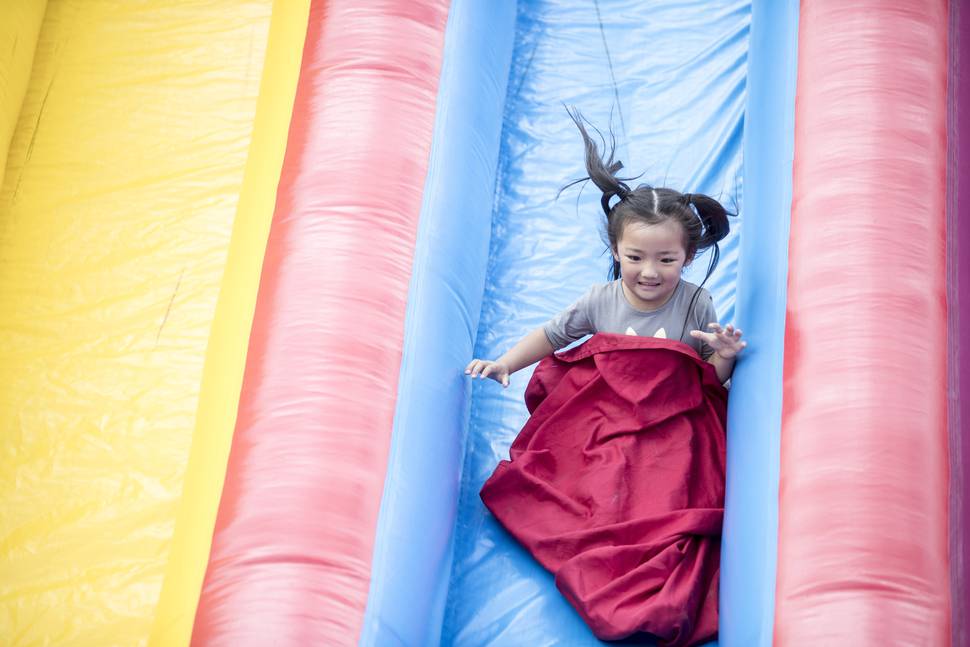 That's good news too for children eager to find some Easter eggs tomorrow. But parents may need to stock up today as most supermarkets will be closed tomorrow. Some dairies, takeaway bars and pharmacies will remain open.
A cold front moving up the country today will hit the South Island first, bringing showers and wind with it, but will clear in time for Easter Sunday.
Metservice meteorologist Claire Flynn said the North Island weather wasn't looking too bad.
"There'll be a bit of cloud around and light showers around the top of Northland, but that front isn't really reaching the North Island until later in the day."
It's looking relatively fine for both the North and South Island Sunday to Monday - sunny enough for Easter egg hunts to take place in the garden.
A high moves over the country early tomorrow which will cause weather in most areas to settle down.
Flynn said Auckland and holiday hotspots in Northland, Coromandel and Gisborne could expect a few showers early in the morning but it would become fine.
"The South Island is also looking mostly fine. We could see some rain in Fiordland at the end of the day."
There could be an odd shower across the country on Monday, but nothing that was much concern to drivers, she added.
Police are urging motorists heading back to main centres tomorrow and Monday to stay cool on the roads.
Assistant commissioner for road policing Sandra Venables said people needed to remember road safety was everyone's responsibility.
"Last Easter, poor driver behaviour and speed were the main contributing factors of crashes. The most common factors were people not driving to the conditions, driving under the influence of alcohol, or being distracted.
"We want all road users to take care of themselves and their passengers."
Venables warned drivers were highly likely to be ticketed if they were caught on speed camera more than 4km over the posted speed limit during the holiday period – from 4pm March 29 to 6am April 3.
NZ Transport Agency director safety and environment Harry Wilson said it was important to plan ahead and be patient if people got caught up in traffic as there would be more people on the roads over the holiday weekend.
"We don't want to see people getting impatient and taking unnecessary risks such as dangerous overtaking manoeuvres or following too closely."
Wilson encouraged travellers heading home to use NZTA's real-time travel information, take regular breaks and share the driving where possible.
Traffic heading north to Auckland on State Highway 1 is predicted to be heaviest tomorrow from 3pm-7.30pm, on Monday from 12pm-7pm and Tuesday from 6am-6.30pm. Southbound will likely be free flowing after midday on Sunday.
Southbound traffic on SH1 from Whangarei is expected to be heaviest southbound on Monday from 10.30am-2.30pm and Tuesday from 6.30am-4pm.
Traffic heading north on SH1 from Hamilton will be busiest on Monday from 11.30am-7pm, and southbound travellers should avoid leaving on Sunday from 11am-1pm.
Traffic could be busy northbound tomorrow on SH2 between Wellington and Featherston from 10.30am-12.30pm, and southbound traffic on Monday is looking heaviest from 10.30am-5.30pm.
ACC chief customer officer Mike Tully said safety messages applied to motorbike riders too, who were more vulnerable than vehicles.
"We've had lots of riders out enjoying the fantastic weather over summer, but sadly 19 riders and two pillions have lost their lives so far this year. "
The holiday road toll stood at two as of last night.
One person died and three people were trapped in a crash between a car and a truck north of Waiouru yesterday.
Police were called to the scene, between Waipakihi Rd and Rangipo Intake Rd, at 3.27pm, and the Desert Rd was closed and diversions put in place for several hours while firefighters freed those trapped in the wreckage.
The incident followed another fatal crash in the Bay of Plenty yesterday morning, where one person died.
Emergency services were called to Tirohanga, between Pokuru and Tirohanga Roads, at 10.52am.

Today's weather
• Bay of Islands: Cloudy with chance of a morning and evening shower. High 25C.
• Whangarei: Cloudy, with chance of a morning and evening shower. High 25C.
•Auckland: Cloud increasing with showers from the afternoon. 24C.
• Coromandel: Fine spells with chance of an evening shower. 25C.
•Hamilton: Cloud increasing with showers in the evening. 23C.
•Tauranga: Cloud clearing. 24C.
•Wellington: Cloud developing with evening showers. 20C.
•Christchurch: Fine with showers in the afternoon. 25C.
•Dunedin: Showers developing, chance of heavy rain. 19C.