Weather forecasters believe Tropical Cyclone Hola is "likely" to strike New Zealand on Monday and Tuesday - the third major storm already this year.
What is the current situation?
Tropical Cyclone Hola is at Category 4 strength - the second-highest category, currently positioned between Vanuatu and New Caledonia.
In its latest forecast at 3.15am (NZ time) the Fiji Meteorological Service said Hola featured winds near the centre of nearly 170km/h.
Hola is still intensifying but the latest forecast track no longer showed it increasing to Category 5 strength.
MetService tropical cyclone forecaster Matthew Ford said Hola had passed over Vanuatu and would track to the east of New Caledonia's main island today.
However a few smaller islands would be in its path as the system was at Category 4 or 3 strength.
Hola was expected to start curving toward the southeast over the next couple of days in the general direction of New Zealand.
Where and when will it hit New Zealand?
"It is looking pretty likely it will pass by to the northeast of the North Island from mid-Monday into Tuesday. Just how offshore it will be, or if it comes overland, is tricky to predict," Ford said.
"If it tracks offshore it will have a very different impact to if it moved overland."
Either way, areas including Northland, Auckland, Coromandel, Bay of Plenty and Gisborne/East Cape were the most likely to feel the brunt of the storm.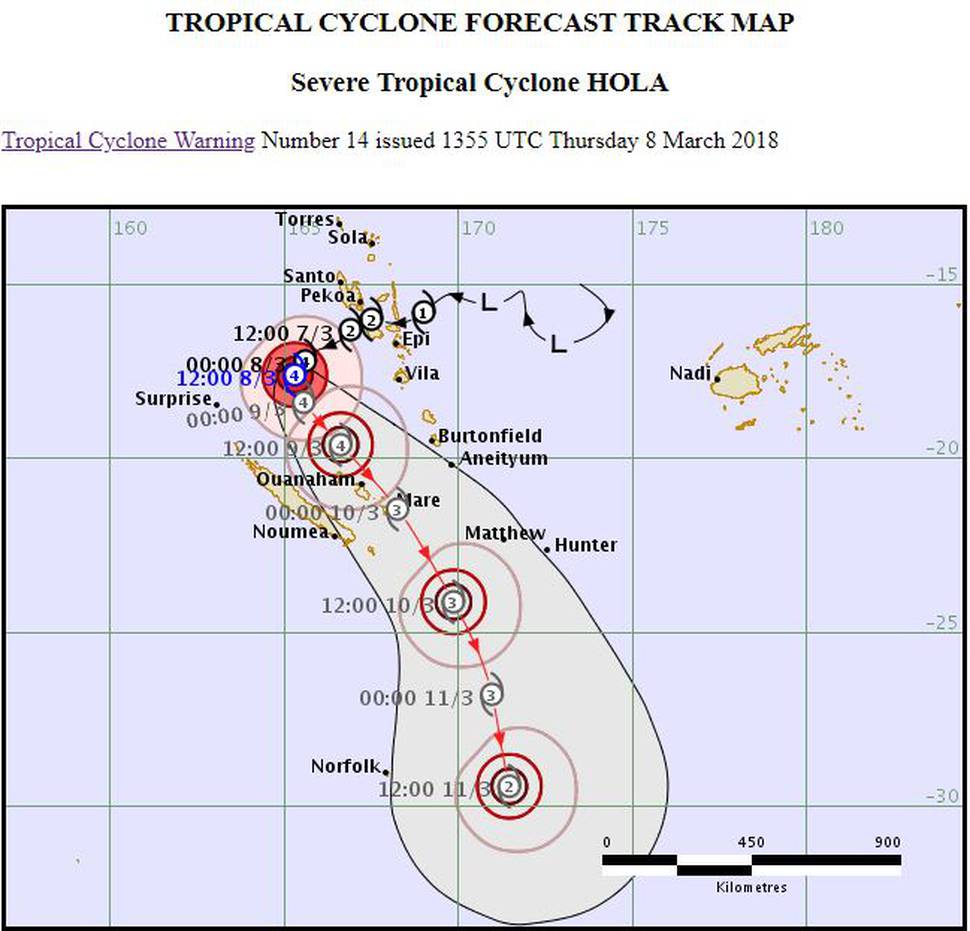 However, predicting a cyclone's exact path was notoriously difficult, Ford said.
"When we are coming up with a long range forecast for a cyclone we take a range of opinions and come up with a consensus. It is very difficult to come up with the precise details."
How strong will it be?
• Hola is currently Category 4, with winds of almost 170km/h and gusts of 230km/h.
• As it moves out of the tropics into the cooler waters above New Zealand Hola is likely to be re-classified as a "deep low", Ford said.
• This would still be a powerful storm though, bringing high winds, heavy rain and large waves.
• To get down to New Zealand, cyclones have to make their way over much colder waters, while hitting strong upper level winds as they move out of the tropics.
• By the time they arrive, they are almost always re-classified as "ex-tropical" cyclones.
• That didn't mean they'd weakened or been downgraded, but had morphed into a completely different type of weather event.
• In the tropics, the strongest winds and most intense rain associated with a tropical cyclone usually occurred just outside the "eye", or cyclone centre.
• But after it had been transformed in what's call an "extra-tropical transition", the systems lost their symmetric cloud patterns.
• The strongest winds and heaviest rain could then be found hundreds of kilometres from the cyclone's centre - usually in a large area south of the centre.
• In 1988's catastrophic Cyclone Bola, for example, the heaviest rain and strongest winds over New Zealand occurred well away from the centre.
What should Kiwis be doing to prepare?
"People in the North Island need to stay up-to-date with the weather forecast," Ford said.
While cyclones can quickly change, it was only three days away and it was looking increasingly likely to strike the North Island.
Why have there been so many cyclones this year?
Each year, over the November-to-April season, about 10 tropical cyclones form in the Southwest Pacific basin.
Only a few of those ever reach category 4 strength, where mean wind speeds are more than 159 km/h, or higher.
Vanuatu and New Caledonia typically experience the greatest activity, with an average of two or three named cyclones passing close to land each year.
This season, it had been forecast New Caledonia, Fiji, Vanuatu and Tonga, could see two or more, while three or four severe cyclones of category 3 or higher were expected anywhere across the region.
At least one comes within 550km of New Zealand each year, usually around February and March.