An Auckland Westpac Rescue Helicopter crewman jumped in to look after a 6-month old baby and accompany her injured mother to hospital after a serious car crash.
The baby girl was the youngest injured in a head-on crash on the Kaipara Coast Highway, northwest of Auckland, on Friday. It was one of many crashes that have injured or killed dozens over the holiday period.
A woman in her 40s had serious injuries and two others were moderately injured in the crash.
The woman's baby had minor injuries and was checked at North Shore Hospital.
About three people were thought to be in the other car. Two suffered moderate injuries.
Helicopter chief crewman Mark Cannell said looking after the baby and accompanying her to the hospital seemed like the right thing to do.
"There was another passenger in that vehicle that came separately to the hospital but it was important to enable the little one to stay with mum," he said.
"[She] was quite well behaved for a 6-month-old. She fell asleep in the helicopter, but unfortunately was woken up when mum went into ventilation."
Cannell described her as a "beautiful little girl".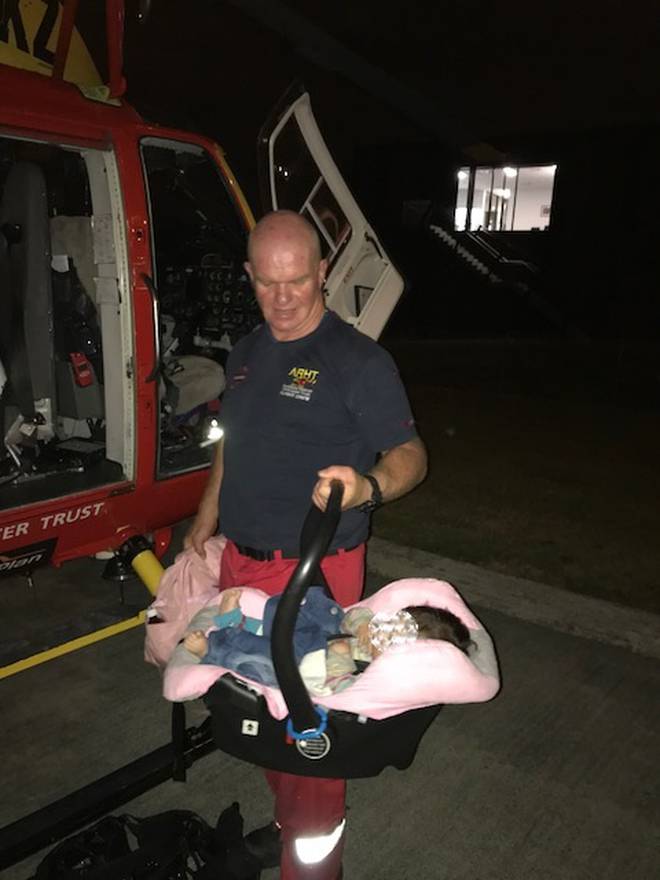 He said the impact of the crash seemed substantial and it looked as though it could have caused "a great deal more damage" than it did.
He added that the passengers involved could consider themselves lucky that their injuries weren't more serious.
The pair were among dozens who have been injured or killed on our roads during the holiday period to date.
The summer holiday road toll stood at seven today, but many others have been injured - some seriously - in crashes up and down the country.
Six people were taken to hospital after a crash in Hoodwood Heights, South Auckland about 6pm yesterday.
A St John spokeswoman said the patients were transported to Middlemore Hospital. Three patients were in a serious condition, two had moderate injuries and one had minor injuries.
A hospital spokeswoman said all six patients were in a stable condition on Wednesday afternoon.
A man is in a serious but stable condition in hospital this morning after the car he was driving crashed into a tree near Te Puke overnight.
The 33-year-old had been travelling along the Te Puke Highway when the crash happened about 8.50pm, between Rangiuru Rd and Kenana Rd.
And six people were rushed to hospital with a range of injuries after two cars collided at the intersection of Orari Station Rd and State Highway 1 in South Canterbury yesterday.
Two of the six were taken to Christchurch Hospital with serious injuries. The other four were taken to Timaru Hospital with moderate injuries.
The crash happened at the intersection of Orari Station Rd and State Highway 1 about 11.30am.
Several hours later one person was seriously injured and four people suffered minor injuries after a two-car crash in the Lindis Pass near Omarama.
A teenager was rushed to Middlemore Hospital in a critical condition yesterday after he fell off the back of a moving ute.
And the male drivers of the two cars involved, died at the scene of a head-on smash on State Highway in South Canterbury yesterday.
The fatal crash happened around 8.30am.
The other fatal crashes this holiday period were:
Two men died in a head-on crash in Canterbury yesterday.
Rotorua woman Jie Hu died in a crash on State Highway 5 at Hamurana on Sunday night. Three others were injured.
Waipukurau man Harry Nepe-Apatu died in a crash on Pourere Rd in Central Hawke's Bay on Sunday morning.
Boney Biju died on his way home from his 21st birthday party after his car left the road and hit a tree near Hanmer Springs on Christmas Eve.
Fijian national Lalita Devi was a passenger in a car that crashed on SH14 at Maungatapere on Saturday.
On Friday, taxi driver Abdul Raheem Fahad Syed, 29, died in central Auckland after his car was hit by another.
This year's holiday period started at 4pm on Friday and ends at 6am on January 4.
Last year, 19 people lost their lives on New Zealand roads over the Christmas and New Year period. The youngest victim was 2-years-old.