Arnika and Steivan Juvalta have a dream Taranaki lifestyle - and they owe much of it to a certain artist named Banksy.
Without a stunt that put them in possession of two of the UK cultural icon's paintings - scored for less than $100 each and later sold for a small fortune - life might have been different for the couple and 9-month-old Aurelia.
Arnika has shared her amazing tale ahead of a touring exhibition of the enigmatic painter, graffiti artist and social activist's work in Auckland early next year.
It began one morning five years ago, when the couple were spending a final day in their one-time home of New York City ahead of separate flights away.
Arnika spotted something out of place in a market she'd often walked past near Central Park's Fifth Avenue entrance.
One stall was selling around 20 Banksy paintings at bizarre knock-down prices.
Celebrated for their subversive, cleverly satirical statements, Banksys are highly sought after: Brad Pitt and Angelina Jolie are among his best-known collectors.
When they do sell, they can fetch hundreds of thousands of dollars.
The paintings Arnika eyed were going for just US$60 ($88) a pop.
She overheard one passerby tell friends that, while Banksy was in the city at the time, the pieces were fakes.
But Arnika, aware of how much it cost to have a stall in that part of the park, wasn't so dismissive.
"I thought, you know, it could be artificial, but anyway, I'll walk around the front and have a chat with the fellow at the stall, and I said him, 'are these real?', and he just looked at me square in the eyes and said, 'yup'."
There were other intriguing clues to back up his blunt assurance.
The paintings were marked with special serial numbers and signatures.
"So I said, okay, all right, it could still be a hoax ... and then he said to me, 'there's a girl filming you there, and there's a plain clothes security guard leaning on the fence there...' and that was that."
She raced off to grab what little spending money she'd left herself for the trip home to New Zealand, which was enough to buy two: Pooh Bear Trap and Kids on Guns.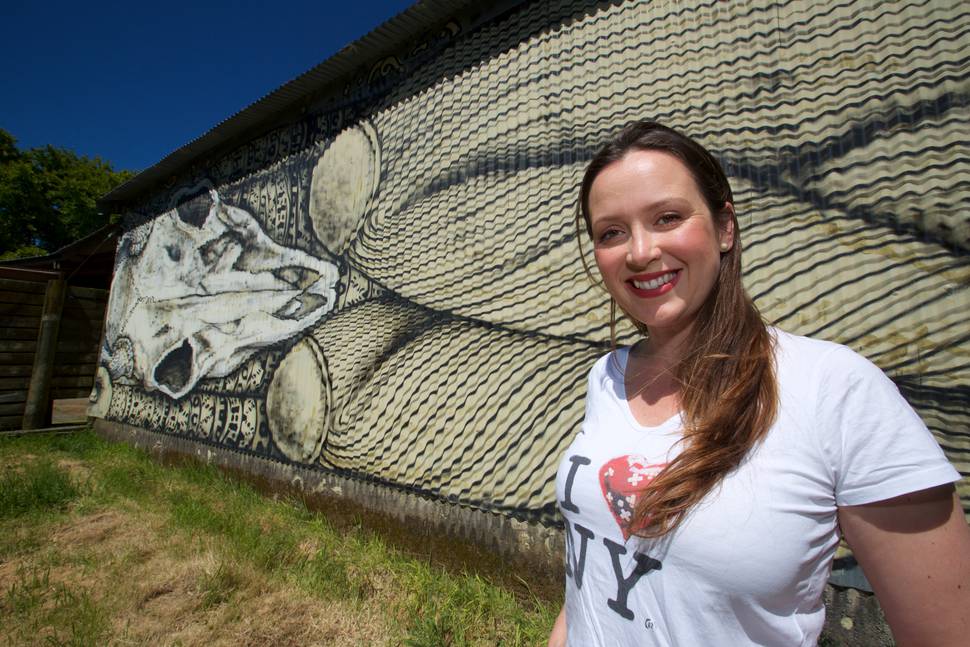 They sat in her bare Manhattan apartment that night, as she kept waking to search her phone for ways to validate them.
The next day, a video on Banksy's official website showed her at the stall, along with a lucky man who she'd talked into buying four pieces, and another woman who snapped up two.
Less than half of the works sold - making just $400 - but the stall was long gone by the time fans were alerted to it.
Arnika bundled up her prizes in brown paper and bubble wrap, and kept them with her on the plane.
"I jammed them down between the chair and the side of the plane ... I was so nervous, I didn't even want to get up and go to the toilet."
Owning two Banksy originals wouldn't be simple.
The couple had no idea where to store them and insurers wouldn't cover them without serious security upgrades to their Taranaki farmhouse.
They loaned them to Kiwi Banksy collector George Shaw for a street art exhibition before finally deciding to part with them.
At auction in London, the works fetched £100,000 ($194,000) - nearly 1100 times what Arnika paid, and enough to cover half the purchase price of an idyllic lifestyle block, high on the grassy outskirts of New Plymouth.
She had no regrets.
"To us, this little slice of New Zealand really is far more valuable than two Banksys - and I'll always have the story."
She also planned to visit the month-long Art of Banksy exhibition, showing at the Aotea Centre from January 5, and featuring some of his best-known works.
They include the famous painting of the girl with the red balloon, known as "Girl and Balloon", the controversial work Laugh Now - a famous graffiti piece that depicts a monkey with a sign hanging from his neck with the words: "Laugh now, but one day we'll be in charge."
Theories have suggested Bansky's real identity is a former butcher from Bristol; the frontman of band Massive Attack, Robert Del Naja; or even a collective of artists.
Arnika was fairly certain Banksy wasn't the man at the market stall, who spoke in a strong American accent and claimed to be doing a favour for "a friend".
In any case, she wanted the anonymous artist to remain just that.
"The moment he is genuinely revealed, I think the value of his work will go down."
• Tickets for the exhibition are now on sale at Ticketmaster.