EXCLUSIVE: One year after the murder of Marie Harlick - and to mark White Ribbon Day - her aunt speaks about healing a little girl who watched her mother beaten to death.
Marie Harlick was asleep when the phone call came. Her niece Vicki was in tears, breathless and hysterical.
"She said 'Aunty Marie, it's Mush...she's dead. He's killed her, Mush has been bashed to death'."
Mush was Marie Rose Harlick, Vicki's sister.
She was named after her aunt, who was left numb at hearing of her violent death in the middle of the night.
Marie and Marie had been close, once.
Aunty Marie helped to raise her niece in Whangarei when the Vicki and Marie's father - her brother - upped and left when she was a toddler.
They drifted apart when Aunty Marie moved to Auckland, although she kept tabs on her younger namesake, who turned to drugs and drink in her teenage years.
Aunty Marie disapproved of the party lifestyle and didn't hesitate in letting her niece know.
"She called me 'The Sheriff'....I loved her so much, but we were like oil and water."
After one particularly aggressive confrontation, years ago, the younger Marie was shown the door. She never came back.
So when Vicki called with the terrible news, panicking about "Vivienne" in the police station, Aunty Marie was confused.
"I said: 'Who is Vivienne?'. And she replied: 'Her baby'.
"I couldn't get her out of my head. This baby. Little Vivienne."
But she couldn't just drop everything to be with whanau in Whakatane.
Her own mother suffers from dementia and needs to be cared for.
She was also asked to identify her niece's body in the mortuary in Auckland Hospital.
Marie Harlick had been punched, kicked and stomped to death in a 20-minute assault by her partner Robert Hohua.
Read more:
•Herald investigation: The Misery of Marie
"That's one of the hardest things anyone can do...She looked so beautiful," said Aunty Marie.
"Unbeknown to me that was the only angle she could be viewed from."
She started talking to her namesake lying on the table, racked by grief but also guilt.
"I couldn't stop apologising, that I was sorry I stepped back, maybe I could have helped her....that I let her down."
And Aunty Marie asked for help. Because she wanted to take care of Vivienne.
"I promise I'll love her."
But when she first saw Vivienne, Aunty Marie's heart sank.
She was sitting in the garage at Vicki's house in Whakatane where the family were gathering ahead of the funeral.
"I looked up and here was this tiny, tiny child. She was malnourished, her hair lacked lustre, her skin was dry," Marie Harlick says.
"She looked up at me and I'll never forget. Vivienne viewed everybody through her beautiful long eyelashes. That was her shield."
Her face was a frown. Not of anger, but of distance.
So Aunty Marie waited and watched as Vivienne was handed from relative to relative.
She went shopping in Whakatane to stock up on supplies.
Formula, food, nappies, toiletries, shoes, pyjamas, clothes, as well as a special outfit for her mother's funeral.
"I just wanted her to look loved."
After the funeral, Aunty Marie mustered the courage to say she wanted to take Vivienne home to Auckland.
She knew there would be resistance.
Everyone was still grieving and, as the youngest of Marie's five daughters, Vivienne was a living reminder of her mother.
Others put their hands up, but Child Youth & Family made the decision for them.
So seven days after watching her mother beaten to death, Vivienne left Whakatane in a car full of strangers.
Strangers who loved her, but strangers nonetheless.
"I was aware Vivienne had a life before she even knew who I was," said Aunty Marie. "It wasn't a good life, but it was her life. And the only life she knew."
They tried to sing songs on the drive home to Takanini, but Vivienne was silent.
No tears, no nothing.
"It was almost cruel to try to get into her world," said Aunty Marie, "so I had to be patient."
Everyone at home was on strict instructions to smile, but not approach the timid toddler.
Vivienne refused to accept food; instead scrounging from the bin or the bottom of the freezer looking for peas spilled from the packet.
But after several days in her new home, she started to relax.
"She started to go through the kitchen cupboards. We just let her pull everything out," says Aunty Marie.
"She won't play with toys, but give her a plastic cup or dishcloth and she'll be entertained for hours."
During the day, slowly but surely, Vivienne showed signs of healing.
But by night, she was taken back to November 22, 2016.
Vivienne was strapped into a stroller and probably watched as her mother was punched, kicked and stomped to death by Rob Hohua.
When a police officer pulled back a blanket covering the body of Marie Harlick, he found the 19-month-old lying beside her dead mother.
"She wakes up in the night screaming, 'Mummy, mummy', absolutely screaming in terror. Absolute terror," says Aunty Marie.
"I pick her up and physically feel her body trembling."
When the nightmares come, Vivienne often needs to sleep beside Aunty Marie to calm down.
"She clenches me so tight around the neck, I have to loosen the grip....and I wonder, 'Is that how she clung on to her mother?'
"It just makes me cry."
Until recently, Aunty Marie was not the legal guardian of Vivienne, so she was unable to let her see a play therapist who specialises in treating traumatised children.
But the therapist was allowed to teach Aunty Marie, who in turn could teach Vivienne.
The nightmares still come each night, but they're less intense now. And she cries out for "Nana".
Vivienne turns 3 in March. She eats well, plays with other children at daycare, loves to sing and dance, does the haka.
She's not as lost as she once was; but Aunty Marie knows she'll have difficult questions to answer when Vivienne grows up.
"She doesn't have a mum. And she doesn't have a dad."
Though Hohua - who will be sentenced next month for murder - is named as the father on the birth certificate, her family believe Marie was five months' pregnant when the relationship started.
A legal process is under way to prove paternity, but either way, Hohua is not going to play a part in her childhood.
"How am I going to tell her? I don't know...how does anyone tell a child a horrible thing like that," says Aunty Marie.
"My job is to bring Vivienne up the best I can, make her as strong as I can, teach her some really good morals, give her a good education, so she can be a valued member of society."
Vivienne will have a life, with opportunities, her mother never had: a life she wouldn't have experienced, in all likelihood, except for her mother's tragic death.
It's not that Marie Harlick wasn't a loving mother. She showered her daughters with affection, says her aunt, that was obvious from meeting her four "lovely, lovely" older daughters.
But her niece was never taught how to be an effective parent:the legacy of her own dysfunctional upbringing, according to Aunty Marie.
"Mush showed them love, she kissed them, hugged them, embraced them. But there's more to being a parent, and she wasn't shown the skills. If she knew, she would have been a great parent.
"Vivienne loved her mum. But she was eating food out of the bin, malnourished - that wasn't the life Mush ever would have wanted for her.
"But when you're in an abusive relationship, you're trying to survive. You focus on the abuser, not making a mistake, and you forget about the little child on the floor."
Aunty Marie knows the reality.
At the time she parted ways with her teenage niece, when she stepped back from being the family "sheriff", Marie was dealing with the fallout of leaving her own long-term troubled relationship.
She feels guilt about not being there for Marie Harlick. She was just trying to survive too.
But she's there for Vivienne.
"Our country needs to stop this eh. Vivienne is a fine example of the ripple effect that abuse has on the little ones.
"She's suffered enough. It's about good times now for Vivienne."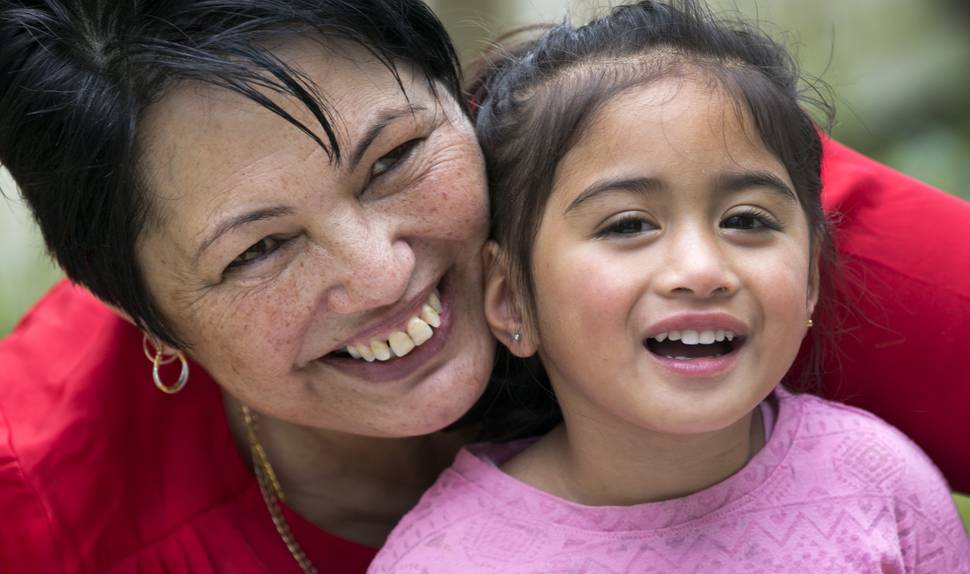 If you're in danger now:
• Phone the police on 111 or ask neighbours of friends to ring for you.
• Run outside and head for where there are other people.
• Scream for help so that your neighbours can hear you.
• Take the children with you.
• Don't stop to get anything else.
• If you are being abused, remember it's not your fault. Violence is never okay
Where to go for help or more information:
• Women's Refuge: Free national crisis line operates 24/7 - 0800 refuge or 0800 733 843 www.womensrefuge.org.nz
• Shine, free national helpline 9am- 11pm every day - 0508 744 633 www.2shine.org.nz
• It's Not Ok: Information line 0800 456 450 www.areyouok.org.nz
• Shakti: Providing specialist cultural services for African, Asian and middle eastern women and their children. Crisis line 24/7 0800 742 584 • Ministry of Justice: www.justice.govt.nz/family-justice/domestic-violence
• National Network of Stopping Violence: www.nnsvs.org.nz
• White Ribbon: Aiming to eliminate men's violence towards women, focusing this year on sexual violence and the issue of consent. www.whiteribbon.org.nz

How to hide your visit
If you are reading this information on the Herald website and you're worried that someone using the same computer will find out what you've been looking at, you can follow the steps at the link here to hide your visit. Each of the websites above also have a section that outlines this process.