In the 21st century there are a rainbow of options for couples who can't conceive.
And Kiwis are lapping them up. Infertility rates are at an all-time high with a quarter of New Zealanders struggling to conceive.
There are about 6000 Assisted Reproductive Technology (ART) treatment cycles each year.
"I look at it [infertility treatments] like a ladder from simple to more complex. Where a couple starts on that ladder depends on the couple's age and duration of infertility," Fertility Associates' Auckland medical director Dr Simon Kelly said.
"As you go up that ladder of treatment they get more involved and expensive. IVF is the most expensive and most successful."
Kelly has known some families to spend in excess of $100,000 trying to conceive, and many spend tens of thousands of dollars.
Of the 6240 ART cycles in New Zealand in 2015 about a quarter were successful and 1450 babies were born, a report from the University of New South Wales found. This was up from three years prior when 1290 babies were born from 5180 ART treatment cycles, .
The first step when a new couple arrive in Kelly's office is to get a detailed medical history which can often raise red flags if relatives have experienced fertility issues.
Then women have their anti-mullerian hormone levels tested which indicates the number of eggs left in the ovaries, and an ultrasound to assess any internal abnormalities. Men get their sperm tested for quality, quantity and mobility.
From there they are offered a fertility plan depending on their age and their ideal family size.
The simplest treatment is ovulation induction which boosts the natural chances of conceiving for women who don't ovulate or have irregular cycles. This costs between $350 to $1600 per cycle and they usually recommend three cycles, Kelly said.
Insemination, which is when prepared sperm samples are inserted straight into the uterus while the woman is fertile, is slightly up the "ladder" of treatments. This costs around $1700 and can be used in conjunction with ovulation induction.
In vitro fertilisation is the next step and costs range from $10,000 to $12,000 a round. First medication is taken to increase the number of eggs available. They are removed and sperm is added to the eggs in a lab. The embryo which has the best chance of a pregnancy is selected to be transferred into the uterus.
If a woman is aged 30, a couple has a 47 per cent chance of a baby from one IVF cycle. If the woman is aged 40, this drops to 23 per cent and less than 10 per cent for women aged over 42, Fertility NZ reported.
If a couple wanted a large family Kelly might suggest doing a round of IVF earlier as you can freeze embryos.
"It has huge benefit," he told the Herald.
"Someone at 36 could freeze two or three embryos. Then if they choose to have another baby a few years later they have a 36 year old's chance of falling pregnant, not a 40 year old's."
New Zealand has a single embryo transfer policy as the risk of complication increases with twins. Any surplus embryos can be frozen, which costs about $250 a year, but they must be used within ten years.
Fertility NZ executive committee member Juanita Copeland, who underwent five rounds of IVF to get her daughter, wanted to stress that fertility treatments were not a guarantee.
"Be aware of your fertility. We spend so much time trying not to get pregnant, but fertility is not a given.
"If you have any inkling you might help just talk to GP about it sooner rather than later."
She said some people take breaks from unsuccessful fertility treatment and others stop altogether without conceiving.
"It puts your life in limbo. You don't want to plan travel, change jobs or sell your house because you don't know when you might become pregnant. Some couples live years and years in that limbo because they don't know what the future will look like.
"The last thing we want is for people to realise it's too late."
​'When I look at my son I'd pay double'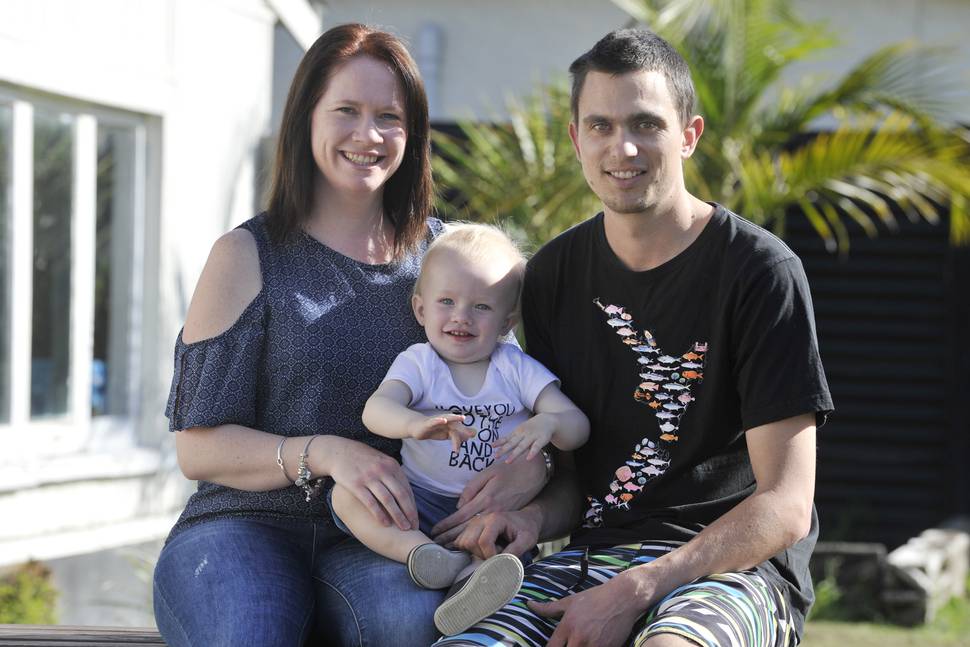 After a pregnancy scare and two ectopic pregnancies a Gisborne couple would have missed out on having a child if it wasn't for IVF.
They now have a healthy 16-month-old son.
It all started when Alanah Reed had a pregnancy scare in 2013 with her partner Shane Clayton. They were aged 30 and 26.
When they found out they weren't pregnant they realised they'd actually like to have a baby.
Reed has two older children, now aged 14 and 12, so she didn't think she would have trouble conceiving. But after six months of no luck they got tested. It turned out Reed wasn't ovulating at all so there was no chance of pregnancy.
After a three month cycle of Clomid, an ovulation inducing drug, Reed fell pregnant in 2014. But a week after getting the good news a scan revealed an ectopic pregnancy - the baby was growing in Reed's fallopian tube. She needed surgery straight away to remove the tube or it could rupture and cause severe bleeding.
"The experience really knocked me and tested our relationship to the point we could hardly talk to each other. The day our baby came home and we were able to plant it in our garden under a rose bush was when we started to heal and talk about everything."
After more cycles of ovulation-inducing medication Reed fell pregnant. But a week later she went to hospital after getting pain so intense she couldn't walk. They believed it was a miscarriage and sent her home but when she came in the next day a scan revealed she had another ectopic pregnancy and her fallopian tube had almost ruptured.
Reed was rushed into surgery to have the baby and tube removed. When she woke up she realised she would never be able to get pregnant naturally.
"It's like you've just lost something completely you can never get back... I still hadn't come to grips with the idea.
"IVF isn't a guarantee, you feel like less of a woman because your parts don't work."
The couple decided to "bite the bullet" and do IVF. While they qualified for public funding the waitlist was 18 months long so they decided to fund the first round themselves.
"We got four eggs and I was so upset because I thought that wasn't enough and the cycle was all over. The next day we got a call that all four had fertilised which shocked us," Reed remembered.
"Two made it to day five and one was implanted on October 7."
Reed said their "little rainbow baby" came into their lives at the right time.
"I was very nervous right up until after he was born. You hold your breath with every scan and appointment.
"Even though you get big and huge you don't think it's real until you're holding that baby. When he was born the first thing I said was 'Shane he's here, it worked'."
They named their son Beauden after the All Black Beauden Barrett scored an amazing try during her pregnancy. All up Reed estimates IVF cost them around $20,000 including flights and accommodation in Wellington for the appointments.
"When I look at my son I'd pay double."