We think of New Zealand's north as a summery paradise, bounded by golden beaches and turquoise waters.
But our northern regions hold a dramatic and fiery ancient history - and are home to a higher density of extinct volcanoes than anywhere comparable on the planet.
Northland, particularly, also marks the scene of an intriguing and extremely rare geological event that unfolded between 20 and 25 million years ago.
Most of Northland, as we know it today, is comprised of giant slabs of rock that were pushed up out of the ocean and slid hundreds of kilometres southwest into the region.
A prominent Auckland geologist and marine ecologist has just described the ancient process, called obduction, in a new book chronicling the 260m-year coming of age of northern New Zealand.
Dr Bruce Hayward said the Northland event was the largest known example of it to have occurred in the Southern Hemisphere.
The rocks involved were erupted and deposited on the ocean floor between 25 and 100 million years ago.
The undersea lava flows were displaced the furthest, and slid onto Northland last, to form much of the region's high country blocks, among them, Mangamuka, Herekino, Warawara, Whirinaki, Mangakahia and Tangihua Ranges.
These deep-sea sedimentary rocks now underlie much of the rolling country of Northland, extending as far south as Silverdale.
Some of the displaced mudstones contained swelling clays that were responsible for many of the unstable roads north of Auckland, while the deep-sea muddy limestone is the main raw material for New Zealand's only cement works at Portland, near Whangarei.
The huge slabs of displaced rock were each 500m to 2km thick - and up to hundreds of square kilometres in area.
"Together the volume of displaced rocks would bury all of Northland to a depth of about 2km," said Hayward, who has just published his book Out of the Ocean into the Fire.
After the displaced rocks stopped moving, northern New Zealand was uplifted, finally becoming land that experienced hundreds of violent eruptions over the next 20 million years.
A volcanic land
Hayward further pointed out how this part of our country was home to a greater concentration of extinct volcanoes - and had a greater diversity and longer history of volcanic activity - of anywhere of similar size in the world.
"We have evidence of volcanic activity occurring in and around the Northland, Auckland and Coromandel region for the past 260 million years."
That included ancient volcanic rocks that were erupted as lava flows on the floor of the ocean out in the middle of the Pacific Ocean, in giant rifts north of Northland.
At Whangaroa, Whangarei Heads and along the length of the Coromandel Peninsula lay stratovolcanoes with surrounding lahar ring plains, similar to modern Mt Tongariro.
And on the Coromandel Peninsula, and around Whangarei, Mangawhai Heads and Kerikeri, there were remnants of viscous domes that extruded upwards like molten toothpaste to form volcanic domes, similar to Mt Maunganui or Mt Ngongotaha at Rotorua.
"On the Coromandel there is evidence of at least six large caldera volcanoes, similar to the younger Rotorua and Taupo caldera volcanoes," Hayward said.
They would have erupted massive clouds of volcanic ash and searing hot ignimbrite flows.
"So large were these Coromandel caldera eruptions that a near-complete sequence of their pumice ash layers has been dated at between 12 and 3 million years ago, in a deep sea drill core located out in the Pacific Ocean, 600km east of Gisborne."
Better known are the more than 50 recognised small basalt volcanoes that made up the Auckland Volcanic Field, and which erupted in three different styles to produce the scoria cones, explosion craters and lava flows that lie beneath our largest city.
It was the youngest of eight such basalt volcanic fields that have erupted in Northland, Auckland and Coromandel over the past 10 million years.
"We can see the remains of well over 200 of these small basalt volcanoes dotted around these various fields," Hayward said.
"They provide much of the character and the names for many of the suburbs of Auckland and Whangarei."
An ancient arc
Back 20 million years ago, the Northland Peninsula south to Auckland was a segment of a volcanic arc, similar to the southern end of the Tonga-Kermadec Volcanic Arc today, which extends southwards through the Bay of Plenty, as far as Ruapehu.
The Northland Volcanic Arc boasted 10 volcanoes at least the size of modern Mt Tongariro, and another 30 smaller ones.
After the Northland Arc became extinct 15 million years ago, many of these volcanoes have partly or fully eroded away, or subsided beneath the sea off the west coast.
From what remains we can determine that the Waitakere Volcano was the largest cone volcano in New Zealand's history, growing to more than five times the size of modern Ruapehu and Tongariro combined.
Waipoua was another of the large Northland arc volcanoes and grew to 50km in diameter - New Zealand's largest ever shield volcano.
The eroded remains of the eastern side of this volcano underlie modern Waipoua Forest.
"While we do not expect any more super large volcanoes in northern New Zealand in the near future, we do expect more small eruptions in the Auckland, Whangarei or Kaikohe fields."
Fiery legacies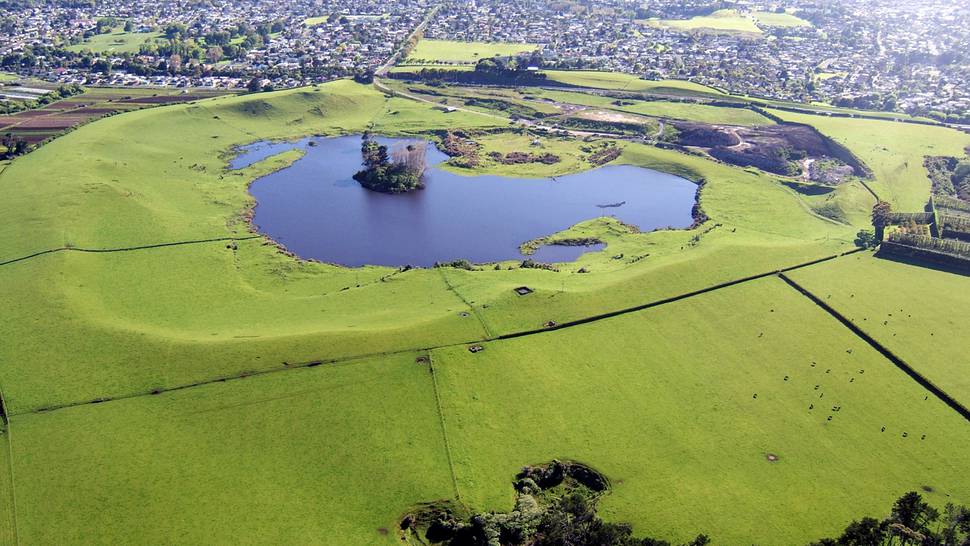 AUCKLAND:
At Muriwai, the internationally-famous pillow lava formation was erupted on the submarine slopes of New Zealand's largest cone volcano, the Waitakere Stratovolcano, about 17 million years ago. Crater Hill, in Papatoetoe, is the best preserved tuff cone and explosion crater in the Auckland Volcanic Field, which has 53 volcanoes. Elsewhere in northern New Zealand there are remains of another 150 similar small basalt volcanoes that erupted in a further seven fields similar to Auckland's. At 550 to 600 years old, Rangitoto is the youngest of over 300 volcanoes to have erupted in northern New Zealand in the last 20 million years. It is the only volcano whose eruption was witnessed by humans. Lion Rock, at Piha, is the eroded remains of a volcanic neck through which lava and ash was erupted about 16 million years ago on the eastern flanks of the Waitakere Volcano. The uplifted Waitakere Ranges are all that remain today of New Zealand's largest ever cone volcano that once extended 40 km offshore to the west.
NORTHLAND:
Maungaraho, near Dargaville, is a 220m-high blade of solidified magma that was once part of the plumbing of Tokatoka Volcano that erupted around Ruawai between 19 and 17 million years ago. All but its plumbing has been eroded away since it became extinct. The 450m-high Maunganui Bluff on Northland's West coast is made of numerous basalt lava flows. It is part of the eroded remnant of New Zealand's largest shield volcano, Waipoua, which erupted 19 to 17 million years ago. The attractive rocky knolls and bluffs around Whangaroa Harbour are the erosional remnants of the lahar ring plain of the 20 million year old Whangaroa Stratovolcano. The rocky pinnacles of Bream Head, Mt Manaia and Mt Aubrey are the eroded remnants of Whangarei Heads Stratovolcano that was one of the larger volcanoes in the Northland Volcanic Arc which erupted between 20 and 15 million years ago. Mt Hikurangi, just north of Whangarei, is a volcanic dome that was extruded out onto the land like molten toothpaste about 1 million years ago and has suffered only minor erosion since then.
COROMANDEL:
Paku Island at Tairua is the eroded neck of a volcanic dome that was extruded out onto the land about 6-8 million years ago.
Cathedral Cove at Hahei is eroded through massive ignimbrite rock that was erupted as a searing hot mixture of gas, pumice and ash from nearby Whitianga Caldera Volcano about 8 million years ago. Flat-topped Table Mountain is believed to be a solidified crater lake that filled a volcanic crater about 8 million years ago. Since then the Coromandel Range has risen up and tilted to the east and the softer ignimbrite rock of the crater walls has eroded away from the harder lava lake andesite rock. Inland from Whangamata at Parawai, this beautiful columnar-jointed volcanic rock is an eroded plug that solidified in the throat of a 5-6 million year old volcanic dome.
• Out of the Ocean into the fire: History in the rocks, fossils and landforms of Auckland, Northland and Coromandel. Potton & Burton, RRP $49.95