He's donated blood or plasma 403 times but for Tom Davies the generous act which could save a life is simply "what we do".
The retired Te Awamutu man drives 20 minutes to the New Zealand Blood Service - which is this week running its annual blood donor drive - in Hamilton at least every fortnight to donate plasma.
"It's something I can do. And obviously there's a demand for it."
It takes just under an hour to pump the plasma from his arm, but before that he fills in a health questionnaire.
Between 650 millilitres and 840ml of blood is taken, the plasma is separated out and the red blood cells returned to Davies.
The product is then quarantined and tested for drugs, viruses and antibodies before it is used.
While Davies' O-positive bloody is the most common type, the flip side to that is it's usually the most in demand.
The 71-year-old began donating while living in Australia in the early 1970s.
Back then blood donations were taken by the Red Cross and the thought of helping the organisation resonated with the then 25-year-old because his father depended on food parcels from the Red Cross while a prisoner of war in World War II.
Private Thomas Davies spent four years at Stalag 18A, a camp in Austria run by the Nazis where food was scarce, after being captured with his company as the Allied forces retreated from Crete in 1941.
"He always said if it were not for Red Cross and St John food parcels, they may well have died, starved."
After Davies junior returned from his OE in Australia he continued donating in Auckland before moving to the Waikato 17 years ago.
"My early donations were whole blood. My current donations are plasma and plasma is a minimum of once a fortnight. And I stick fairly strictly to it."
He's not scared of the needle, even though it's quite sizable.
"Just look away," is his advice.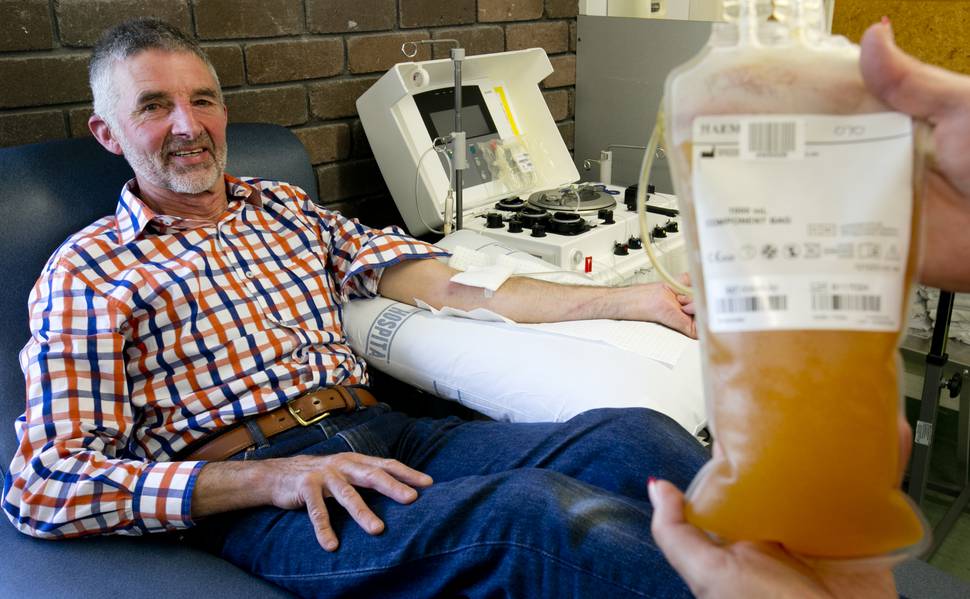 One of the first times Davies donated he almost fainted, and he learned a lesson.
"I'd worked a hard day. I hadn't stopped for lunch. I'd walked 2-3 kilometres to where I donated and so it was the combination of those factors."
Davies' tips for others wanting to donate is to stay hydrated and eat a good meal before.
"I donate mostly first thing in the morning. I drink a litre of water between here and the Blood Service."
He keeps drinking fluids throughout the donation, avoiding tea and coffee, and "spoils" himself with a chocolate biscuit afterwards.
Davies said despite sometimes having low blood pressure, his otherwise above average health stands him in good stead for donating blood.
This includes exercising six mornings a week, getting the flu vaccination and keeping active.
His donating schedule is mapped out by the NZ Blood Service phone app which holds Davies' donor ID, future appointments and past donations as far back as 2004.
NZ Blood Service Apheresis Hamilton co-ordinator Tania Brown said it was "absolutely wonderful" to have someone as generous as Davies regularly donating.
"It takes the pressure off people that can't come in as often. We don't expect everyone to come in every two weeks but Tom does."
Plasma is used in up to 13 different products including vaccines for hepatitis B, tetanus and chicken pox.
• NZME is the official media partner of the New Zealand Blood Service's 2017 campaign

KNOW YOUR TYPE - AND SAVE A LIFE
The New Zealand Blood Service is running a series of 'Know Your Type' events this week allowing Kiwis to find out what type of blood they have, and become a donor.
Every year the NZBS needs 20,000 new donors to step-up and find out if they are the type to save a life.
All you have to do is come down to an event, find out if you meet the donor eligibility criteria and one of the Blood Service's staff will test your blood through a quick finger prick. Within a couple of minutes, you'll know your type and you can register to donate.
Preference for blood typing will be given to those who meet the donor eligibility criteria which can be found on www.nzblood.co.nz
Auckland - The Westpac Atrium, Britomart, on Wednesday
Tauranga - Bayfair Shopping Centre, outside Kmart, on Saturday
Hamilton - Chartwell Shopping Centre, level 1, on Tuesday
Wellington - Museum of New Zealand, Te Papa Tongarewa, on Wednesday
Christchurch - The Blood Donor Centre, 15 Lester Lane, from Monday to Friday, and the Cashel Street Mall on Friday
Dunedin - Meridian Mall on Thursday
• For full times and more information, visit: https://nzblood.cwp.govt.nz/missingtype/blood-typing-events?stage=Live

RED GOLD - THE GIFT OF LIFE
•New Zealand donors gave blood a total 164,000 times between July 2016-June 2017
•Last year donors saved and improved the lives of 27,000 New Zealanders - about 74 people a day
•Each year about 20,000 people leave the donor registry for a number of reasons; including age, ill health, pregnancy, overseas travel and personal choice
•Those defections have to be replaced to keep up with demand
•85 per cent of our population are A and O blood groups, the types most in demand
•More than 50 per cent of Kiwis don't know what their blood type is
•Just 4 per cent of the eligible population are donors; 109,202 New Zealanders
•111,146 whole blood units were collected in 2016-17
•One whole blood donation has the potential to save three lives
•You can donate whole blood every three months
•Whole blood donations (red cell component) only last 35 days
•Platelets must be transfused within seven days of collection
•Plasma can be frozen for up to two years and blood products made from plasma can be stored for up to two years
Source: The New Zealand Blood Service