It's a heart-wrenching tale of the love between a mother and son, which has survived death, disaster and five decades of seemingly hopeless separation.
Mark Patrick, 52, grew up believing his mum walked out of his life, leaving him alone crying in his cot.
But on the other side of the world from his Otago Peninsula community of Harwood, Lynne Martin, 73, still longed for the "beautiful little boy" she said was traumatically taken off her as a youngster.
Unlocking the distressing 50-year mystery and trying to bring the pair back together was David Lomas, host of TV series Lost and Found which reunites estranged family members.
"When you meet Mark, [he has] been going through a heck of [a] hard time with ill health," Lomas said.
"Then you meet Lynne... you're just about in tears when you hear her story."
Their saga features in season three of the hit documentary show, which begins on Tuesday on TV3.
Following a series of life-threatening medical issues - diabetes, quadruple bypass and a brain aneurysm - it became increasingly important to Patrick to "meet the person who is the other 50 per cent of why I'm here".
Patrick was raised by his father Phillip and his second wife. His stepmother "did a wonderful job of raising me and I've always accepted [her] as my mum".
"But there's always been the doubt - is my real mum still alive?," Patrick told Lost and Found.
Phillip, serving in the NZ Army in Malaysia, was in hospital when he met British nurse Lynne Naughton. They married in 1964 in Dunedin, and Patrick was born in Christchurch the following year.
But Phillip said the marriage came to an abrupt end in 1966.
"All he told me was she'd packed up and left," Patrick told the TV show.
He said he was told he was home alone crying in his cot, and his mother was gone. "From what dad said, it sounded like it came as a complete surprise to him."
Following his recent health concerns, Patrick asked extended family for photographs of his mum. He said his father, who died in 1996, had not kept any reminders of his first marriage.
He wanted to meet the "lovely lady" in the photos and hear her account of why she wasn't in his life. "I'd say there's two sides to every story."
Lomas tracked Martin down to Cambridge, England.
A tearful Martin said the baby son she "absolutely adored" had always been in her heart. She was shocked when she learned Patrick had been told she had walked out of his life.
"It's quite a horror story," she said. "I didn't leave one child in New Zealand, I left three. But two are buried."
Rather than abandoning her son as an infant, she had been in hospital and returned to their Christchurch home to find "my personal belongings... packed in a trunk. Mark and Phillip had gone", Martin told the show.
She said she tracked them down to an address in Dunedin, where a "row ensued".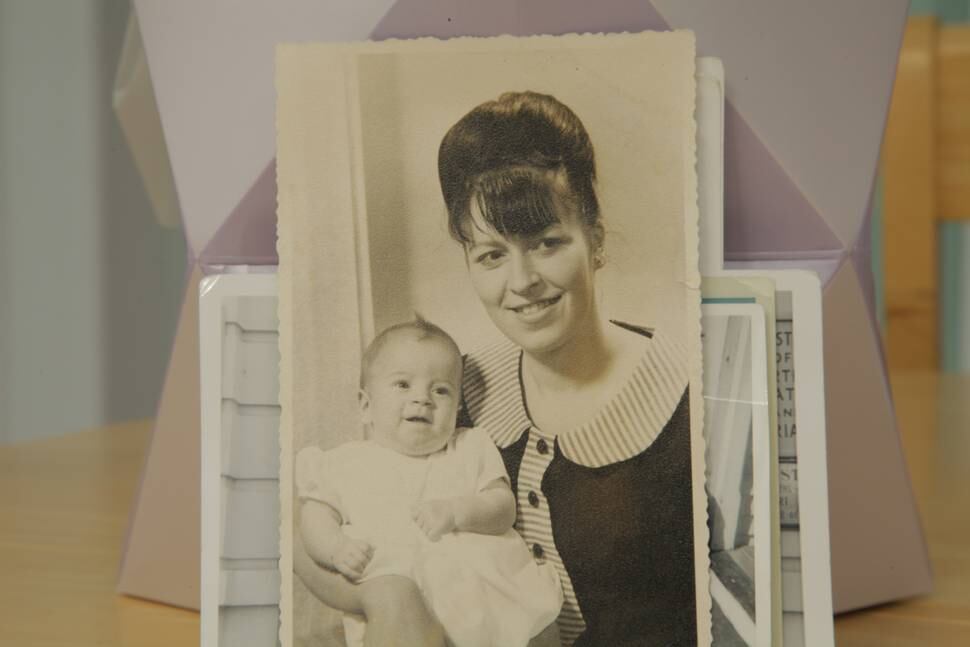 Then, four months' pregnant with twins, she went back to hospital where she was treated for complications in the pregnancy.
"I ended up spending five months in hospital, flat on my back to save the babies' lives." One baby boy, however, was dead at birth and the other survived just 36 hours.
Martin said she then faced a court case to get Patrick back, but lost custody. "I was absolutely distraught."
Heading to Auckland in search of work, she said she nearly lost her life in the Wahine tragedy - one of New Zealand's deadliest maritime disasters.
Some 51 passengers and crew on board passenger ferry Wahine were killed when it ran aground at the entrance of Wellington Harbour in a ferocious storm on April 10, 1968. Two more later died from their injuries.
Martin said she lost all her photos of baby Mark in the catastrophe. It was the last straw and she decided to leave New Zealand for good.
She moved to Fiji, remarried and had two other children. But the relationship did not last. Back in England, she met Ken to whom she has been wed for 35 years.
Given the chance to be back with the son she had not seen since he was a baby, Martin flew back to New Zealand with Ken. She wanted to tell her boy "how much I've always loved him even though I had to leave him... and just hope he'll forgive me," she told Lost and Found.
"That reunion... is a stunning one," said Lomas, who has received around 3000 applications in the past two years alone for the TV series to help find lost relatives and reunite loved ones.
• Mark and Lynne's story features on Lost and Found, TV3, September 26, 8.30pm