John Banks' refusal to take a DNA test or engage in court proceedings have ultimately led to a High Court judge declaring him the birth father of an illegitimate 47-year-old son.
Antony Brett Shaw launched legal proceedings against the former cabinet minister last year after Banks refused to acknowledge his paternity on Shaw's birth certificate.
Sworn affidavits accessed exclusively by the Herald revealed extraordinary allegations against the controversial two-term Auckland mayor.
They claimed Banks had urged Shaw's mother, Pamela Mayes, to have an abortion then supplied her with drugs to make her miscarry and pressured her to take the necessary dose.
When she refused, Mayes claimed Banks ended the relationship then encouraged her to have sex with someone else and tell the other man he was the father.
Mayes obliged, telling Chinese man Harry Wong he was Shaw's father after a brief relationship. Under pressure from Mayes' family, the Chinese restaurant waiter paid child support of $5 a week for the next 15 years. Shaw grew up thinking he was half Chinese.
In a reserved decision released today, Justice Patricia Courtney handed Shaw a victory, legally declaring Banks his paternal father.
While Shaw, an English language teacher living in Japan, did not seek any compensation payout, the decision has potential ramifications in terms of future claims against Banks' will.
In a statement, Shaw's lawyer, Jacque Lethbridge, said her client was disappointed that he had to endure a stressful, costly and public court action that could have been avoided had Banks engaged in private discussions which Shaw and his family and agreed to a DNA test.
"Mr Shaw pursued this action not only to obtain certainty as to his parentage but also to remove the stigma of illegitimacy that he has had to deal with since learning of the true situation in 1999. Mr Shaw has also pursued this litigation for all those people that may, through no fault of their own other than by virtue of the fact of their birth, have found themselves in a similar situation to him."
Shaw, whose mother originally planned to put him up for adoption, said his case shone a light on a "painful and shameful aspect of our social history".
He questioned how many other children were adopted out in the 1960s due to paternity issues and social pressures.
"Mr Banks could have righted the wrongs of the past by taking responsibility now and it is disappointing that he did not have the courage or courtesy to do so and I was forced to go through this process. I am grateful that justice has been done in my case and the decision goes some way to alleviating the pain and suffering I have gone through."
Justice Courtney said she accepted Mayes had been in a sexual relationship with Banks in July 1969, when Shaw was conceived in a Hamilton motel.
"I also accept the relationship was exclusive, at least for Mrs Mayes. She says that she was not seeing anyone else.
"Moreover, it is reasonable to infer that if there had been the possibility of another man being the father Mrs Mayes would have named him as the father rather than starting a new relationship with a Chinese man, a plan that had obvious pitfalls."
Justice Courtney said it was not credible to think that Wong, who Shaw grew up believing was his father, was his paternal relative.
She noted that Shaw had no Chinese features but said there was a "high degree of similarity" between photographs of Banks and Shaw. Shaw's own uncle had labelled the physical likeness between Shaw and Banks as "striking".
While Wong accepted Shaw as his child and paid child support for 15 years, he was not recorded on Shaw's birth certificate as the father and played no part in his life.
"The fact that he is not named on the birth certificate is consistent with Mrs Mayes' account that, notwithstanding her earlier dishonesty on the point, she was not willing to go so far as to make a false statement on the birth certificate."
In an affidavit, Mayes described how after abandoning her and Shaw while she was pregnant, Banks resumed the relationship in Auckland when Shaw was a very young child.
"During that time Mr Banks acknowledged that he was Mr Shaw's father", the decision says.
The judge ruled Banks' refusal to undergo a DNA test was an admissible fact from which an adverse inference could be drawn.
"I take into account the fact that Mr Banks has chosen not to give evidence refuting the allegation. She also highlighted his refusal to engage in the court process.
"Given all of the other surrounding circumstances, including his failure to take any steps at all to refute the various allegations and the obvious strength of Mr Shaw's application, it is proper to infer from Mr Banks' refusal to undergo a DNA test that, in his view, the result would be supportive of Mr Shaw's claim.
"I am satisfied on the balance of probabilities Mr Banks is Mr Shaw's father. I therefore make the declaration sought."
In her affidavit, Mayes said she decided to come clean after Banks' emotional 1999 valedictory speech, in which he spoke of the "crushing heartache"of growing up without a mother and father. She also wanted him to know he was a grandfather.
She met Banks at St Lukes Mall and asked him if he would meet Shaw and acknowledge his son on the birth certificate. Banks told her he would like to do so, but did not want to meet Shaw's wife or son "because he wanted to keep the matter private".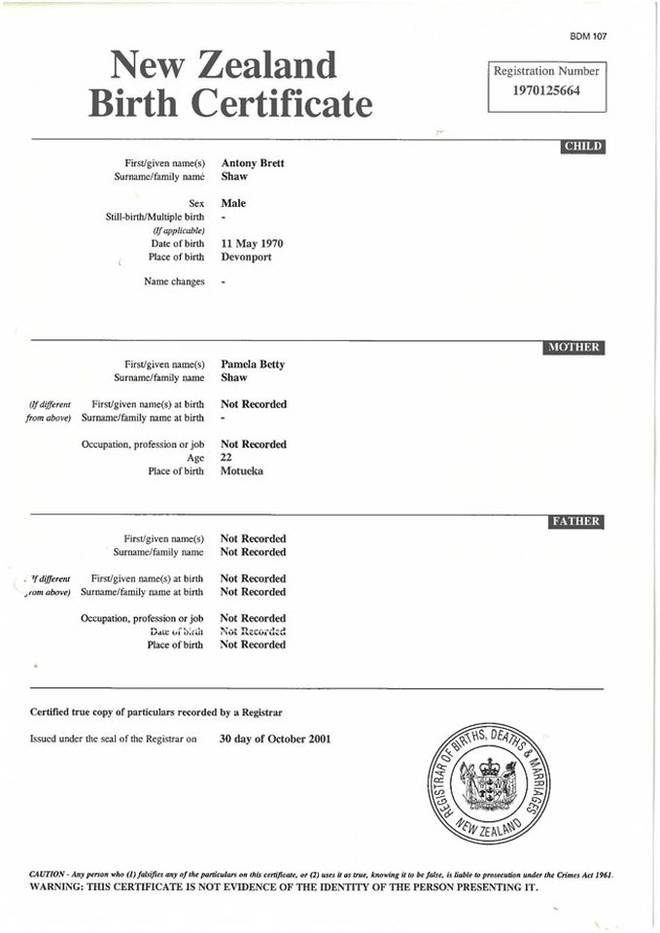 Banks later told Shaw's uncle he was concerned about his public profile, and feared the matter would be leaked to a women's magazine or to broadcaster Paul Holmes, according to an affidavit.
Justice Courtney also ruled that a letter written by Mayes to Banks was admissible. It was penned the day after Mayes met Banks at St Lukes Mall in November 1999 to discuss finally telling Shaw the "truth" after 29 years
"Mrs Mayes says that Mr Banks' attitude changed following that letter. He telephoned her and reiterated that he would not undergo a DNA test and would not allow his name to go on the birth certificate. He accused her of being motivated by money, tried to persuade her to say that she had concocted the story and threatened to sue her if she took matters further."
The decision sets out how Shaw, on learning that Banks was his real father by letter in 1999, travelled back to New Zealand the next year with his wife and child in a bid to confront Banks.
He went to Banks' Paritai Dr home in Orakei but only spoke to Banks' wife Amanda, who told Shaw she thought it was a "hoax" and that the other woman had come after her husband over the years because of his public profile.
Shaw thanked her for her time and left. He later wrote a letter to Banks but never received a reply.
"Mr Shaw returned to Japan. He describes himself as being distraught and devastated by his failed attempts to meet with Mr Banks. He was also very angry with Mrs Mayes and from that point was estranged from her."
Shaw's son Kent was diagnosed as autistic the following year.
Shaw's uncle, Bernard Shaw, telephoned Banks after revelations emerged that Banks was the father. In an affidavit he described the conversation as "amicable".
"I explained that it was not Antony's fault that all this happened and that, while I had no time for Pamela, Antony deserved to know who his father was. John responded by saying that his QC's advice was not to take a paternity test voluntarily and he was going to follow that advice but he was not against meeting Antony.
"I said to John that I had seen him on television and could have sworn I was looking at Antony. I said to John that I knew he was in a relationship with Pamela having met him and engaged with him when he came and went from our family home. John said to me in response, 'I am not going to tell porkies because I used to have sex with your sister and I'm not denying I could be the father'."
Shaw finally met Banks face-to-face last year when his birth father was being sworn in as a JP at Auckland District Court.
But when Shaw introduced himself, telling Banks he had travelled all the way from Japan to see him, Banks was reluctant to engage.
His face "dropped", Shaw said in an affidavit, and Banks' aides rebuffed Shaw, labelling him a "stalker"and unhinged.
Shaw has not seen Banks since.