A sexual assault survivor has successfully fought a District Court judge's decision to grant her abuser permanent name suppression to protect his family from "undue hardship".
And now she can finally speak out about her abuse, the man who inflicted it on her and her years of suffering in silence.
Kimberley Cosci, 19, was sexually assaulted by Te Puke man Jason David Forlong in 2010.
She was just 11 at the time and Forlong was a family friend.
Cosci and a friend were invited to stay at Forlong's home overnight and while there, he sexually assaulted her.
Forlong was 32 and separated from his wife at the time.
READ MORE:
It's never your fault, it's not your shame - sexual violence survivor speaks out
Police produce videos to explain daunting process of reporting rape
Sex abuse survivor: 'You think you're not strong enough - but you are'
Sex abuse survivor: I'm taking my life back, I'm not your victim anymore
Cosci and her family had known Forlong for many years and he was respected and trusted, so there was no issue with the child saying at his home.
The Herald has chosen not to publish the specifics of the offending.
During the assault Cosci ran from the room.
She feared then, and now, that if she stayed she would have been raped.
She said pressure from a member of Forlong's family who knew about the assault put her off telling anyone.
"I was told to never discuss it," she told the Herald.
"I was told to never bring it up.
"I was scared, I was just so anxious about it. I had to act like it was normal - and it wasn't.
"I was reassured that he was in the wrong, but to keep it quiet because I would ruin their family, I would take a father away ..."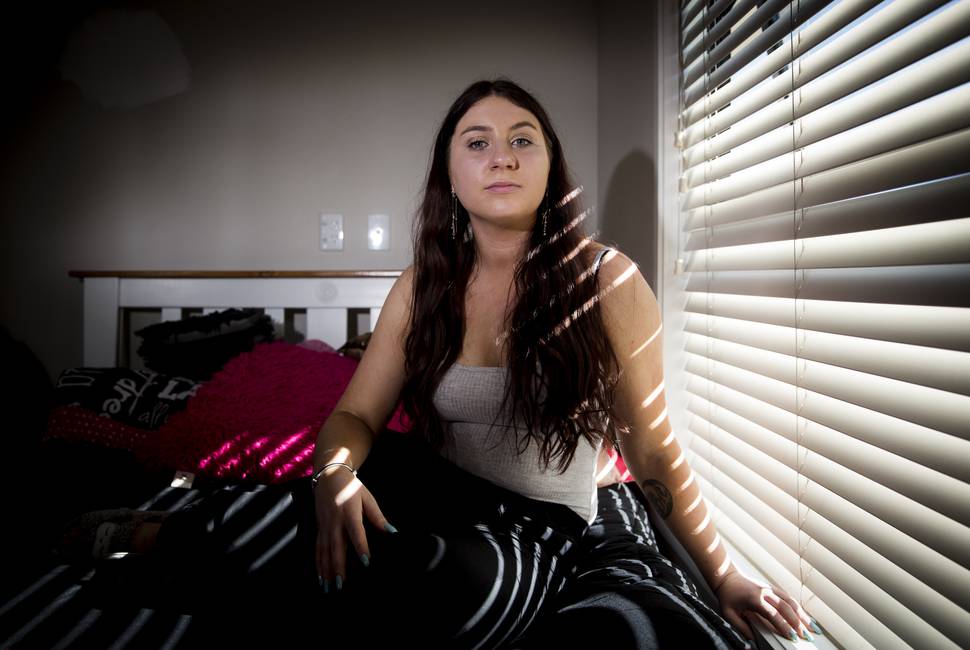 Cosci said keeping her "disgusting" secret took a toll on her.
"I felt like if I said something I would be in the wrong," she explained.
"For years I was really freaked out and I would have panic attacks, I would feel really sad for no reason, I would wake up and just feel really depressed.
"Me and my mum are really close and I couldn't tell her so I felt like I was hiding something - it was really hard."
She was often at homes where Forlong was present and "had to pretend like nothing had happened".
"That really affected me, he would come to the house ... I would just have to deal with it.
"When I know something is wrong I like to stand up for it - so that was really hard for me."
It would take five years for her to disclose the assault.
In 2015 Cosci finally revealed what had happened, telling a friend and then her mother.
She explained that as she got older she started to notice other survivor stories - often from people who had kept silent for most of their lives.
"I was thinking to myself 'I don't want to be like one of those people'," she said.
"I didn't want to feel pain for that long, not telling anyone - five years was hard enough."
Cosci and her mother, Sandra Niccoli-Hawes, reported the assault to police and Forlong was charged.
He pleaded guilty to two charges of indecently assaulting a child under 12 and was sentenced to nine months' home detention.
The sentencing judge also granted Forlong permanent name suppression, saying the publication of his crime and identity would cause "undue hardship" for a particular family member.
To protect that person, who is young and vulnerable, the Herald has chosen not to publish further details about them.
The judge ruled that the family member was dependant on Forlong and would "indubitably suffer a difficult time" if his name was published.
"This is not a case of being lenient on you, and I understand full well that (Cosci) wants you to have your name published, but I have larger interests to consider," he said.
"It is not the fault of your (relative) who will indubitably suffer if your name is published.
"For those reasons I accept ... that the statutory grounds for a final suppression order are properly made out."
Cosci was extremely upset with the ruling and contacted the Sensible Sentencing Trust to see if there was any further action she could take.
The trust put her in touch with lawyer Nikki Pender, who applied for a judicial review of the name suppression decision.
Justice Simon Moore undertook the review and ruled that the sentencing judge had erred in his decision.
He said the judge applied "the wrong legal standard" and the permanent name suppression was a "clear legal error" as the "notoriously high threshold" for such an order had not been met.
He added that the judge had failed to recognise "or give sufficient weight to the principles of open justice" and quashed the suppression order.
He also lifted suppression for Cosci, who as a sex victim had automatic and permanent anonymity.
She applied to have her statutory right waived so she could tell her story.
"I never wanted name suppression," she told the court.
"I assumed the case would be made public and I was prepared for that ... I would rather have that than secrecy."
The victim is never to blame, and there is help out there
Cosci said the process of reporting her assault to police was "very hard" and mentally draining.
But it was worth it to get her secret out in the open.
"The last two years were the hardest for me - and some days I felt I couldn't go on anymore with the case because it brought me that down," she said.
"But I knew it would be worth it in the end."
Then, when the court case ended with Forlong's name being suppressed, Cosci was devastated.
"I was so angry, I'd never felt so much anger in my life," she said.
"It was so important for me to have this come out and I felt like 'how could something like this be hidden?'"
When she heard that Justice Moore had quashed the suppression she felt relief, joy and vindication.
She could finally tell her friends and family the real story.
The people who doubted her and called her a liar would know the truth.
But more importantly, she wanted to help others.
"Bringing my name out could help other people come out," she said.
"I felt like this was all I needed. The consequences, the home detention - that was nothing for me.
"But if his name is out there, it's there and people know.
"That's what I fought for, that was what was really important for me - it means I can tell my story and hopefully influence other people to come out.
"I don't want this to be a secret any more."
Cosci wanted other people, especially young people, to hear her story and hopes it will help them in their journey.
"It's never the victim's fault," she said.
"That is what you tell yourself, but it's not, you don't deserve that."
She urged anyone who had been hurt or abused to tell someone they trusted whether it was a friend, relative, teacher, counsellor or police.
"There is always a way out," she said.
"it might not feel like it, you might feel really down some days - but just reach out to one person. it will make a hell of a difference.
"And you're not alone - there are so many people out there who have been in this situation, maybe different levels, but it's all the same at the end of the day."
Cosci said while her journey had been hard, she had no regrets.
"It would have been easy not to do anything more, but I felt I had no choice," she said.
"All along I have been trying my best to do what is right.
"I want to make sure what has been done to me, doesn't happen to anyone else.
"I was scared to go to the police station, I would not have done it just for my own sake, but I kept thinking about others out there.
"What if this had happened to other people who might come forward if I did? Would my actions save others in the future? These thoughts were 90 per cent of the reason why I finally went to the police."
I'm so proud of her - a mother's heartbreak
Cosci's mother was devastated when she finally found out what Forlong had done.
She said she had always been close to her daughter and to hear that she had been harmed, and then suffered in silence for five years was heartbreaking.
It was especially hard to hear that Forlong was the offender, given how close their families had been throughout Kimberley's childhood and teenage years.
"It's every mother's worst nightmare," she told the Herald.

"I was so upset.
"The thing that made me the most upset as a mother was his intention to do this... he manipulated her and me, and that's what hurts the most."
Niccoli-Hawes said when she and daughter went to the police it was not their intention to hurt Forlong's family.
"I am sorry for his kids, his family, but you can't put this kind of thing to the side," she said.
"He could have done the same thing to someone else and I would have felt so bad."
Niccoli-Hawes said the court process, and the initial outcome that meant her daughter could not speak about what had happened and who had abused her, was "terrible".
But she is pleased the teenager was strong enough to see it through.
"if he did this to my daughter, he could do this to someone else so it was important for us to make sure people knew," she said.
She was extremely proud of Cosci's decision to speak out publicly.
"It makes me nervous, but I have to support my daughter.
"I have always been so proud of my daughter, she's my best friend and she has helped me through so much in my life.
"She is the most caring person in the world and for her to do what she is doing, is a massive thing."
Niccoli-Hawes said if Cosci's story could help just one person, it was worth all the agony.
"This is not about her anymore," she said,
"It's about other people.
"He's not going to do this again to Kimberley, it won't happen to her again - so we can close our eyes and not want to see this kind of thing, or we can help other people.
"I feel very sorry for what happened, sorry for his family - but I am so proud of Kimberley because she fought against the system and she won."
If you're in danger NOW:
• Phone the police on 111 or ask neighbours of friends to ring for you.
• Run outside and head for where there are other people.
• Scream for help so that your neighbours can hear you.
• If you are being abused, remember it's not your fault. Violence is never okay.
Where to go for help or more information:
• NZ Police
• The Harbour, for those affected by harmful sexual behaviour
• Help Auckland 24/7 helpline 09 623 1700
• Rape Prevention Education
• Wellington Help 24/7 crisisline 04 801 6655, push 0