Steve Braunias has challenged all the party political leaders to a game of table tennis. His final opponent (unless the PM accepts): Labour leader Jacinda Ardern.
Jacinda Ardern said, "Did you have low expectations?"
I was too puffed to answer. She was of good cheer. Worse, she looked rested. I smiled wanly and shook the victor's hand after our second game of table tennis. "Well done," I finally gasped.
My expectations of her were a tad low. In fact I sailed into the grand cavern of the Auckland Table Tennis Stadium in Gillies Ave, Epsom, with the belief that my opponent was next to useless. That was only true when I stood next to her.
I'd read how she didn't much like playing netball at school. I'd read how she wagged cross-country. We've met quite a few times over the years - she launched my book The Scene of the Crime, which reminds me to mention in passing that it's been shortlisted for a Ngaio Marsh award for crime writing - and the impression I formed of her was a very funny, very engaging person who avoided sport and sunlight.
Certainly she looked very pale when she showed up at the stadium at Epsom. Her hair was down, and she wore exercise clothes, not that she exercises. "I walk," she said. To which her adoring fans might add: "On water."
I like Ardern but I arrived at Gillies Ave with a cool determination to restore reality to proceedings, to burst the bubble, to smash the Ardern Affect and beat her senseless.
I duly beat her senseless in the first game. Well kind of. Actually she was leading 14-10 at one stage. I didn't quite understand how that happened. It's true that she played a hell of a lot better than I expected, but without savagery or an iron will.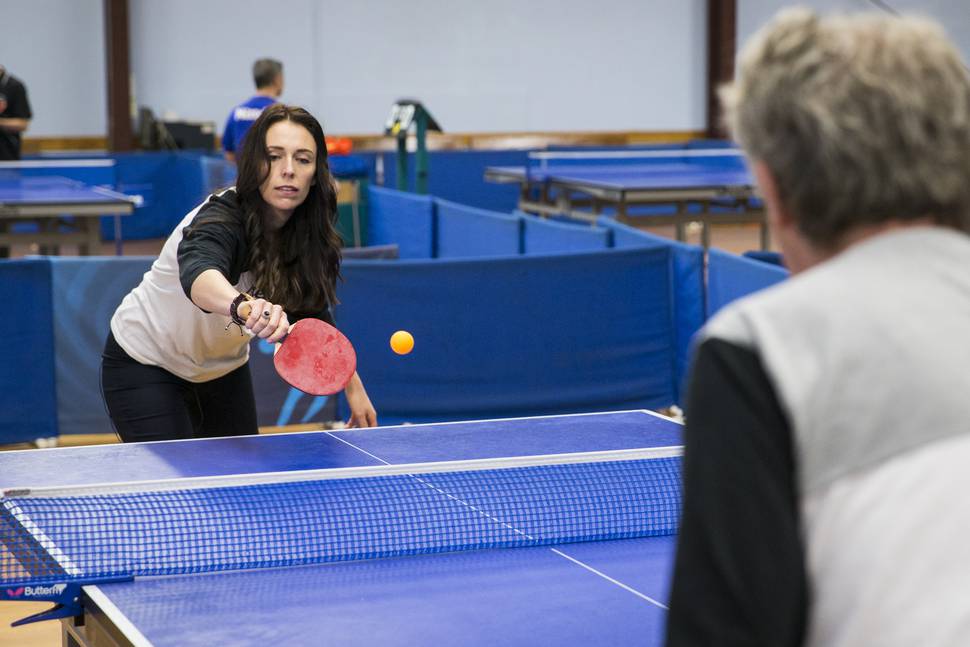 She just sort of casually stood in one spot and defended really, really well. She had no forehand. Almost every shot was backhand. She could do a lot with that backhand, and also she had a fair amount of luck, and scored three points off the edge - that is, the ball just nicked the very edge of the table.
And then she threw it all away, and I scorched to a 21-16 victory.
I crowed, "You showed a lot of early promise, just like your surge in the polls. But it all led to nowt. Perhaps our game is the death of your election campaign foretold."
She said, "One thing you should know about me is that I don't give in."
I said, "Peter Dunne told me that while I was beating him senseless, and look what happened to him! Tell me, did you play any sport at school? Or was it all just debating and experiments with socialism?"
She said, "Well, no, I was captain of the basketball team, and won trophies for badminton."
These startling revelations conspired to shut my trap. We stood there in silence for a while. Ardern smiled, and said, "Ready for another game?"
I said, "Just one thing. Did you sit down with a panel of advisors to discuss my challenge to play table tennis? Like, would it be good for your brand, or did it have the potential to cause damage, or - "
"No," she interrupted. "You texted me, and I asked the office to set a time."
English! Did you hear that, Bill English? O frightened little Prime Ministerial chicken, hiding in the shadows - how do you live with yourself? When will you finally accept my challenge to play table tennis?
I'm doing you a favour, mate; God knows you've been running a dreary campaign, and here's a chance to show you've got something in the tank. You have till Monday to accept. Ditch the advisors. Forget what middle New Zealand might or might not think. Stand on your own two feet.
Ardern texted me with a photo the night before our game. A net had been set up over her kitchen table (nice wood finish), and she was playing table tennis with her partner Clarke Gayford. She wrote, "Someone's a bit competitive...and it's not me."
Yeah, as they say, right. She sprang into life in game two, and was a lithe, dynamic athlete who moved around the table with speed and very, very good feet.
She played the angles. She had me running from side to side. In fact I was able to run to one side but not the other, and she ruthlessly gained six points by stroking the ball way beyond my reach.
Her own reach was awesome to behold - long arms, excellent hand-eye co-ordination - and she was easily the fittest party leader who I've played in the series.
The greatest test of fitness in table tennis is having to chase after the goddamned ball when it leaves the table. Old men such as Peter Dunne, Te Ururoa Flavell and myself creaked and groaned as they bent over to get it; Ardern raced to the ball like a puppy, and picked it up without effort or exhalation.
Anyway she won 21-15. I wasn't happy about it, not happy at all. My own death had been foretold: a political commentator wrote of Ardern in the first, feverish days of her Labour leadership, "On this form, she'd wipe the journalist Steve Braunias off the table if he invites her to his pre-election ping pong challenge."
She had the momentum. I was flat-footed, luckless, on the ropes: I knew what it was like to be Bill English. We stood together at the side of the table and she laughed in my face. I said, "Let's analyse the game you just played. What would you say were your strengths?"
She said, "It was more a case of recognising your weaknesses, and exploiting them."
It was as though a chill breeze entered the Gillies Ave stadium and struck at my heart. I said, "People like to think of politicians as ruthless. Do you have that quality, do you think?"
She said, "It's more a case that I'm decisive. There are decisions I have to make, and I make them."
I said, "You were asked at a media stand-up the other day whether you'd apologise to Australia's foreign minister Julie Bishop over the Chris Hipkins thing, and you said, 'No.' Was that as a result of taking advice? Had you prepared for that?"
She said, "No, it was the first time I'd heard the question. I just went by my instincts."
I said, "You know, I'm very disappointed English hasn't said yes to my challenge."
She said, "I'm actually really surprised. I would have thought he'd do it. I wonder why he hasn't?"
"Fear," I said. "Fear of something going wrong, like Don Brash walking the plank in the 2005 election. Weren't you afraid of something like that happening today? Like, falling over and looking like a goose, or something?"
"No," she said.
We took our positions for the tie-breaker. It was an exciting game. The lead changed from one player to the next. Ardern is good at political rallies; she's good at a rally, too, and kept her nerve as we whacked the ball back and forth five, six times, playing deep.
Once again she hit the angles. The body always remembers: she played with the memory of her quick footwork on basketball courts, and her graceful backhand strokes at badminton.
It got to 18-18. "Goddamit," I thought to myself. But I kept my cool. She sent back a pitiful lob from my serve and I raced to meet the bounce. The ball sat up and begged for mercy. I gave it precisely none, and whacked it past Ardern into next week: 19-18.
But a week is no time at all in politics, and Ardern won the next point with a backhand smash: 19-19.
I served, she returned, I shot low and hard at the net, and got lucky. The ball dropped over on her side of the table like an egg rolling out of a nest: 20-19.
We rallied for the next point. I thought I had it won with my fourth shot. It went wide to her left when she was positioned on the right, but she displayed beautiful footwork and got there in a trice, and returned.
"Goddamit!", I howled. My cool was lost but not my resolve or my ambition. I did my best just to keep the ball in play. The rally stretched to seven shots, then eight; on the ninth, I forced her deep, and she was miles from the table when she returned the ball with a long, high shot. Too long, just. It missed the table by a hair: I won 21-19.
I raced over and shook her hand. "Great game," I said.
"That was fun," she said.
Her handshake was firm. There wasn't a bead of sweat on her forehead. She had a big smile on her face, and looked radiant. Good player. Good sport.
Series score: Experience beats youth...just. Braunias takes an unassailable 5-1 lead.