Today we start a new series called Heartbeat. Herald journalists went to small town New Zealand to talk to voters about their hopes, fears and dreams. Each day we visit a town beginning with one of the letters H, E, A, R and T. Today, Kirsty Johnston visits Huntly.
Pearly green water, under grey skies, sliding slowly past the twin chimneys of the power station.
Huntly. You've probably seen it a thousand times on a thousand different journeys, a town bisected by river, rail and road, scattered along the banks of the steady Waikato.
Arriving from the north you pass the Mussel Man van, the brick-walled cemetery, the vege shop (Kumara, $4.99 per kilo). "Switch on to Huntly!" the sign beside the look-out urges. The view across the river is a perfect picture of the station itself, the town's grey-walled, industrial heart.
Most travellers skip over the entrance to the busy main street. Instead they carry on south - past the Z station, McDonalds, Subway, the quarry, and then, it's gone.
"I think people get the wrong impression," says Liam Loveridge, 18. "It's actually a really nice place, with the lakes. I mean, there are nice bits and not so nice bits. Like anywhere."
Liam and his friends Emily Ussher and China Timo, both 17, are in their last year at Huntly College. We're talking to them about what's on their minds, and what's happening in their town, ahead of the general election. Only Liam will be old enough to vote, something that concerns him considerably less than the other pressing issues in his life - what to do next, and his chances of winning a checkout operation competition at his part-time job at Countdown.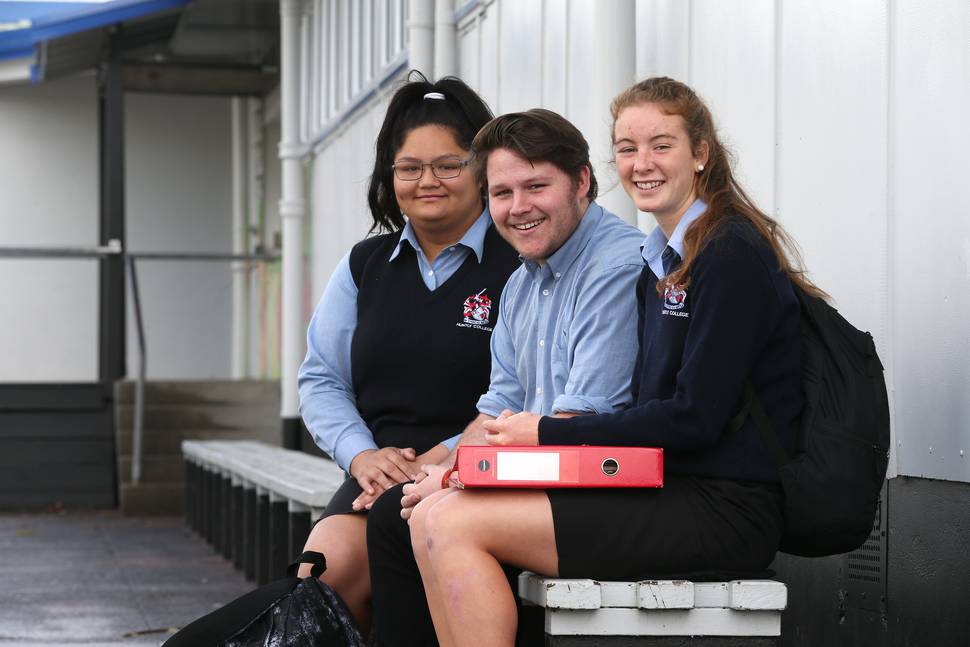 "I'm definitely worrying about jobs," Liam says. "Your position gets muddied by all the opportunities that are out there. I'm open to opportunities. But I get confused. And then when you pick something - I'm thinking about doing graphic design - people tell you you're not going to get money out of it. They say you should do something else because it's a job."
Liam has lived in Huntly all his life. It's changing, he says, with an influx of Aucklanders moving down for the cheaper houses. He sees them on his street - riding bikes in the middle of the road - and at Countdown. "You can tell they're not from here. They're just, different."
Emily thinks it might not be so bad having new people in town. "It's whether they're contributors or whether they're taking advantage is the difference."
China says she's seen people leaving, too. Huntly has suffered a spate of recent crime that forced some of her family out. "I've had three members go to Auckland. They got sick of getting robbed. It's sad."
"Crime is a problem," says Liam. The town has a lot of unemployed youth - a lot of drop-outs. Of the 90 students who started in their year, just 30 remain. And because a lot of crime happens in their area, people link it with the school.
The school becomes a blaming ground," says Liam. "It's hard, we try to put on community events, but some kids don't understand it's a privilege. But it's ok. We meet lots of people."
Back over the bridge, past the Cheep Liquor store and a mural saying "Be The Change", is Peter Glidden Honda. Dozens of motorbikes are parked on the forecourt, still damp from a recent shower.
Glidden, the company's namesake and owner, has had 15 burglaries in the past ten months, more than the rest of his 32 years in business combined. He's lost more than five motorbikes, and he knows who's to blame.
"Youth have nothing better to do. They just steal want they want," he says. "And the cops have been f***ing useless. They don't have enough resources."
For the first time in his life, Glidden is considering shifting his vote away from National, to an alternative who might help out. He says Huntly is potentially facing some hard times - with the dairy payout, and the looming impact of the new Waikato Expressway, due to open in 2019, which will entirely bypass the town.
"That's going to take a lot of walk-ins away from our business. It is a bit concerning. We'll be alright because we mainly look after local farmers and motorcycles users but I am concerned about the lack of traffic for some of the smaller businesses."
You can still park for free in Huntly's main street, a busy 200m stretch parallel to the highway where at lunchtime, bakeries are packed with a mix of construction workers in high-vis vests, and locals in the quintessential New Zealand winter uniform of jandals and puffer jackets.
The mood in town has shifted in recent months, says Lila Te Kani, a tutor at the Wananga and a founding member of Huntly's Town Watch.
The group was set up several failed attempts to get together a community patrol - borne out of the same crime spate that saw the Honda shop robbed so many times.
"We thought, let's just jump in a car and go for a bit of a ride around the streets and see if we can spot anything happening," Te Kani said. A call-out garnered 40 volunteers, who work in shifts. Two of the group do a walk-through the town for a couple of hours each day, which they say has been a hit.
Ideally, they would have had the funding to do something more productive for the young people, but it just wasn't available.
"That's what drives me, the youth. There's not a lot here for them. They get so bored. Huntly is really strong for sports, but there's not a lot of options if that's not their thing."
Jobs - and the social issues caused by the lack of jobs - are another issue, she says. The bypass has created some work but even then, rising house prices due to the Auckland overflow means money these days doesn't go as far.
On the way out of town, the back way this time, near where the bypass will go, we pop in to Matahuru marae. It is the home of Huntly's favourite son, former league player Tawera Nikau, and is newly hosting a joint initiative with a business named Quality Management Services, designed to get rangatahi (youth) in to work.
The business took on the job of building a new wharenui at the site, and in return employs Matuhuru whanau members as labourers, and helps build their skills.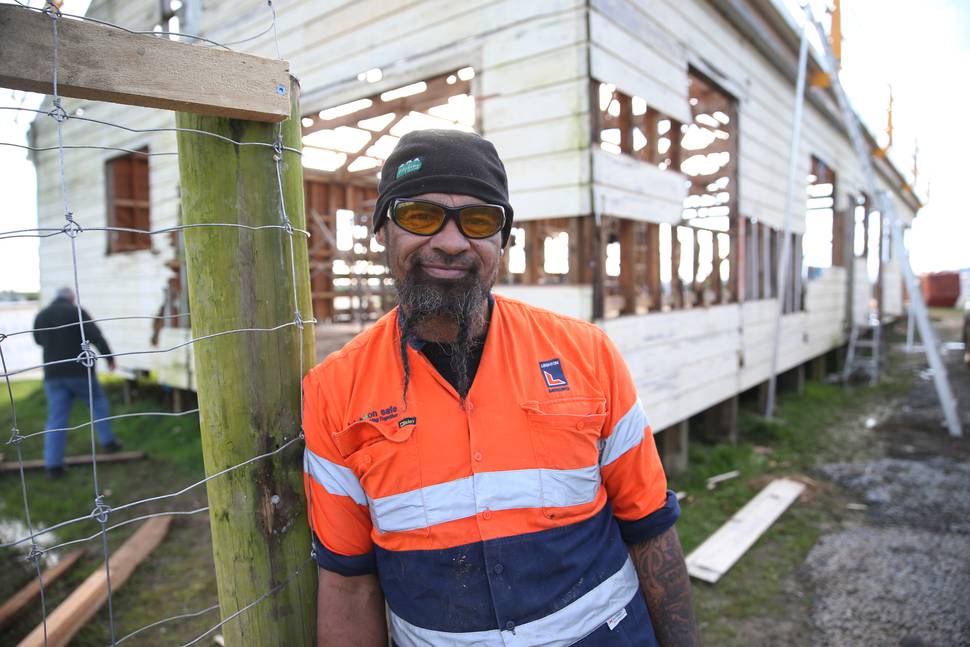 Te Rangimaria Pitara, the marae caretaker, says work for the unskilled - who previously would have been employed at the mines or the power station - has been hard to come by.
"And if you can't get work, you can't go nowhere," he says. "Crime and employment, they're two ends of the same spectrum."
The team are hoping their venture will be successful enough to attract more young people over time - and while they say it would be good if those in the Beehive supported them, the plan isn't contingent on outside help.
"What we are doing here is for our rangatahi. We are pushing forward. We're not waiting for the government," says Pitara. "You won't get nothing done if you wait for them."