Labour is pinning its hopes of political survival on the youngest leader it has ever had, electing Jacinda Ardern as its leader in a last-ditch bid to rally its fortunes.
Ardern got the job yesterday after Andrew Little stepped down in the face of dire poll results, a potentially risky move for the party that has been punished for instability after five leadership changes in nine years.
It will pit Ardern against the experience and track record of Prime Minister Bill English, but Labour is relying on Ardern attracting young or disinterested voters as well as drawing Labour's old voters back from National, the Greens and NZ First.
Speaking to the Herald yesterday, Ardern said she was not worried about footing it with English in election debates, saying she expected to be tested but was willing to pit her own leadership style against his.
"He's a seasoned politician, he's spent obviously a significant amount of time in hefty roles like finance and he's built credibility in those roles. My job will be to challenge the vision he has for New Zealand and the vision he presents about New Zealand. I expect I will be tested but you should be tested in a leadership role."
English was careful not to dismiss Ardern, saying it was important to respect the leader of the opposition. He told Newstalk ZB he expected Ardern would be skilled at debating. "But it's going to be the contest of ideas more than personalities which matter in a head-to-head debate. We always respect the Leader of the Opposition, she has the possibility after the election to be the Prime Minister, therefore we will be working hard to win that battle of ideas."
Ardern will take 72 hours to do a stocktake of Labour's campaign plan and indicated policy changes were afoot. She said although policies in areas such as health, housing and education were already in line with core Labour values such as fairness, "there are some areas I feel we can amplify that even more".
Ardern will have to deal with coalition partners. Part of Labour's polling woes have been put down to Green Party and co-leader Metiria Turei's admission of welfare fraud drawing Labour voters either to the Greens in sympathy, or to NZ First in disgust.
Ardern refused to discuss Turei's confession or whether she believed the Green Party was eating into Labour's vote.
"I see that as a distraction to our own policies and ideas. So, going forward I want to be talking about Labour's agenda rather than speaking about the impact another party has had on ours."
She said she had known co-leader James Shaw since both lived in London and also knew Turei well "which will be helpful". However, she would not give her own view of Turei's confession.
When asked how she would approach NZ First leader Winston Peters, Ardern simply joked that she enjoyed single malt - one of Peters' favourite drinks.
She maintained she had the ability to manage a governing arrangement involving both parties.
Peters put Labour's position down to the Memorandum of Understanding Labour had signed with the Green Party.
"When the Labour Party signed the [Memorandum] I knew it was all over rover for them. If you begin from a position of weakness, that's all you'll be: weak." He refused to comment on whether he believed he could work with Ardern.
Ardern defended that agreement, saying it was about transparency for voters so they knew the Greens were a natural partner for Labour.
"My focus, though, will be not to get caught up into discussions about what-ifs and the various machinations of coalition deals, but to actually focus on what Labour stands for.
That's what the public will be voting, that's what they want to hear about."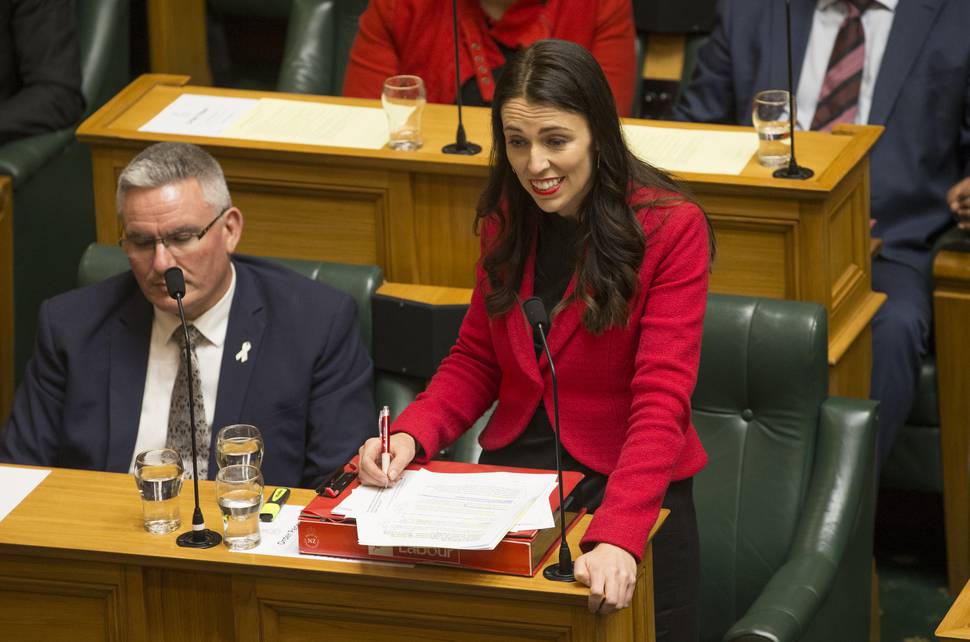 Little's decision to quit was prompted by three polls that put Labour at 23-24 per cent. Little might have survived that, but his public admission that he had talked to senior colleagues about standing down was seen as a mortal wound.
Little left Wellington on Monday night saying he did not expect to step down and was committed to fighting the election. He went to a candidate's campaign launch alongside MP Raymond Huo.
Meanwhile, other MPs and senior party figures, understood to include former Finance Minister Michael Cullen, were working out the options in advance of the caucus meeting on Tuesday.
Ardern was approached and asked if she would be willing to take the role should Little step down. Ardern agreed and Davis was settled on as the deputy later that night.
On Tuesday morning as he headed back to Wellington for caucus, Little was yet to confirm even to Ardern that he was standing down.
Ardern did not know of it until soon before he announced it publicly when he called her from a taxi on his way from the airport to Parliament. Soon after, he met senior MPs and then announced his decision publicly, throwing his support behind Ardern instead and nominating her as leader in the caucus meeting that followed.
After Ardern's first press conference, even the doubters believed it was the right move. Stuart Nash had said Labour would be "doomed" if it changed leaders, but was standing alongside Ardern once it was done. Asked if he still believed that, Ardern interrupted and said "he's already acknowledged he was wrong". Nash replied "what she said".
For the MPs, it involved weighing up the risks of changing the leader so close to the election with the risk of carrying on under Little, now handicapped by his own admission.
It helped that Ardern's performance as deputy had allayed concerns about her inexperience. It also helped that Labour's caucus had faced a similar problem in 2014 when its polling was dropping under Cunliffe. That time they did nothing. This time they did.