One of New Zealand's top cops has stood alongside a former druglord to lead a "game changer" Rotorua hui on methamphetamine.
More than 200 people, including gang members, mothers, grandparents, children, addicts, former addicts and health professionals, attended the hui at Waiteti Marae in Ngongotaha today.
One of those attending was Rotorua mother-of-three Kathleen Ngatai, 35, who was addicted to P for 10 years before entering Rotorua's newly opened residential rehabilitation centre Te Whare Oranga Ngakau.
Ms Ngatai read out a heart wrenching email from her 16-year-old son which spoke of the devastating impact of her P addiction on him and his 14-year-old brother.
The two brothers had to bring up Ms Ngatai's now 3-year-old daughter from a baby as their mother battled her addiction.
"Although I knew my drugs were having an affect on him, I didn't realise just how deep the impact was," she said.
Her story was echoed by others at the hui who shared stories of how P was destroying families. A grandparent had to give up work to care for their grandchildren whose parents were addicts. A mother was distraught about where to seek help for her son. A father told of how children at school were being prospected by gangs.
The hui was led by chairman of the marae, Assistant Commissioner Wally Haumaha, the police's deputy chief executive Maori.
Mr Haumaha said it was time to "bite the head off the snake" in the country's war on methamphetamine by tackling it at grassroots level in the community.
"We need to bring this battle back to the marae. What we are all standing here saying today is that this pernicious drug that is destroying our communities will not be tolerated here.
"While we as a community are willing to give amnesty today to those who are genuinely seeking help for their addictions, to those who are peddling this drug from production, to supply, to delivery you will not be tolerated and we will drive you out. We own this community, and any mongrel bringing P here, we will stand up to you."
Wellington-based Mr Haumaha spoke of the "devastating" impact of P on small communities across New Zealand like his own in Ngongotaha.
"No community is untouched. We are seeing it across New Zealand from Bluff to Te Aroha, that the gangs are moving in and targeting the vulnerable."
Production and supply was "ever more sophisticated" and despite rising seizures of meth by police and customs, there was still "significant" methamphetamine supply in the Bay of Plenty, said Mr Haumaha.
"At the Port of Tauranga there are criminal networks peddling it like lollies . . . firearms are a huge issue . . . where there is methamphetamine there is organised crime, and where there is organised crime there are gangs, and guns."
Drug and addiction services like the newly opened residential rehab in Rotorua were "oversubscribed" he said, but help would be offered to those who needed it.
"If we have to, we will build a rehab at the marae."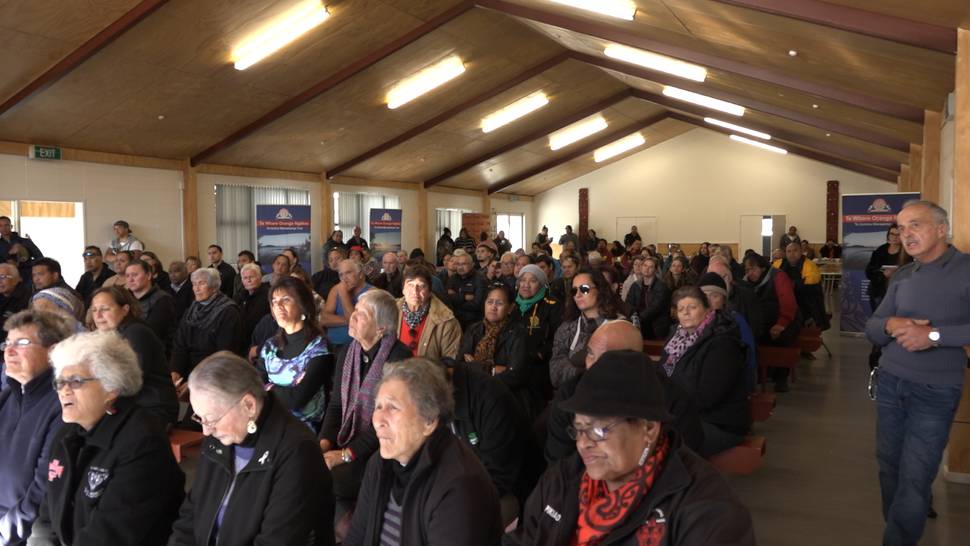 Despite the scourge of P, Mr Haumaha said he was confident action at marae and community level could "bite the head off this snake".
He said the sheer number of people who had turned up for the hui indicated the scale of the problem but people should not be afraid. There was hope for the community in standing collectively, said Mr Haumaha, who appealed to the leaders of the community -including gang leaders.
Former druglord Billy Macfarlane also appealed to gangs to "put down their weapons" and come to the marae. He spoke to the gathering of his former life bankrolling a multi-million dollar P operation. He did not want to glorify the life of drug crime, which he said despite the money involved, was an ugly life.
"I was controlling, manipulative and dangerous . . . I beat people to within an inch of their lives, I was involved in high-speed chases, I was always armed. I lost friends - to overdose, to suicide after a botched P deal. One had a heart attack in the prison yard and was dead before he hit the floor, another friend in Tauranga was murdered."
Eventually locked up in a maximum-security prison, with a 14-year stretch ahead of him, Mr Macfarlane said his turning point was when his young son visited and pressed his face against the glass, crying to see his father shackled and surrounded by armed officers.
Now, 15 months out of prison, Mr McFarlane is working with police to apply Maori solutions and tikanga to the war on P, and said he was humbled and proud to be "on the other side" of the drug battle.
Other panel members included drug and addiction workers - including representatives from Tauranga's Ngai Te Rangi and family support group Brave Hearts which meets twice monthly in Tauranga.
Mr Haumaha pledged to start similar regular meetings for families in Rotorua, and said he would organise more hui like this one across New Zealand.
He would harness the support and knowledge of Mr Macfarlane and had recently met representatives of gangs in Wellington including the Mongrel Mob, Black Power, Nomads and the Tribesmen.
"Everyone deserves a second chance, and I will say that to even the most notorious Mongrel Mob . . . we walk the line together. But do not cross this line."
He said "the eyes of Wellington" were on the Ngongotaha hui as a gamechanger for the way forward, and he would be speaking to Police Minister Paula Bennett on Monday.
"Where I sit, in Wellington, this discussion is very important to us and to our minister. She wants to see action in this area, and we are prepared to support her in this, to look at how we can develop solutions to these problems in small communities like this.
"We are lucky to have a police minister who is not only deputy prime minister but who is absolutely committed as I am, as you are, as we all are to bring the power back to the people, to the marae, to keep our communities safe . . . will we bite the head off the methamphetamine snake. We can, and we will."
How can you help?
Report crime anonymously via Crimestoppers for free on 0800 555 111.