A New Zealander has had her legs crushed in a horrific car crash in Australia.
Kase Causer's legs were crushed and her kneecaps shattered when her food truck and a bus collided on the Sunshine Coast in Queensland, Australia on Thursday.
Causer, 30, told the Herald she had just picked up the food truck and was on her way to the first location when the crash happened.
She looked down to turn on the fridge as she was approaching a T-intersection. When she looked back up a bus, which she says indicated too late, was in front of her.
She slammed on the brakes but it was too late to stop the collision.
"It was like hitting a brick wall at 70km/h," she said. "I was pinned with my hips against the steering wheel and my legs were crushed."
Causer had to be cut free from the truck before she could be given painkillers and taken to hospital.
She was taken straight into surgery where her legs were cleaned up and temporary bolts, which stick out of her legs, were put in to hold the bones together.
"It's been pretty traumatic and hard," she said.
She has since been laid up in the Royal Brisbane and Women's Hospital waiting for more surgery.
She expected to be in hospital for at least a month and said because both her kneecaps were smashed, it was likely to cause ongoing issues.
But despite all that she remained positive.
"I was actually very lucky because I've had no injuries from my hips upwards except one fractured rib."
Her family in New Zealand have set up a Give A Little page to help family and friends stay with Causer while she is in hospital and help with her recovery.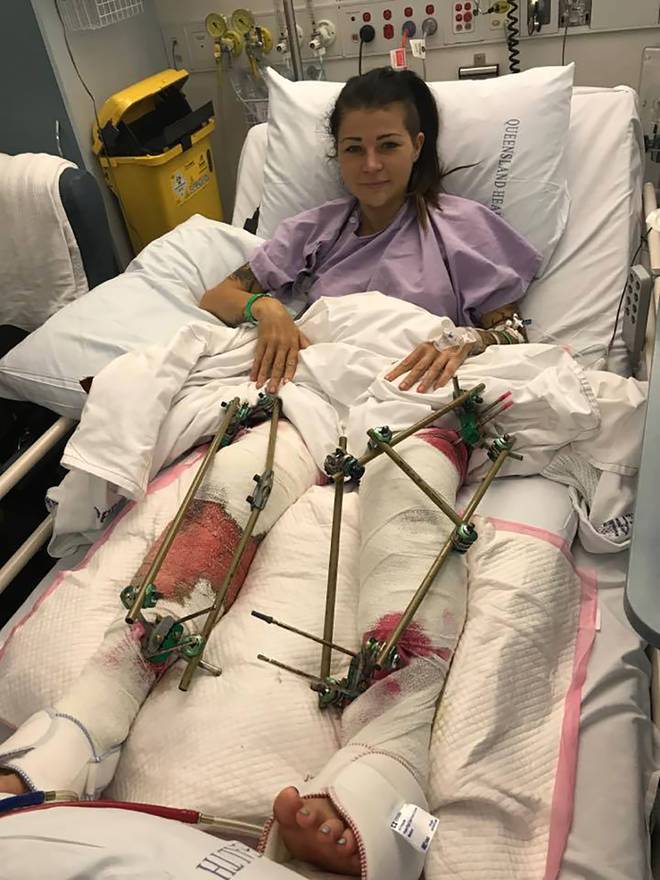 Causer's mother and aunt had flown over to be with her but her aunt was due back soon and finding the funds to allow her mother, who lives in Golden Bay, to stay was difficult.
"It's a bit hard on Mum too. She's never been to a city so it's quite overwhelming for her," Causer said.
Causer already had flights booked to move back to New Zealand next month and said she would be on a plane home as soon as she was fit enough to do so.
Her sister, Ella Causer, who set up the fundraising page, wrote: "Being so far away in New Zealand makes tripping back and forwards very difficult and her recovery will be some time. We want to be over their to help her and also help bring her home like she was planned to be doing in June [sic]."
Ella Causer said everyone was confident her sister would put up a good fight and bounce back quickly.