Christchurch infant Ihaka Stokes died after suffering dozens of separate head, face, and body injuries that don't match explanations of accidental cot falls by his de-facto stepfather, a court heard today.
Troy Kevin Taylor, a 23-year-old roofer, denies murdering 14-month-old Ihaka Paora Braxton Stokes on July 3, 2015 at a Truman Rd property in the Bryndwr area of the city.
Ihaka was found unconscious and rushed to Christchurch Hospital where he died less than an hour later.
Taylor, ex-partner of Ihaka's mother Mikala Stokes, was suffering from sleep deprivation and concussion, around the time Ihaka was developing an ear infection, when he caused the fatal injuries, the Crown alleged today at the start of a two-week murder trial at the High Court in Christchurch.
Both the Crown and the defence accept there were no intruders on that fateful night.
And today they agree that the injuries were not accidental.
But defence counsel Phil Shamy urged the jury of six men and six women to keep an open mind, telling them that there were two people at home the night he died.
The key issue of the trial, Shamy said, is: "Who did kill Ihaka Stokes?"
"Was it Ms Stokes or was it Mr Taylor?" he said in addressing the jury.
He said the Crown must prove beyond reasonable doubt that it was Taylor who caused the injuries and therefore is responsible for Ihaka's death.
"Which means you have to be satisfied beyond reasonable doubt that it wasn't Ms Stokes," the lawyer added.
"Prejudice and sympathy can have no place in a trial like this."
Taylor also denies assaulting the child the day before the alleged murder.
In her opening address, Crown prosecutor Courtney Martyn said that a post-mortem found that Ihaka had suffered 59 separate injuries.
The jury was shown a graphic photo of the tiny boy's body in hospital that drew gasps from the public gallery.
He suffered bruising to his forehead, around his eyes and ears, as well as his jaw line, skull, shoulder and arms.
Ihaka also had fractured forearms, a brain haemorrhage and swelling, the court heard.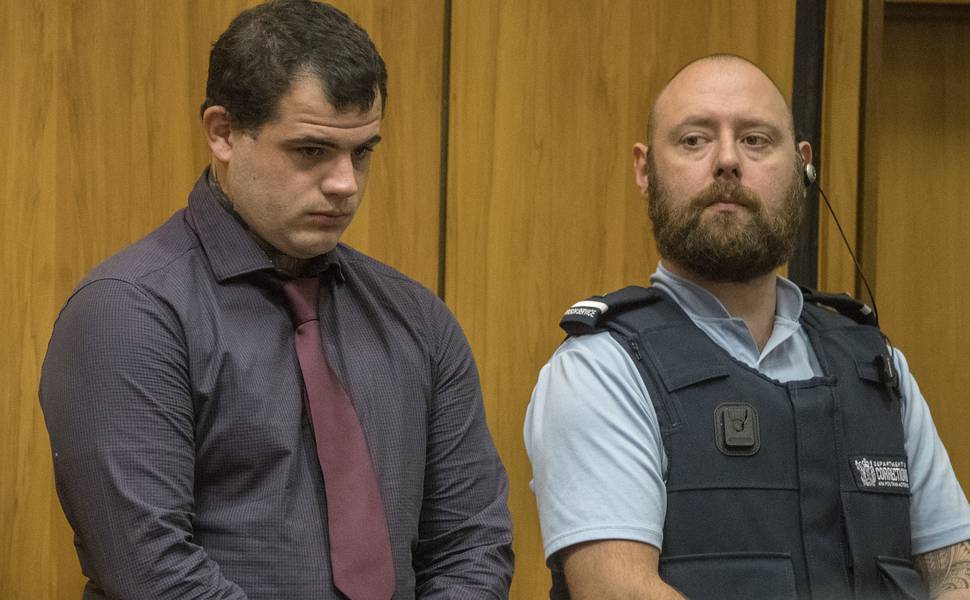 Taylor told police he found baby Ihaka unresponsive in his cot after getting up to investigate "one loud bang" shortly after 10.30pm on July 3, 2015.
He later told police that Ihaka had fallen in his cot.
Martyn said there had been no bangs, however, and claimed that Taylor's explanations of the injuries were untrue.
Taylor's defence counsel - brothers Phil and Simon Shamy - accept that the injuries were not accidental.
There was clear medical evidence, the Crown says, including from paediatricians, neuro-pathologist, and pathologist, who will tell the trial that the injuries are not consistent with an infant falling in a cot.
Taylor had been suffering from sleep deprivation and ongoing headaches after several bouts of concussion, the Crown says.
Around the same time, Ihaka - who wasn't walking but could pull himself up and use furniture or people to move around - had been "generally out of sorts", and was developing an ear infection.
"And it was this unfortunate combination that led to [Taylor] losing it and causing Ihaka's death," Martyn told the jury.
The Crown says Taylor woke his then partner Mikala Stokes shortly before 10.43pm to say there was "something wrong with Ihaka".
The mother rushed to his room and found him lying unresponsive on his back in his cot, struggling to breath with blue lips.
Stokes got Taylor to ring 111 at 10.43pm. He carried out CPR with instructions from the 111 call operator, the court heard.
An ambulance arrived seven minutes later.
He was rushed to Christchurch Hospital emergency department but was declared dead at 11.40pm.
Taylor claims that the night before the alleged murder, he heard two bangs which he said he put down to Ihaka banging his head and falling in his cot.
Stokes and Taylor took the youngster to a GP to be checked over the next morning.
Taylor explained to the doctor that Ihaka had fallen inside cot, which the GP accepted.
The Crown says that the nature and number of Ihaka's injuries were "completely inconsistent" with any kind of cot fall, but rather it was Taylor who caused the fatal injuries.
The Crown says the boy's mother did not inflict any injuries on her son.
A total of 36 Crown witnesses are expected to give evidence.
The trial, before Justice Cameron Mander, has been adjourned until 10am tomorrow for behind-closed-doors legal argument to take place this afternoon.