Kiwis have been revealed among the most prolific pre-loaders in the world when it comes to drinking, prompting a call for action by a leading alcohol researcher.
The practice of pre-drinking - drinking at home before a night out - was prolific across the 25 nations the study covered, but New Zealand's rates were especially high, showing an estimated 78.7 per cent of 1560 Kiwis surveyed pre-loaded.
That figure was behind only Ireland (85.4 per cent of 1883 respondents), Norway (80.5 per cent of 174) and Canada (80.2 per cent of 962), and ahead of Australia (64.1 per cent of 1855), the United States (65 per cent of 3878) and the UK (75.3 per cent of 4763).
The research, published today by Swiss and Australian researchers in the journal Drug and Alcohol Review, found that countries with higher levels of drinking in general - New Zealand's prevalence of current drinkers was estimated at 79.5 per cent - also had a higher percentage of pre-drinkers as a result.
The authors said this suggested pre-drinking was affected by the same cultural tendency to drink that underpinned alcohol use in the general population.
Otago University researcher Professor Jennie Connor noted the researchers also made the point that there was an underlying pattern of drinking, which has a "north-south gradient".
"This refers to Europe. Australia and New Zealand have inherited the northern European pattern of drinking - rather than the Greek, Italian and French traditional pattern, which came to New Zealand with settlement by people from the UK.
"It is widely observed that this pattern involves more intoxication, with higher blood alcohol levels. "

However, Connor said, the authors conclude it was not just the underlying drinking pattern that determined how big a proportion of the population pre-load - it was also affected by the way regulation works in each country.
"They show that the difference in price between pubs and liquor stores - in New Zealand this is pubs compared with supermarkets and bottle shops - has an effect as well as how normal it is to drink, and how normal it is to drink heavily.

In New Zealand, alcohol was very cheap from supermarkets and bottle shops - cheaper than it had been in the past - and there was "a big difference" in price compared with bars and pubs.
As well as this, she said, a high proportion of the population drink, and 20 per cent of all New Zealanders over 15 drank at a hazardous level.
"So until some of this changes we will have high levels of pre-loading."

At the moment, the percentage of New Zealand adults who were hazardous drinkers was climbing, from around 15 per cent in 2011 and increasing every year since, now up to 20 per cent.

"With direct relevance to New Zealand, the authors state: 'in countries with a high prevalence of heavy drinkers, any increase in the price ratio might have a substantial impact on the percentage of pre-drinkers'.
"That is, if alcohol was not so cheap in supermarkets pre-loading would be less common.

"The most effective ways we have to reduce consumption overall, reduce hazardous drinking, and reduce harm from drinking are to increase the price of alcohol - especially for the cheapest sources of alcohol - reduce trading hours for the outlets that supply most of the alcohol - which are supermarkets and bottle shops - and reduce the promotion of alcohol.

"This study supports the conclusion that these same strategies will reduce pre-loading."

The findings weren't surprising to alcohol researcher Dr Nicki Jackson, executive director of Alcohol Healthwatch.
"New Zealand has one of the highest prevalences of pre-drinking behaviour - over three quarters of people between the ages of 16 and 35 - which is aligned to the prevalence that we have from smaller studies."
Jackson said a big factor was the price difference between alcohol bought on-licence and off-licence.
"In New Zealand, where we have a high density of off-licence outlets, we know from research that where we have increased competition for off-licences then the prices come down and that increases opportunities to purchase alcohol at a very low price.
"And we are talking about buying [a ready-to-drink] and spirits-based drink for less than $2 each; and of course, young people who are very price-sensitive will often go for the cheapest option."
Jackson believed New Zealand had to "take a stand" to increase the price of alcohol, especially within off-licence premises.
"We haven't had any movement for a long, long time on this and we would like the same amount of attention that's paid to cigarette tax to be applied to alcohol.
"We also know that the prevalence of hazardous drinking is increasing again - so we can't be complacent here."
Waikato Hospital Emergency Department clinical director Dr John Bonning said while only one New Zealand hospital collected data on where over-intoxicated patients had purchased their alcohol, pre-loading was contributing to a growing problem for front-line doctors.
Binge-drinking appeared to be part of the culture of Australia and New Zealand, said Bonning, chairman of the NZ Faculty of the Australasian College of Emergency Medicine.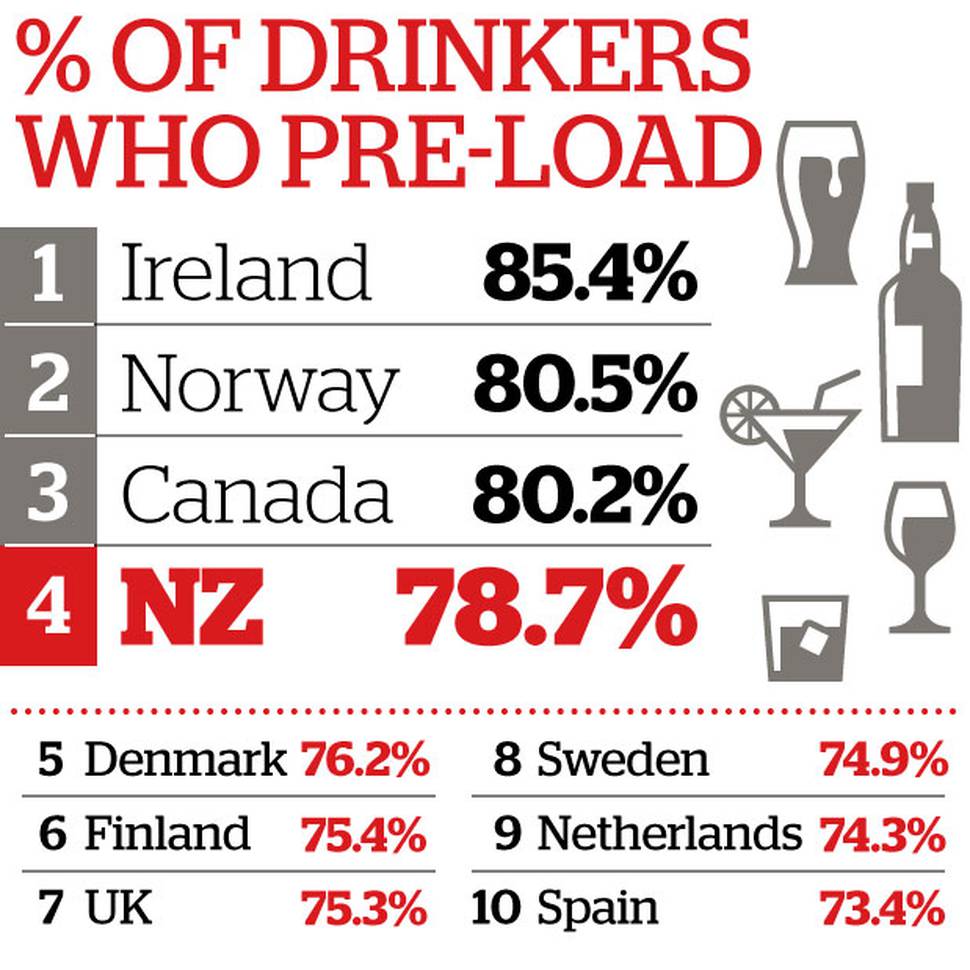 "On a given Saturday night, one in four people in EDs around the entire country are there as a result of alcohol," he said.
"They are there as a result of their own over-indulgence and that's something that is preventable."
However, Spirits New Zealand chief executive Robert Brewer said it was wrong to imply that the level of pre-loading as described in the research was an indication of heavy, harmful or so-called binge drinking in New Zealand.
Brewer pointed out, that while New Zealand had high rates of pre-drinking, the study also showed the country had the lowest "heavy drinking" rate among all countries surveyed.
"Dr Jackson's call for price controls to curb harmful consumption is also flawed as nowhere in the world has this worked to reduce harmful drinking."
Brewer said official health statistics showed rates of binge drinking and harmful consumption among our younger drinkers were coming down and had been for some time.
But he acknowledged the group was still over-represented in harm measures, which the industry was addressing through its Cheers! social change initiative.
Overall, the new study showed that more than 50 per cent of people surveyed across all countries were pre-drinking before a night out and the greatest percentage of pre-drinkers was in either English-speaking or Nordic countries.
The only countries whose prevalence of pre-loading fell below 50 per cent were Greece (17.7 per cent of 283 respondents), Brazil (32.2 per cent of 3931) Switzerland (48.8 per cent of 3672) Poland (47.9 per cent of 334) and Hungary (46.2 per cent of 3308).