The Lints family has been to "hell and back".
Aiden Lints' spine was partially severed in a horrific head-on car crash five years ago today - and doctors said the 2-year-old would never walk again.
Wiping back tears his mother Monique, who suffered a fractured pelvis and broken wrist in the accident, said the crash had left them "mentally, physically and financially ruined".
"We have clawed our way back, and we are good," she said.
But memories of the day when a van crossed the centre line and smashed into their 4WD on State Highway 2 as they were travelling home to Te Puke, changing their lives forever - are still raw.
"Aiden was in a booster seat so at the impact of the accident he was thrown forward. The lap belt severed and stretched his spinal cord, and basically, the backseat caved in on his back. It was gut-wrenching and every mother's worst nightmare."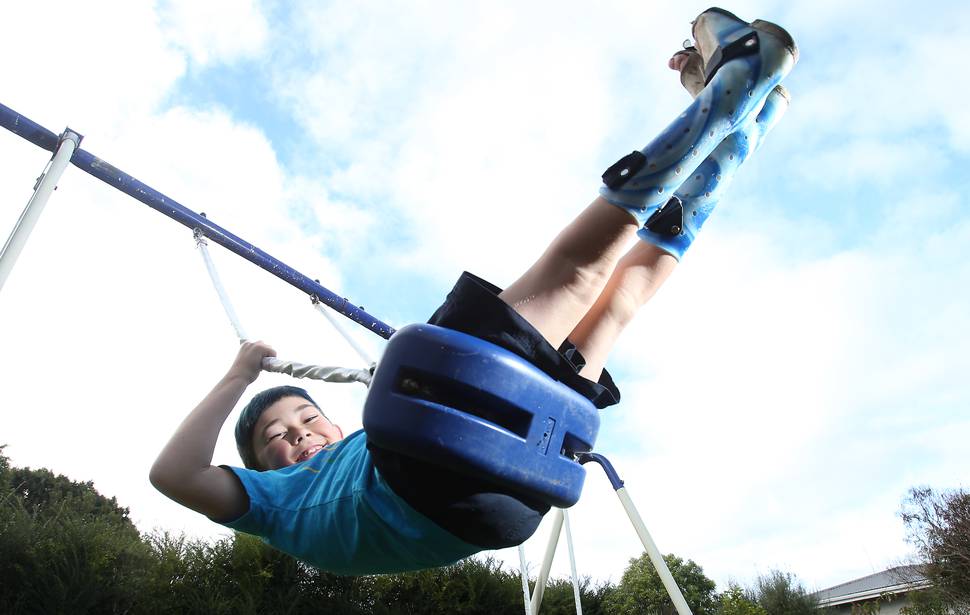 Her husband Grenville suffered bruising to his entire body - while their other son 8-month-old Danyon and a 3-year-old family friend escaped with minor injuries.
Aiden spent weeks in Starship hospital and months at the Wilson Home Rehabilitation Centre in Takapuna but has defied all odds.
"It's been an absolute roller coaster journey of huge highs like him taking his first steps.
"What the teachers at school said to me is Aiden all right to walk to the library, and I'm like what do you mean ... he is walking? They just had no idea he wasn't supposed to walk, and this was just a like an epiphany, oh my gosh my child is walking."
On the flipside there had been "really low, lows combined with hard work and tears", she said.
Surgery to repair his hip that had started to fall out, repeated emergency visits, ultrasounds, blood tests, MRI scans and regular medical procedures were ongoing.
"You name it Aiden goes through it. He almost knows how to do most things by himself now. He can take his own blood pressure, temperature and do his reflexes and has become quite a pro."
"I wouldn't be surprised if he grows up to be a doctor as he has it down pat."
Mrs Lints said Aiden's outgoing personality, perseverance and determination were inspiring.
"There is nothing holding that kid back. That is how we have always seen things no matter what they have told us; we've always been out to defy the odds and just blow everyone away."
"If he wants to do something he will do it."

Aiden said he was getting more mobile and liked school, swimming, handball, riding horses and hoped to be a scientist one day. He had a power-assist wheelchair but could walk unaided.
"It feels good I am getting stronger and stronger."
The 7-year-old with blue hair took things in his stride and started Brick Kids - a Lego club that met weekly at Te Puke Library - last year.
On average 15 to 20 kids gathered to build creations, and after Easter, the club would hold its first expo.
"It's pretty cool; I like making stuff."
Giving back to the community was important Mrs Lints said.
She was president of the Te Puke Toy Library, ran a local market and spent time at the community garden.
"I can't work as I am on call for Aiden 24/7. ACC has been unbelievable, and we are constantly getting support so I feel if I can help I will. It's our privilege to live in this community."