Daughter, now 4 and a half, unable to comprehend mum's absence.
The little girl asks for her mother every day, without fail.
She cries for her, misses her, asks about her.
"I want my mummy... I miss my mummy... I want to see my mummy," she says, over and over again.
She's been begging for her mother since September 2015 when she was just 3.
She has no idea that her mother is never coming back - or why.
But one day the little girl will hear how her father Lionel Patea murdered her mother Tara
Brown, chasing her across the Gold Coast, ramming her off the road and beating her to death with a 7.8kg metal fire hydrant cover.
She will hear how the violent former gang member used that cover to bash her mother around the head and face almost 30 times, leaving the stunning 24-year-old unrecognisable and with non-survivable injuries.
READ MORE:
Lionel Patea pleads guilty to murdering Kiwi Tara Brown
The Big Read: How Lionel Patea murdered Tara Brown
Tara Brown's killer Lionel Patea's criminal life revealed
She will hear that her mother feared her father, a controlling and abusive man, and tried to leave him before she was killed, tried to protect herself and her daughter from a life of violence.
And she will hear how her father hunted her mother down - waiting outside her day care until Brown dropped her off that day and murdering her minutes later.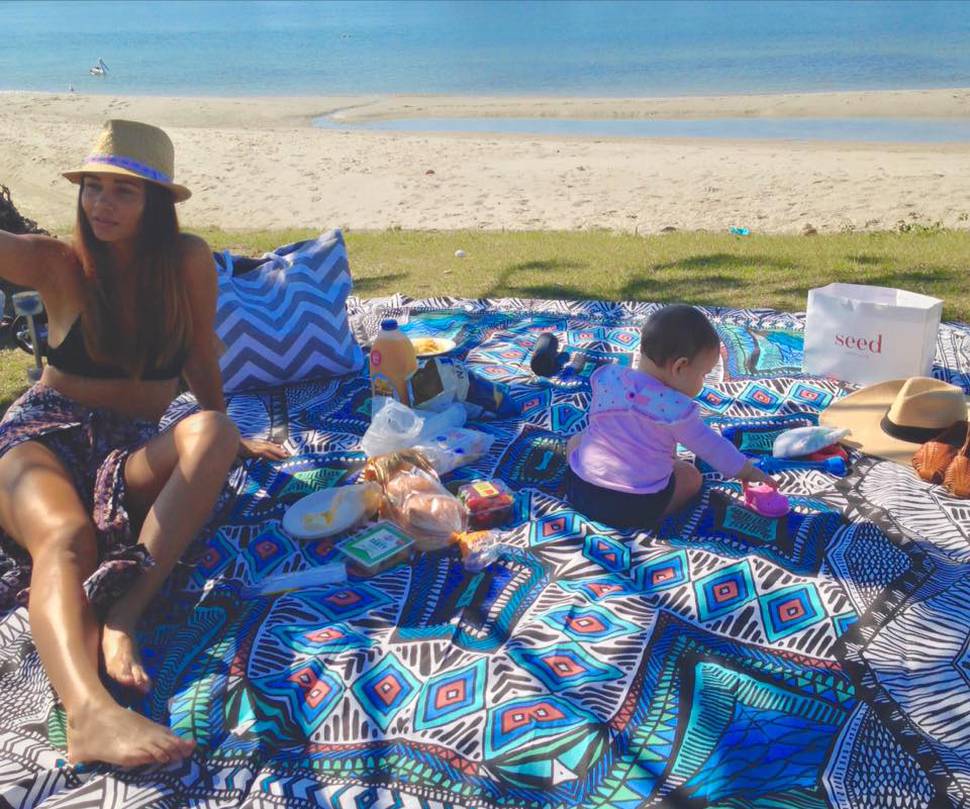 This week Patea pleaded guilty to murdering Brown and was sentenced to life in prison.
Brown's death was felt on both sides of the Tasman - in New Zealand where she was born and has family, and in Australia, where she'd been living in recent years.
But it is her little girl, now 4 and a half who will feel the loss the most.
Now being raised by Brown's mother Natalie Hinton and her partner Jonny Gardner, the little girl lost both of her parents on September 9 2015.
Hinton spoke about the impact on the child, who the Weekend Herald has chosen not to name, when she read her victim statement to Patea on Monday in the Brisbane Supreme Court.
She said Brown and her daughter were "inseparable" and had "a bond like no other".
"And at the tender age of 3, her innocent life was destroyed by [Patea's] choice of shameful and cowardly barbarism.
"What father would do that to his child?"
Hinton said her granddaughter asked for Brown "every day without fail".
"I have, and continue to, cuddle and comfort her through her tears of missing mummy, her sobs full of heartache and sadness," she said.
"The weight and intensity of her sobs is the saddest thing ever."
The little girl broke Hinton's heart when she asked recently: "will I be getting another mummy just like my mummy?"
"[She] is confused and does not entirely understand the concept of her mother's death.
"She is not aware of the full extent of this monster's brutality on the day of the incident.
"But what this child has witnessed in the three short years of her life with her mum has already scarred her for life - and these scars will be reopened through her future.
"I have been impaled by the oppressive load as the person responsible for relaying these horrifically savage and graphic details of events leading up to and including her mother's death to [her]."
There was barely a dry eye in the courtroom when Hinton read her harrowing statement, standing metres away from the "monster" who ended her daughter's life.
The hands he used to bring that metal weapon down on Brown's head and face over and over were cuffed in front of him as he sat in the dock, encased in glass, two rows of his victim's family and friends sitting behind him grieving, angry, overwhelmed.
Patea sat silently. He showed no emotion, not even a flicker of recognition, sadness, remorse.
Tara Matekino Brown was born on March 21 1991 at Waikato Women's Hospital in Hamilton.
Hinton, from Hamilton, and her Gisborne-born partner Patrick Brown also had a son, Rikki.
The family moved to Australia when Brown was a girl, and settled on the Gold Coast.
Patrick Brown died in 2003 and his daughter would meet Patea eight years later in 2011.
A year later their daughter was born.
The relationship was fractious - Brown left a few times, taking out protection orders in a bid to keep herself and her daughter safe from Patea.
In the latter years Patea's job as a miner kept him away from Brown much of the time - he'd work for a month, then spend a week at home.
During that week, he focused all of his attention on his daughter.
Nobody knew that behind closed doors, he was terrorising, tormenting and hurting Brown.
Photographs on his Facebook page portray a tattoo-covered but doting father holding his little "princess" proudly, spending time and playing with her - there's even a shot of a pregnant bikini-clad Brown with her seemingly loving partner's had protectively on her belly.
Fast forward three years though and the photographs of the little girl show neither of her parents.
The closest thing to a family photo is one of the child standing at her mother's grave, her Disney princess dress flowing in the breeze, her hair in pigtails and a cheeky grin on her face under a pair of over sized sunglasses.
"The pain in my heart from the enormous hole Tara's death has left is indescribable... the recurring thoughts of my failure as the mother, protector of my daughter are crushing my soul," Hinton told the court earlier this week.
"Our whole family has been robbed.
"[Brown's daughter] unjustly deprived of a childhood and lifetime with her mother... because of his selfish inhumane act."