Today marks the last day of summer, but some parts of the country could be forgiven for thinking it never arrived at all.
Wellington was given the worst serving, getting rattled by the strongest winds in 14 years and almost breaking the record for lowest sunshine hours.
Meanwhile Auckland, Northland, and the Bay of Plenty have been baked under a relentless drought that left farmers and growers tearing their hair out.
Skip to the South Island, and those hoping to make a summer escape to the West Coast found it cold and wet.
Niwa meteorologist Ben Noll said a rogue jet stream was to blame for a "pretty extreme" summer.
"Where the jet stream blows is where the storms will go.
"And the jet stream has been blowing, fairly unrelentingly, into the Tasman Sea.
"That has sent storm after storm to New Zealand, especially through December-January.
"We've had high pressure to the north, and lows to the south.
"Wellington is in between, and if you're in the middle of the sandwich, you're going to get eaten."
The summer's been so bad that, until last weekend, Wellington was on track to beat the record for cloudiest summer on record.
But a sunny Sunday took it past the 2011-12 low of 534.2 sunshine hours.
Depending on today's weather, Wellington's now expected to hit between fourth and sixth place on the cloudy weather records.
"That's why records are records, they're tough to beat," Noll said.
"It is still notable though, especially on wind.
"Wellington had 31 days with wind gusts over 72 km/h. That's an entire month of gale force winds, out of three months."
United Future leader Peter Dunne is currently gathering signatures for a petition to move the official summer period to February-March.
But Noll isn't so sure that would work out.
Niwa has compared average January and February weather across the country, and found the best timing was regionally dependant.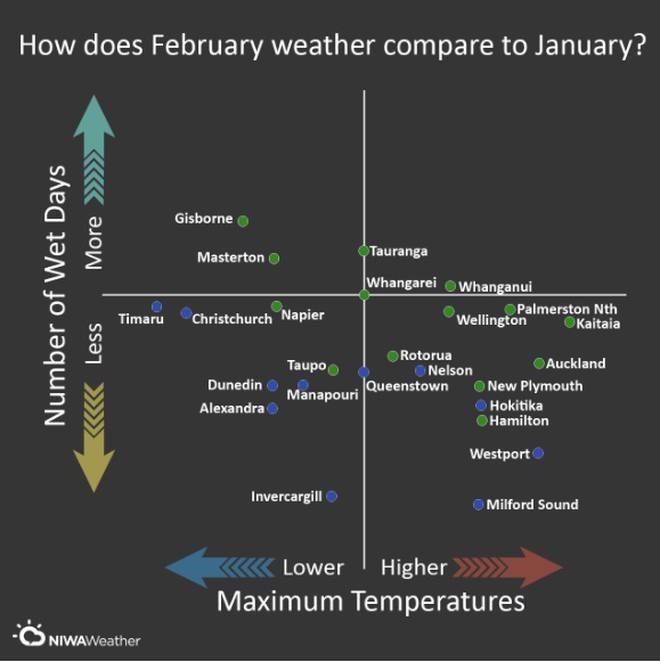 "It's about 50-50 really, who has better weather in February and who doesn't," Noll said.
"It's a toss up. There are places in the South Island that are cooler in February, but then you look at Auckland, it has less days with rain in February."
But Dunne is sticking by the petition.
He said the forecast for more settled weather through March proves his point.
The petition has so far gathered more than 2900 signatures out of the required 5000.
Dunne hopes a blast of publicity will take the number of signatures well into the five figures.
"I think that maybe people have just got back into the year's groove and forgotten about it.
"Then as the weather's improved, they're not thinking about it at all.
"They should just hark back to what it was like in December-January."
Dunne said initial polling showed a strong mood for change.
His team is planning a publicity campaign for the petition, and he believes that will get people behind the issue once again.
"Just imagine if people were heading off to summer holidays right now.
"Once we get the finer, settled weather the summer blues go away.
"But they'll come back next year."
Despite autumn being ready to hit tomorrow, WeatherWatch said the summer weather was set to continue into part of March.
The first day of March tomorrow would kick off with a large high, centred both to the east and west of the country, putting it firmly in control of New Zealand's weather, WeatherWatch said.
This means light winds, sea and lake breezes and daytime cloud build-ups, producing the odd heavy downpour for the inland upper North Island, mostly Waikato and the Bay of Plenty ranges.
The high is expected to centre over the North Island over the rest of the working week, stretching summer out that little bit longer.