Wellington's top cop says he's confident the police officer who fatally shot a 44-year-old man who came at them with a machete acted appropriately.
As investigations into Saturday's shooting continue, acting district commander Superintendent Steve Kehoe said the incident, which unfolded near Mana Esplanade in Porirua, was a "dynamic, confronting and dangerous situation".
It began when police were called to reports of a domestic dispute between a man and a woman involving a knife at a Waikanae address about 11.30pm.
Before officers arrived the man fled in a vehicle.
When police got to the house they found the woman unharmed. At the same time other officers began searching the streets for the man and the vehicles.
They spotted his vehicle near Mana Esplanade, about 30km south of Waikanae.
Kehoe said the man approached a police car, brandishing a large machete about 12.30am.
Police, fearing for their safety, shot him.
It appeared the man was shot in the shoulder, Kehoe said.
​"We understand that one shot was fired."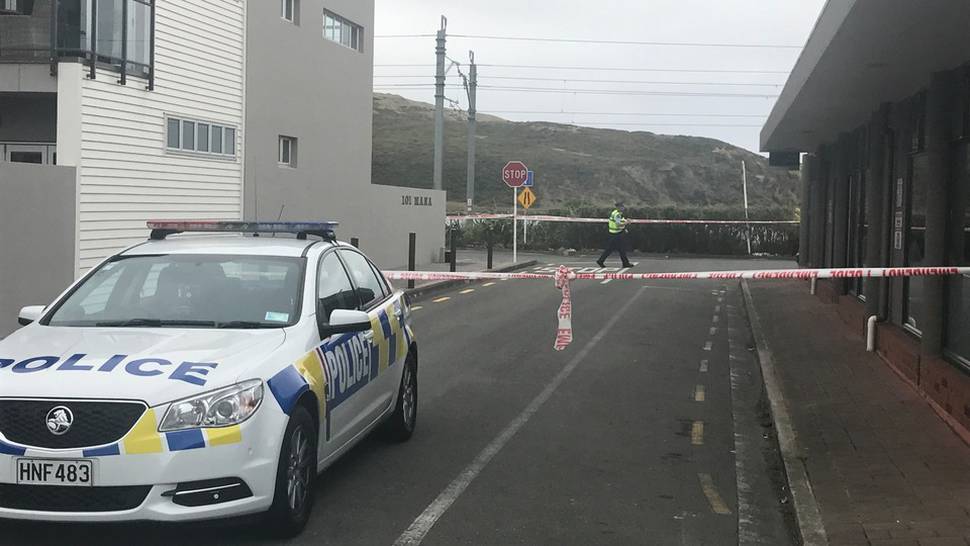 When asked why the officer pulled out a gun instead of a taser, Kehoe said staff made a tactical decision about which weapon to use based on the threat they were facing.
"Using a firearm is a last resort for police. Staff come to work every day and help the community, making a difference in society.
"However some incidents require police to act and respond appropriately to threats to them and the community."
The officer who shot the man was alone in a police car at the time of the incident. However, another officer in a different vehicle witnessed the shooting.
Police immediately gave the injured man first aid and called paramedics.
The 44-year-old man who was shot died in an ambulance on the way to Wellington Hospital.
Kehoe said at this stage he was confident the officer acted "professionally, appropriately" and followed procedure.
​​"On that basis the staff have my 100 per cent backing and support."
It was a "confronting situation" and Wellington District police were supporting the officer who shot the man, as well as the woman involved in the domestic dispute, Kehoe said.
He confirmed the victim was known to police.
Police recovered a machete and also found an air-rifle in the man's car.
The investigation was in its "very early stages" and police had been conducting a scene examination near Mana Esplanade today.
The Independent Police Conduct Authority would conduct its own inquiry into the shooting.
More specific details about what happened would emerge as investigations continued, Kehoe said.
​​It was unclear how close the officer was to the man when they discharged the weapon.
Kehoe was tipped-lipped about the level of experience the officer who was involved had and whether the officer was a man or a woman.
​​"It's very early days and this will all become clear as the investigation goes on.
"We're in an ever-changing environment when police are responding to incidents, so we have to deal with situations as we are confronted with them and that's when the quick decision-making has to take place."
They wanted to hear from anyone who may have witnessed the shooting, Kehoe said.
Police and Victim Support have been in touch with the man's family and are supporting them.
"It's a very difficult time for all of those concerned."
Police will continue to examine the scene to ensure all available evidence is gathered.
Cordons
Earlier cordons were erected near Mana Esplanade in Mana as police began examining the scene.
A resident in a nearby apartment block said the building had been in lockdown this morning and no one was allowed to leave their apartment.
She said she didn't hear or see anything last night.
Cordons have been set up on an access road behind a group of commercial buildings this morning and police will be examining the scene.
Red police tape is blocking both ends of the access road and officers are patrolling the cordon.
A woman this morning lifted the tape and tried to enter the cordon but was yelled at to stop by police. She told them she just wanted to go to the nearby New World supermarket and was escorted through.
A spokesman for the Sandbar near the scene said they had been advised by police not to speak to media.
A manager at another local bar, the Supply Room, said they were closed at the time of the incident, and everyone had left the building about 10 minutes before the shooting.
Police are also speaking with the man's family and are providing support.
Police said Wellington Acting District Commander Superintendent Steve Kehoe would release more details about the shooting at a media conference outside Wellington Central Police Station on Victoria St at 2pm.
Police shootings:
• Police shot a 24-year-old Christchurch man in the face after he pointed a gun at them in Woolston this month.
• A machete-wielding man was shot twice by police in Rotorua in July, 2016. Police Tasered him three times and pepper sprayed him before shooting him.
• Police fired several shots killing Nick Marshall, 36, in Hamilton in July last year. Police were searching a possible gang pad for methamphetamine when Marshall picked up a long-barrelled firearm and cocked it.
• Mike Taylor, 57, was fatally shot by police at his property on County Rd, Karangahake Gorge, in June last year.
• Pera Ariki Smiler, 25, was shot dead outside McDonald's in Upper Hutt in September 2015.
• David Cerven, 21, was shot dead in Myers Park, Auckland in August 2015.