A lakeside scrub fire shooting "huge, big fireballs" into the sky is now extinguished.
Firefighters and two choppers were battling a 500m by 500m scrub fire in Dublin Bay, which caused some homes to be evacuated.
But a Fire Service shift manager said the fire is now extinguished and being dampened down.
The fire was near the property of celebrity cook Annabel Langbein.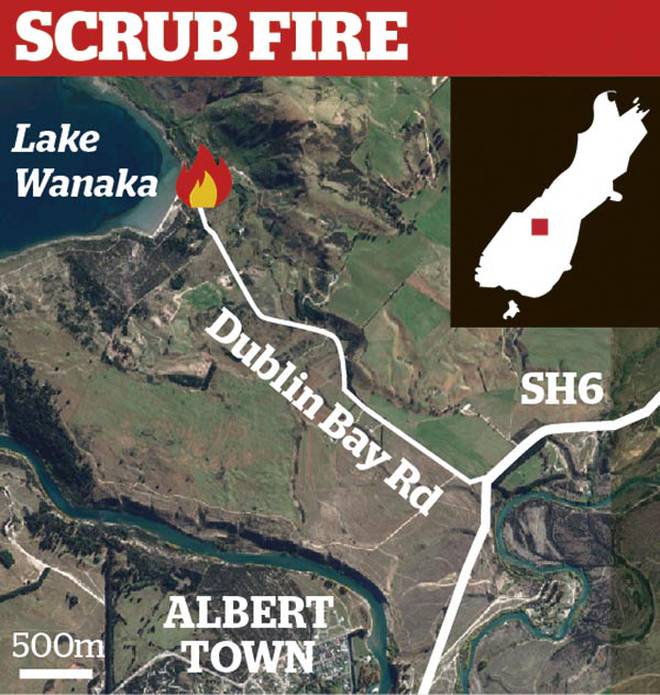 Langbein said the fire was across the bay from her house, and at the time she could see "huge, big fireballs".
"It's really scary, actually, they've evacuated everybody," she said.
A Fire Service shift manager said the fire, which started before 6pm, was about 500m wide.
"We believe two houses may have been evacuated as a precaution," he said.
There were four fire engines, a couple of tankers, and two choppers on site battling the fire, which he said was "not yet contained".
Langbein said there had been a huge fire in the area in 1999 which "took out the whole peninsula".
"That was just terrifying," she said.
"Whole trees exploding."
Today's fire was about a five-minute walk away from her house, but only about 200m if she were to swim across the bay.
She thought perhaps some of the fireballs had disappeared even as she watched teams fight the flames.
Erin Bowman said she had been out on Lake Wanaka wakeboarding when she and her family saw the smoke about 1km away.
"We saw the big, red flare-up and we though ' that doesn't look good'."
They headed over to where the fire had started down on the beach and called 111, then watched as helicopters gathered water in their monsoon buckets.
"The smoke looks like it's subsided," Bowman said.
When the fire was larger, she could see it near some houses.
"The way the wind was, it was quite fortunate that they weren't affected."
Bowman praised the chopper pilots for their work.
"Amazing, those people," she said.
The area is often populated with freedom campers, Langbein said.
- Additional reporting by Otago Daily Times