Quakes and quakes, some flooding, more quakes, and now fires? Come on, Mother Nature, what's next?
Christchurch can't catch a break.
The Port Hills fires have raged all week. Rising plumes of white, grey and black smoke have shrouded the city since Monday night.
The smoke has loomed menacingly above us, like an evil Eiffel Tower over Paris. At night, the orange glow has taunted us from between rising new glass buildings, vacant quake-cleared city blocks, and from far across the Canterbury Plains.
It was a slow-burning disaster. Unlike the quakes, which came with a boom, the fires ramped up gradually.
Second timelapse video of the fire, taken after sundown and into the night by Dru Norriss www.norrissphotography.co.nz
Within hours, they were burning on two fronts. By Tuesday afternoon, the intensity was building. Smoke drifted across the city, filling houses, cafes, classrooms.
A chopper crash, the pilot dead. A war hero, SAS legend, a loving father of two and husband, all-round genuine top Kiwi bloke, and one whom I had the pleasure of sharing a couple of BBQ beers with a few years back.
Steve Askin loved his Canterbury. That night he told me his plans to one day walk from "rock to rock" - a beach trek from the northern curl of Pegasus Bay straight south, fording rivers and plugging on, some 80km to Sumner, at the base of the Port Hills.
The Port Hills, Christchurch's native playground. Walking, running, cycling, rock climbing, paragliding and, for the past few months, mountain biking at the world-class, multimillion-dollar Christchurch Adventure Park.
That's all on hold for now. The adventure park's hillside is charred and scarred, a scene New Zealanders are more accustomed to seeing in news reports from Australia or the US.
Smoke and flames flare up occasionally, until a helicopter drops 450 litres of water.
The smoke clings to your clothes and grips the back of your throat.
And it'll be like this for a while. Some of the most sought-after real estate in New Zealand's second-biggest city - with priceless views across to the Pacific Ocean, up to the Kaikoura Ranges, and across to the Southern Alps - was evacuated.
About 1400 residents were kicked out for their own safety. Many returned yesterday. Some still wait. Some don't even know if their houses are still standing, or whether their pets and livestock have survived.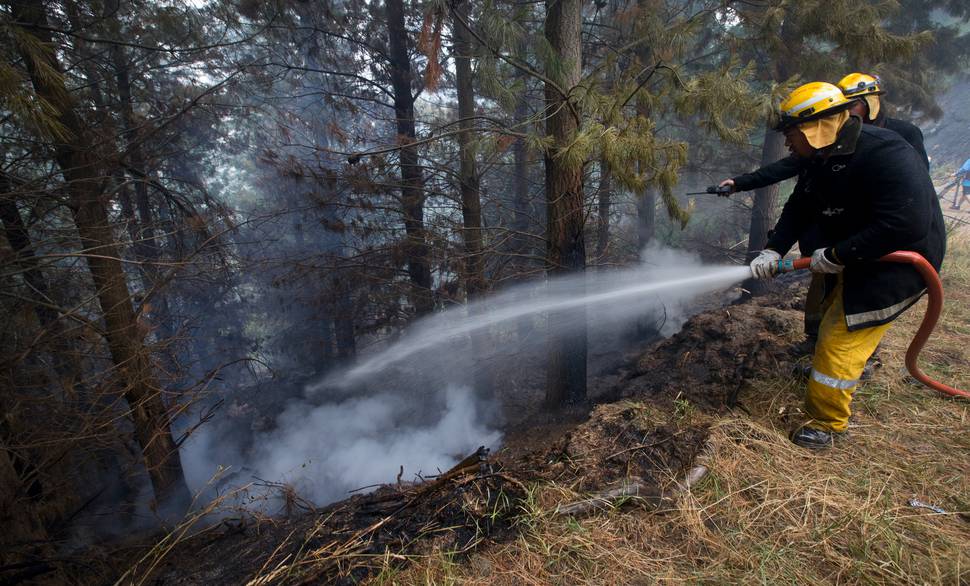 By yesterday afternoon, 11 homes were confirmed lost.
I was with Simon Grace when a police officer drove him up to see his three-storey family home of 20 years reduced to a tiny pile of smouldering ash, twisted metal and shards of glass.
"Our family home for 20 years, it's all just gone," he said.
I met his mother, Cecile, the day before, up on a nearby hill, trying to use binoculars to see if her house had survived. She was too upset to talk to me, as a reporter, then. So we just chatted, she vented. And then apologised. And then we laughed.
The city is still laughing. Maybe that's how we cope. Maybe that's how we came through the quakes, which, for a while, seemed like they would never end. While some Cantabs question whether some official agencies have learned any lessons from the quakes, the people sure have.
But the displaced, many of whom were families and their pets, have been well looked after.
Five evacuation centres were opened up in Christchurch, Lincoln and Governors Bay over the week with capacity for hundreds of people.
Simon Grace visits the charred remains of his family home in the Port Hills - over 20 years of memories up in smoke
Yet, they were hardly needed. Only a few handfuls turned up. Only one refuge centre remained open by Thursday night. Everyone was hunkering down with friends and family, down on the flat.
Occasionally, they'd traipse up a hill and look across to the fires. Helicopters flitted around like dragonflies, monsoon buckets tailing behind, sniffing out hotspots.
The residents looked across to their homes. Some lost, some safe, some unknown.
"Where do you live?" I'd ask.
"That one," they'd point. My eyes would follow their finger to a roof surrounded by black earth.
"Yeah, the one that's collapsed," they'd say. And then laugh. And chat.
"The smoke clings to your clothes and grips the back of your throat."

SHARE THIS QUOTE:
Because, what else can you do?
The worst is over, we think. The drizzle yesterday provided some relief. More for the collective spirit than for the water tables, but still ...
It's been a hot, dry summer. The nor'westers will return, possibly by Monday, and could spell more danger. Until then, the firefighters - city, rural, voluntary, along with the chopper pilots, the true heroes of this sorry saga - will continue to operate on two hours' sleep, donated food, adrenaline and professionalism.
It's them, and the people, the still smiling people, who will let the battered Garden City live to fight another day.
Just don't call us "resilient". We hate that.