Twenty years of memories, gone in minutes.
Simon Grace, 28, chokes up and cannot contain his emotion when he relays the story of his family home, razed to the cinder block foundations in the Port Hills fire this week.
His best mate Hamish Tovey, 29, puts an arm around him, doesn't say anything for about a minute, then speaks.
"F*** it mate, everyone's alive - and that's the main thing."
Grace lives on the Gold Coast these days, where he works as a V8 Supercar mechanic. But he grew up in the Port Hills house where his late father's belongings and a lifetime of precious memories had been kept.
A despondent Grace had been in Christchurch for just one hour when he spoke to the Herald yesterday.
On Tuesday night he saw posts on Facebook about the fire, read news coverage, but wasn't too worried.
"I didn't think anything of it," he said.
"Then I woke up yesterday [Wednesday] morning and saw where the fire had gotten to. I rang Hamish and asked him to go and have a look and I rang Mum and told her to pack her bag and get out of there."
Tovey headed to the Grace family home straight away.
It was just after 1.30pm on Wednesday and he could see flames licking up behind a nearby house.
The fire was about 100m away from Grace's home.
Tovey, an import company director, set about filling the gutters with water and hosing down what he could in a bid to save the house if the fire got closer.
"We got a car load of valuables out but that was about it," Tovey said.
Police arrived to evacuate the group, who begged them to get a fire engine to the house.
The officers said the matter was out of their hands, and they were simply there to evacuate.
So, Tovey and his best mate's mum headed down the hill. "That's when the flames got to the house up the top [of the road]. When the [water] tankers turned up we were down the bottom of the hill watching," Tovey said.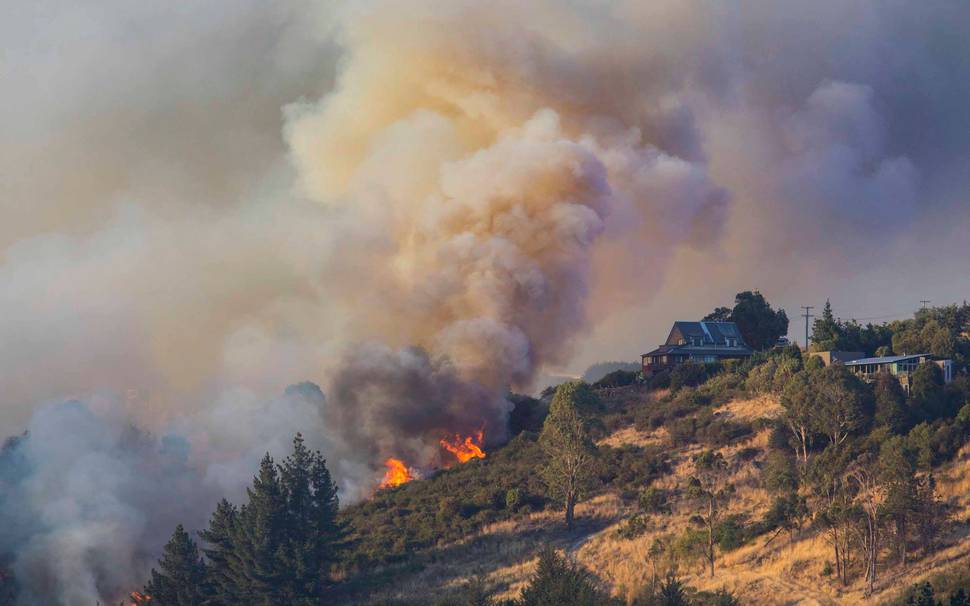 "At about 5.30pm we saw flames coming off the roof of Simon's house.
"There was a car in the garage and I don't think that helped things. The next thing we saw was the fire blew all of the windows out of the house and it was all over."
Grace was called and told his family home had been destroyed.
It was badly damaged in the 2011 earthquake and repairs were completed just two weeks ago.
He got on a plane as soon as he could and landed in Christchurch about 3pm yesterday.
By 4pm he was at the top of Bengal Dr with Tovey, trying to see his home.
The Herald was able to photograph the property using a zoom lens and show him what little was left.
"It's toast," he said.
Grace became emotional.
"I didn't know what to expect. It's pretty hard.
"It's devastating. Twenty years worth of memories. My dad died five years ago and all of his stuff was still in there."
He and Tovey took a moment, staring at the spot on the hill where the three-storey home stood just 24 hours earlier.
"Just when you think it's all done [in Christchurch] something comes and kicks you in the guts again," Grace said.
"We're all alive, and at the end of the day, that's all that matters. The car, the house - that can be replaced. But still, 20 years of memories gone; that's hard."