Four students and one staff member have been hit by pellets fired into Western Heights High School grounds during its sports day.
The incident sent the school into lockdown for about an hour this afternoon. It has now been lifted.
In a statement, the school said:
"There was an incident today where pellets were fired into the school grounds during sports day. Four students and one staff member reported being hit by these pellets.
"As a precaution, and to ensure student and staff safety, police were contacted and the school was put into lockdown.
"Police conducted inquiries in the neighbourhood. They have now informed us that the situation is under control and have released us from lockdown."
A police spokesperson said police were called around 1.10pm after reports that a slug gun or similar had been discharged in the vicinity of the school.
"No one has required medical attention. Police have made inquiries in the area and have spoken to those they believe were involved. There is not believed to be any ongoing public safety risk at this time."
The school has posted on its Facebook page the situation was under control and lockdown conditions had been lifted.
It said students would be released at 2.45pm and buses will leave at the normal time.
Earlier:
A staff member said someone on the outside fence line of the school was shooting a BB gun at students on the field.
He said "a couple" of students and a teacher were hit.
"Everyone is calm, nobody is freaking out," he said.
A post on the school's Facebook page says:
"The school has gone into lockdown as a precaution because of a disturbance in the neighbourhood. Students are safe. Police are assisting. We ask that parents do not come to the school. We will advise you as soon as lockdown procedures have been lifted."
A police media spokeswoman confirmed police were at the school, but could not provide more details.
Deputy principal Lyn Henshilwood said there was no threat to students and they were taken inside as a precaution.
It was the school's sports day today, she said.
A reporter at the scene said the school gates were closed and two police cars could be seen on the school grounds.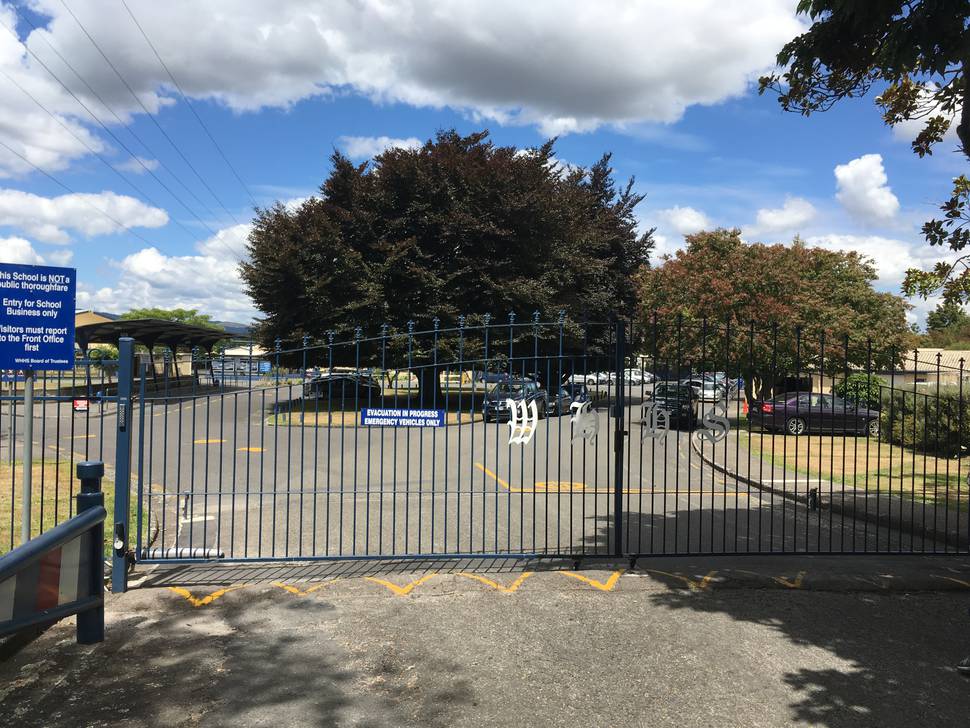 Shona Turnbull was at the school gates. Her son is a Year 11 student at the school. She said she got a Facebook message to say the school was in lockdown so went to the school to make sure he was okay.