One of the skydivers who crash landed near Queenstown yesterday was a skydiving champion with tens of thousands of jumps under his belt.
Sasa Jojic, originally from Serbia, spent five years on his country's national skydiving team and was twice Yugoslavian champion.
He and a colleague, staff members from NZONE Skydive, hit the ground at up to 100km/h, emergency services said.
Both miraculously survived and were last night in a serious but stable condition in Dunedin Hospital, as an investigation was launched into what went wrong.
Photographer James Allan, who was at the scene, said both skydivers had severe leg injuries, and one had facial trauma and abdominal injuries.
"At that speed, you're in for decent strife," Allan said, adding the pair landed about 50m from their usual landing place.
"It looked like they landed on a gravel road," he said. Jojic's wife was in Auckland when she heard about the accident, a family friend told the Herald on Sunday. She was rushing last night to be with her husband.
The company said the skydivers were in the final stages of a staff tandem training session when they came in to land, performing a low turn.
Jojic joined NZONE in 1997 and with more than 29,000 jumps to his name is the company's most senior instructor.
His stunts have included teaming up with a pro BMX rider and landing a bike after a 15,000ft tandem skydive. He is also known for "sky surfing", where skydivers wear a board attached to their feet.
NZONE Skydive general manager Clark Scott said the company was fully supporting the staff members involved, as well as family, friends and other staff.
"Our immediate concerns are obviously for the well-being of the staff involved, and we are not in a position to comment further on their injuries or speculate as to what may have happened."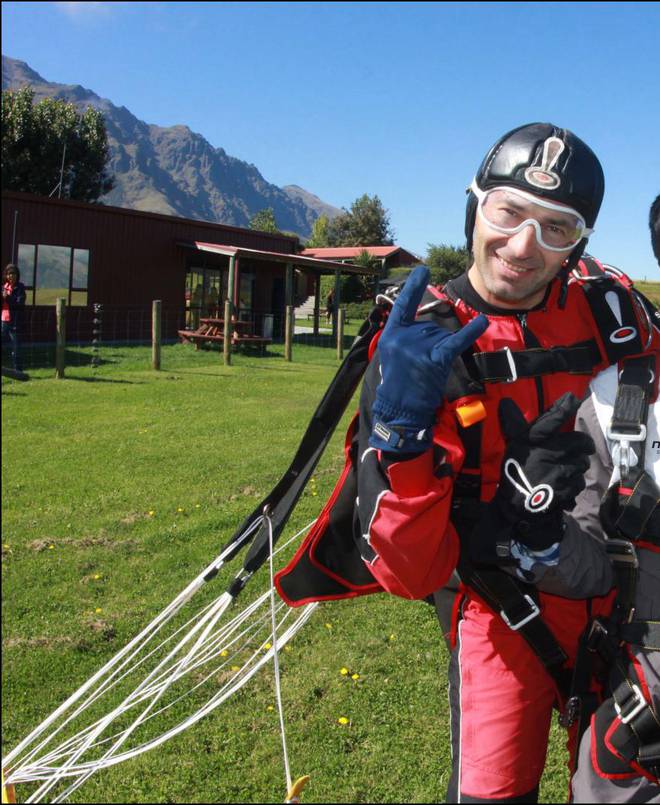 The company's business development manager, Derek Melnick, said the pair were doing a tandem jump. The jump was most likely from about 15,000ft.
It was not clear what went wrong, but it is understood the pair's jump had gone smoothly until the low turn before landing.
In 2014 the company said on Facebook it had had a 100 per cent safety record for more than 24 years.
Worksafe and Victim Support have been notified.
Dunedin Hospital said last night that both patients were in a stable condition.
New Zealand skydiving accidents:
Nine people died when their plane crashed at Fox Glacier Airport in 2010.
In 2013 a pilot escaped uninjured after his skydiving plane crashed into a line of trees near Parakai. Two skydivers on board managed to jump before the crash.
Thirteen skydivers were forced to jump out of an aircraft over Lake Taupo in 2015 after suspected engine failure.