Ioela Ana Rauti has been living in her Glen Innes state home for 21 years.
The Tamaki Redevelopment Company now owns the house and wants to bulldoze the home and those surrounding it to make way for what they say will be social and affordable homes.
They say they have offered her five other homes but she has not been cooperative.
Rauti, 62, is refusing to move and this morning staged a sit-in.
Herald readers have been voal on the issue. Here is some of their recation:

• "She has had 21 years of subsidised rental housing courtesy of the NZ taxpayers. Most people have to settle for something that is less than perfect in their eyes. Nicki should be no exception by using the media to gain support. She should be able to find one of the five houses offered to her to be satisfactory and be grateful for that." - Lynette Reed
• I cannot see the problem of the Auckland 62 year old beneficiary being evicted from a house she has occupied for 21 years that she does not own. She DOES NOT OWN the home. We can all be evicted from rented accommodation. There is no exception for her.
• "This is Niki's home. She should be allowed to stay there. This is another example of privatization of State assets. These are being sold off at cut prices to the wealthy. New Zealanders are being ripped off and the media is silent. Disgusting." - Tony Munro
"A 62 year old is not old. Myself and many of my friends, some older, are still working at this age. We are the ones that help pay her benefit and housing with the tax we pay.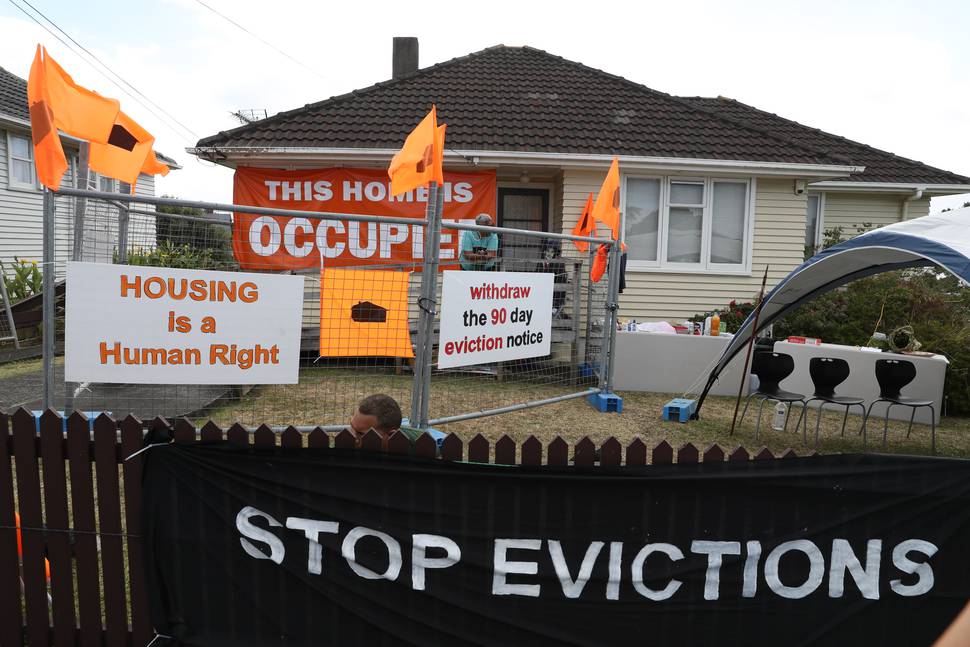 "It is time for Ioela Ana Rauti, 62, also known as Niki, to take responsibility for her life and move on. From the photo of supporters it looks like Ioela Ana Rauti, 62, also known as Niki, has a lot of support to help with removal and accommodation." - Helen Bary
• "Yet another example of the culture of entitlement that festers in our society.
We have enabled a section of society to believe that they have no responsibility to provide income, housing, and make responsible life decisions that means that they can live with in their means.
"I understand that this person has been offered alternative accommodation.
She has absolutely no right to stay where she is and so deny other low income families the right to the new housing that will be put on the site.
"Please let us reverse the culture of entitlement, it is generational and very entrenched." - Vivienne Howard.
• "She needs to pack her bags and take on one one the alternative options offered, or take responsibility for her self." - Rob
• "Niki is bravely fighting for state tenants in Aotearoa and specifically fighting against the expulsion of the GI community - NZers, we are better than this." - Dieneke Jansen
• "Niki begins her speech, that no doubt has attracted a lot of media attention, with "this is my place" - correction, that house is owned by the ratepayers of NZ. She has been fortunate enough to live in that house for a long period of time, but that does not mean it belongs to her. I suggest her supporters club together and buy her a house, as owner she can then be in control. As long as you "rent" a house whether it be from Housing NZ or from a private person, you cannot call the shots. In NZ we have fostered an attitude of entitlement over generations, and this poor lady clearly thinks she has all the rights." - Mary Glanfield
• Chuck her out. It is not her house - John Clutterbuck
• "THAT LADY MUST GO! And she has been offered 5 other houses !! She should be taken away." - pyntebar
• "About time she moved. tax dollars have supported her accomodation for 20 plus years. At a time of crisis where one home occupis the space where three or more could stand she needs to say thank you to the people of NZ not thumb her nose at them." - John
• "This person is lucky to be housed and living off the government. If she does not like the deal the government is offering her she should move on under her own resources instead of thinking the government owes her. 21 years in a state house is disgusting while genuine people are homeless." - hawknet