A Carters Beach family left the seafront yesterday afternoon just minutes before a freak wave flooded the adjacent domain, scattering huge logs like matchsticks.
Tania Shadbolt, who moved into her Marine Parade home just four weeks ago, said she and her family had been at the waterfront enjoying the beach.
The waves were already large and the noise had upset her baby granddaughter Aliyah so they had moved up to the playground area.
Aliyah's mother Tenille Shadbolt said that while they were at the beach the waves were large, with every seventh one larger still.
They had reached the playground when there was a noise like thunder and she turned to see a massive wave.
"The wave was just black and it was huge, way bigger than us."
She estimated the wave could have been as high as four metres.
"As the wave came up it came in like a big river."
They didn't have to run, she said, as once the wave had broken it swept in across the domain relatively slowly and did not reach the playground.
Tania Shadbolt said a huge tree trunk which they had all been standing on earlier, while watching the waves, was tossed up on to the domain.
She said it was incredibly lucky there was no one standing there.
"We had been with my granddaughter just 10 minutes earlier."
One of the children had thought the freak wave was a tsunami, she said.
In 57 years of living at Carters Beach, Rae Intemann has never seen anything like what happened yesterday.
Mrs Intemann, 85, whose home is on Marine Parade facing the sea, said she was asleep in a chair yesterday afternoon when her sister Donna Anderson yelled that a huge wave had broken on to the domain
"She said 'look out the window'. It was unbelievable... I think she was ready to take off. Never have I seen it like that ... it was amazing..." Mrs Intemann said.
"I wasn't fascinated of course - but I was a bit, wondering how big it was going to be."
After the first big wave, more waves kept breaking over.
"You could see it would hit the bank and all this black sandy water would run right along."
She said she told her sister "It must be high tide now".
"But I was saying 'it must be high tide for about three hours'."
Word got around fast and a constant stream of people drove in to Carters Beach for a look, Mrs Intemann said.
The water had drained away this morning, but the domain was littered with driftwood.
She hoped locals would do what they'd done in lesser events in the past, and shovel the debris over the bank along the foreshore to help protect from the sea.
Buller Mayor Garry Howard said there was no point in starting a clean-up for a couple more days in case more debris was washed in before the big seas subsided.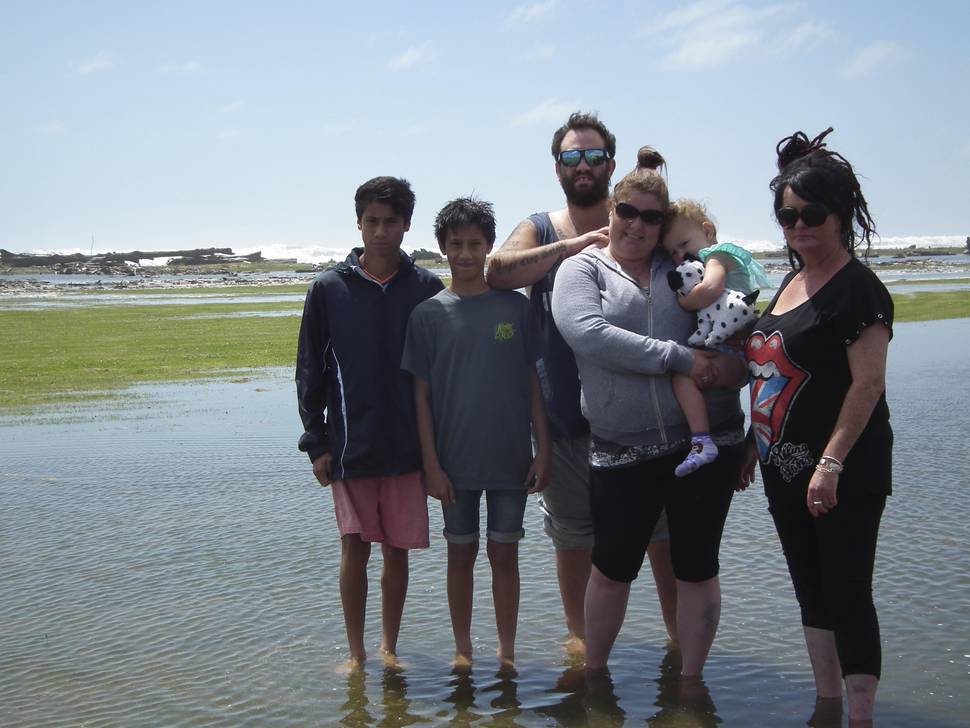 The Buller District Council would meet the Carters Beach Domain Board to plan the work, he said.
West Coast Regional Council chief executive Mike Meehan said rogue waves were not unheard of on the West Coast.
"That can happen outside of storms and events like this."
Mr Meehan said the sea had also entered properties at Granity yesterday where his council was working with residents on protection options.
"But no protection is going to stop that overtopping."
Scientists told Northern Buller residents at a public meeting in November that the only long-term solution for threatened houses was to move further from the sea.
Heaphy Track damaged
There was damage elsewhere along the Buller coast, including the Heaphy Track.
Department of Conservation Buller operations manager Bob Dickson said the coastal section was extensively damaged.
"Large boulders and timber have completely buried the track south of Heaphy Beach while recently re-routed sections further along the coast have been eroded.
"Some slumping has been detected and today crews are in there with a digger working to rectify damage before tomorrow's forecast storm arrives."
This afternoon rangers had reported huge waves of 5-10m breaking over parts of the coastal track, Mr Dickson said.
DOC was working with the Karamea information centre to advise trampers to wait and its Heaphy Hut warden was also advising trampers heading south to wait.
"We are also advising the Nelson Visitor Centre (who manage the Heaphy booking system) to advise those persons booked to walk the track over the next few days to consider delaying owing to severe weather systems forecast from tomorrow."
Power poles threatened
Buller Electricity operations manager Alan Hawes said the sea threatened power poles in the Ngakawau Bridge area. The sea had chomped off a metre of coastline overnight, and was now within two metres of the poles.
A contractor was putting rock protection around the structure today and Buller Electricity was talking to the New Zealand Transport Agency about moving the pole line between Granity and Ngakawau, Mr Hawes said.
There had been no loss of power yesterday.
At Charleston waves poured over Beach Road in a couple of places leaving large logs, kelp and other debris behind.
Resident Jeanette Goode said similar conditions probably happened once or twice a year.
She had been working at her computer when the noise of tumbling rocks disturbed her.
"It was a fairly exceptional sea. I went down to the beach to have a look and opened the gate and a wave actually came right up the path."
At Punakaiki the beach camp escaped unscathed. Manager Craig Findlay said this time it was the other end of the beach which was hammered.
The Cottage Motels closer to the Pancake Rocks had had to find other accommodation for guests last night as their driveway was impassable due to rocks thrown up by the waves and water damage.
Rocks were also thrown on to State Highway 6. Contractors were called in to clear the road yesterday afternoon.
Weather conditions
Westport harbourmaster Mike Graham said it was difficult to know what had caused the heavy seas yesterday as the weather conditions weren't particularly bad.
"The tide was reasonably high, over three metres. The wind was quite strong, it was the predominant wind from the south west but nothing that different from normal so to identify why it happened, I really don't know."
However, he thought it might be connected to the run of low pressure systems over the South Island, the size of the swells and the length of time between swells.
"There's an awful lot of low pressure off the South Island and they're pretty deep lows.
"I spoke to a fisherman yesterday a bit further south than Greymouth and he had five-metre swells.
"The Greymouth bar was horrible yesterday but we didn't have it that bad."
However, there had been a lot of surge in the Westport lagoon last night. He was called out after midnight to check on fishing boats.
Mr Graham said warnings usually preceded big swells, but there were none yesterday so everyone had been taken by surprise.
- Westport News