Friends and family are mourning the loss of an Auckland woman they say was a "warrior" who lived life to the fullest every day.
Harriet St Clair Brown, 38, died on Sunday from an aggressive form of melanoma which returned last year - 10 years after she thought she'd beaten it.
St Clair Brown, also known as Harriet Thomson, co-founded the free play outdoor holiday programme Conscious Kids NZ. The nature-based activities encourage children between 5 and 12 to head outdoors with as few technical props as possible.
Youngsters who take part are told to leave their mobile devices behind, and their parents expect their children to come home dirty from a day's play.
An early childhood teacher and free play advocate, St Clair Brown was remembered by loved ones as someone with an exceptional capacity to live her life with purpose and joy.
Her father John Brown said he would miss everything about his "special princess".
"The most outstanding feature I recall than anything else about my daughter was she was a natural born leader," he told the Herald.
"[People] could sense her presence, her commitment, her leadership."
St Clair Brown co-founded the free play outdoor holiday program Conscious Kids NZ last year, a passion she kept until the end of her life.
This week photos of murals in sand, driftwood sculptures and the letter 'H' made or found in nature were posted to the Conscious Kids NZ Facebook page in her honour.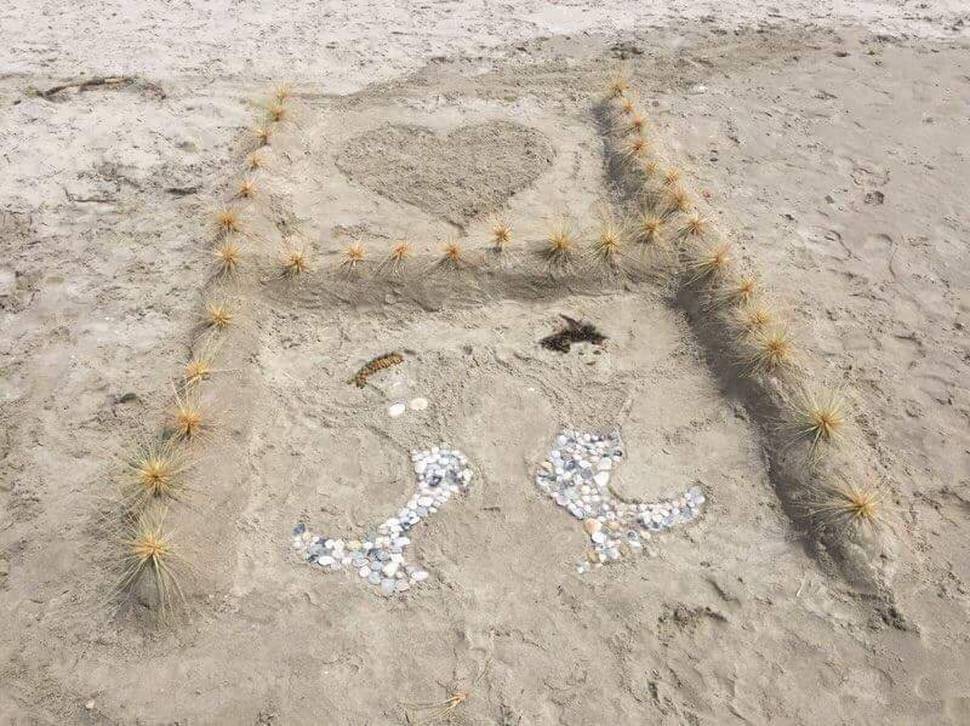 The young mother leaves behind two young daughters and her husband Mike Thomson, who has been in love with his wife since the moment he met her 16 years ago.
What was supposed to be a two week holiday from his native Scotland ended in marriage, children and a permanent home on Auckland's North Shore.
"It was a whirlwind romance, I fell in love at first sight," he said.
"She was just so beautiful. You just think 'holy moly, who is this beauty'."
Through their years together, St Clair Brown taught her husband to enjoy life the way she did - appreciating every moment.
"I'm the kind of person who goes from a to b, 'gotta go there, let's just do it'," he said.
"She really did teach me [to] enjoy the journey and enjoy every minute that I can."
Last May, St Clair Brown was taken to hospital after suffering a seizure.
She was told secondary tumours from a melanoma removed from her back 10 years ago had appeared in her brain, lungs and spine.
Despite two brain surgeries and specialty drugs to try to fight the tumours, the cancer progressed and she died in hospice care six months later.
St Clair Brown's brother Fraser Brown said his younger sister was his "soulmate" and the pair were incredibly close since childhood.
"Everybody has a person that is their person, call it a soul mate or a best friend. We've always been that," he said.
"The thing that sticks out for me most about Harriet is her authenticity. She was very unique, she was brave and she always from a child was authentic.
"She never tried to be anything that she wasn't.
"She had a massive inner strength that really came out in difficult times and obviously this battle with cancer being the big one."
Brown was the one to suggest people take their kids out in nature to remember St Clair Brown.
He said it felt fitting to remember his sister through the work she did with Conscious Kids, which was her passion and legacy.
The company's co-founders, Maria Mariotti and Rita Pontes, said their friend was a "warrior" and an inspirational teacher, sentiments echoed by many more of her lifelong friends.
"She was a big kid but just taller. Everybody would respect her because they felt equal and they felt they could learn a lot from her," Mariotti said.
St Clair Brown would always be with them in spirit, Pontes said.
"She will be each child's smile in the bush."
St Clair Brown's funeral will be held on Monday January 16, 11am, at St Mary's in Holy Trinity in Parnell. All welcome.
A memorial celebration day at Long Bay reserve will be held for families and friends on Thursday January 19 from 1pm.