A Tauranga couple Alla and Mark Kirkham were camping in their caravan in Boat Harbour 15 minutes outside Kaikoura when the 7.5 magnitude earthquake hit in the early hours of Monday. This is Alla's email to friends describing her terrifying experience.
"Well, here I am sitting here in my favourite spot in Kaikoura and it is peaceful and everything seems normal apart from helicopters and planes passing over every 5-10 mins. Just now I am suddenly reminded that it is not normal as the earth shuddered again beneath me.
I woke up last night from a deep sleep to our caravan lurching from side to side. It got worse and worse and was literally jumping up and down. It was impossible to move.
I remember thinking s***, we are going to end up in the sea. I was truly terrified, objects were flying out of swinging cupboard doors and there was no way you could stand up. I screamed at Mark what we have to get out of here, thinking about the tsunami that was likely to come. We were only a few metres from the ocean.
We got outside the caravan and looked towards the mountain directly in front of us. But it was going bang, crack, as we could hear rocks and earth sliding down its face.
We jumped into the car and took off down the road trying to head for higher ground. Mark was speeding in his panic and I told him to slow down. Just as he slowed the road in front of us had disappeared.
We came to a halt just in time to not go down a 2-metre slump in the road. We got out of the car to see that the sea had dramatically retreated so we knew a tsunami was coming.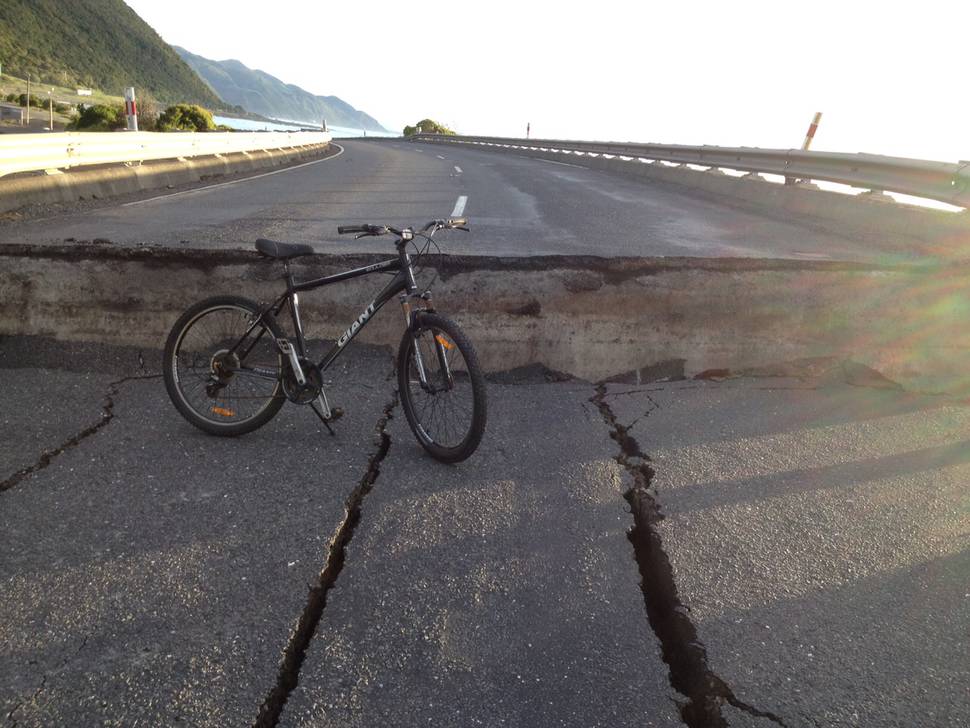 We ran up the nearest hill as fast as we could just as other cars and a massive truck came flying towards out parked car. Fortunately they all managed to stop in time.
I was screaming at them to get up the hill that a tsunami was coming. Mark went back down and helped some people climb the hill as many did not have torches.
A smallish wave hit not long after but we didn't know if there was more to come or not. There were 13 very shaken up people sitting on the side of this hill with the ground continuing to shake every few minutes. We were really frightened that some rocks or a slide could come down on top of us.
The truck driver just got through the tunnels as it hit and we saw a massive landslide come down right behind him. He nearly tipped over.
We sat up there from just after midnight till 4.30am. All of us very cold and in shock.
The way the earth was moving I'm not surprised that the roads are destroyed in places. The piece of road that we nearly went over was one of the worst. As we were sitting up there we were wondering where the quake was centred. We figured it was pretty close due the violence of it.
Two of the couples with us were from Christchurch and we were praying that it wasn't centred there because we knew it if was, the city would be devastated.
Today I am relieved. I am very sad that two people died not far from us and I am sorry for everyone who has suffered severe damage. But I am grateful that we didn't get buried in a landslide and that the tsunami that eventuated did not wipe out our caravan and all of the homes along the coast here.
Today it is very still and the only thing that seems weird is that thousands of stranded paua all over the rocks. I think most of them will have died by the time the water comes back in. What a waste. Our caravan did suffer some damage underneath. Two of our stabilisers are completely wrecked but nothing we can't fix.
We have no power and water. Fortunately I still have a bit of water in our tanks but will have to conserve cause we don't know when we will get them back again. We have plenty of food but damn it I only have coffee pods and my Nespresso won't go without power. Note to self, never go anywhere without some plunger coffee.
SAFE BUT ON EDGE
Speaking to the
Bay of Plenty Times
from Cheviot yesterday, where they had finally been able to reach to top up on food and fresh drinking water, Ms Kirkham said they planned to leave on Thursday.
Their campground was now deserted as people fled as soon as the road south to Chevoit was passable.
"We're reluctant to leave our caravan. Four-wheel-drive vehicles can go south to Chevoit but our great big 8m caravan wouldn't make it."
She and her partner were hoping the road would be improved enough by Thursday to make it out caravan and all.
"We're a bit on edge and the ground is shifting continuously. You get no warning and the whole earth just jolts and it gives you a hell of a fright."
But since making it to Chevoit yesterday, they had everything they needed to keep them going for several days; fresh water, food and the all-important coffee.
Their caravan had water, although not suitable for drinking and a supply of gas.
"We're reasonably comfortable but not having power or cellphone coverage is a bit of a nuisance," she said.
The couple had gone to the South Island to the Christchurch A&P Show for business and on the way back stopped in Kaikoura to dive, fish and relax.
"It hasn't been quite as relaxing as we hoped," Mrs Kirkham laughed.
"We just don't know what's going to happen, although we figure the worst is over."