Traffic leaving central Wellington is gridlocked as commuters scramble to leave the rain-battered city.
Roads and highways have started to reopen this afternoon after floods and slips caused widespread closures, only a day after yesterday's quake rattled the capital.
Both police and the NZ Transport Agency are advising Wellington commuters to delay their drives home where possible, as traffic heading out of the city was gridlocked.
State Highway 1 would remain closed at Plimmerton until floodwaters had subsided, which could take some time.
SH2 had now been reopened to one lane of northbound traffic between Ngauranga and Petone, but there was congestion back to the city. Both lanes were open southbound.
Police are urging motorists to check NZTA travel updates before embarking on a journey and to take extra care on the roads.
Anyone planning to travel by train or bus was advised to check with Metlink as services had been impacted by the weather-related slips and flooding.
NZTA said there would be "significant backlogs".
"Motorists should delay their journeys if possible, and exercise patience and common sense if already on the road."
On some stretches of highway, NZTA contractors had to move median barriers to allow floodwaters to subside in a controlled manner.
SH1 remains closed from Mackays Crossing, but the cordon has been moved from Paremata to Plimmerton.
Motorists should be prepared for congestion at Mana.
Kapiti could remain isolated until SH1 reopens and parents are being warned to make other arrangements if they can't get their children from school.
Train services were also briefly halted after a series of aftershocks this afternoon.
Services had since resumed and NZTA was advising commuters that taking the train from Wellington to the Hutt Valley was an option.
The NZTA also warns there are slips and surface flooding along SH1 between Johnsonville and Porirua. Motorists should take extra care, watch following distances and speed.
Some homes in the Hutt Valley have been evacuated after the Waiwhetu Stream breached its banks this morning.
Fire Service spokesman Mike Wanoa said a number of houses had also been evacuated after slips.
Isolated slips have been reported in the Plimmerton, Paramata, Papakowhai, Titahi Bay and Whitby areas.
State highways have been closed across the region, including SH1, SH2 and SH58.
The NZ Transport Agency said it was working hard to get roads open again.
However, it was not clear when that would happen so parents were urged to consider contingency arrangements for collecting their children from schools.
Schools, libraries and community halls in the Hutt Valley have also been closed due to the wild weather.
The Hutt City Council said properties on Riverside Dr between Tilbury and Rumgay were being evacuated due to flooding on the Waiwhetu Stream.
"Residents should place possessions up high and check on neighbours if possible. Go to families and friends."
Residents with nowhere else to go were urged to go to the Walter Nash Centre on Taine Street, Taita.
Riverside Dr resident Simon Parton was still at home this afternoon as water levels on the adjacent stream continued to rise.
"My wife's already gone so I'm just hanging around to make sure looters don't turn up," Parton said.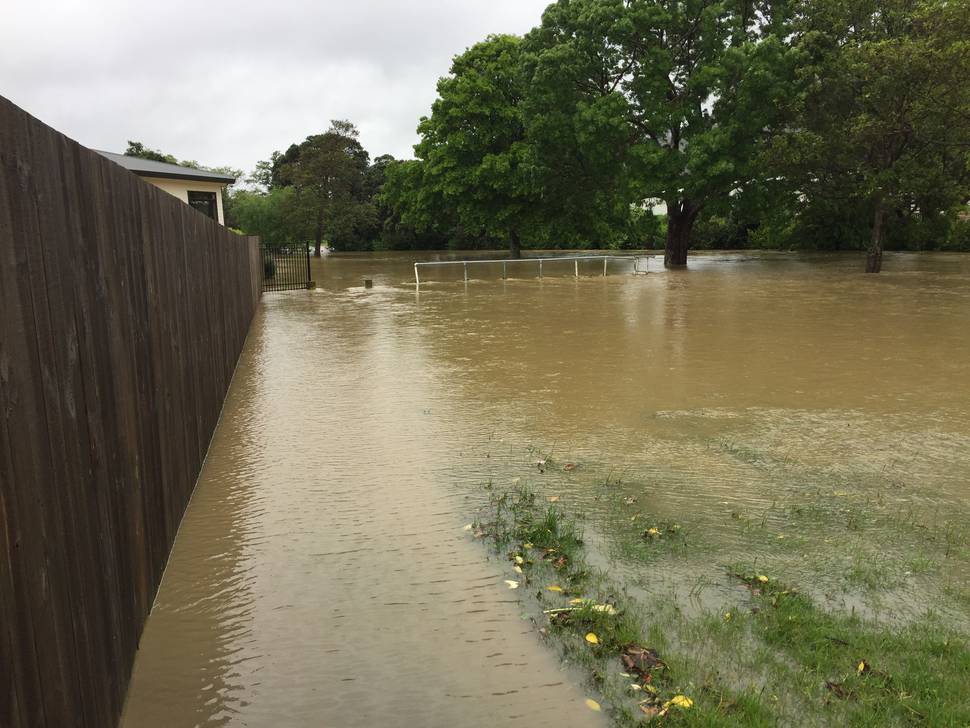 NZTA said there were slips and surface flooding along SH1 between Johnsonville and Porirua. It urged motorists to take extra care.
Motorists had been stranded on SH2 between Ngauranga and Petone where the road was closed due to flooding this morning.
Wellington motorist David Kyle is among those stuck in a vehicle.
He estimated floodwaters were up to half a metre deep and between 500 metres and 1km in distance.
He set-out at 9.15am and it to him three-and-a-half hours to get out of the long north-bound lane.
Kyle had been at the start of the queue and watched as cars in front of him attempted to drive through it.
"It was half-way up the doors and it looked like some of them if they were driving too fast, it was coming up out of the bonnet."
Police had been redirecting the traffic behind him and it took an-hour-and-a-half before he was able to turn around.
Motorists heading to the Hutt Valley had no alternative route so were waiting for a barrier to be moved so the water could recede.
"I think some cars would have been wet inside so I didn't want to go through... It would have been muddy water in the engine well and it would have been above the door seals.
"Little cars went through in front of us so I don't know what state they would have been in on the other side."
MetService forecaster Claire Flynn said the flooding and slips came after "substantial rainfall".
The heaviest was in Wainuiomata, which recorded 109.5mm of rain in the last 24 hours.
Lower Hutt received 94.2mm, Wellington received 59.6mm at Kelburn, and Porirua had an average of about 80mm.
"It's definitely pretty substantial rainfall. Certainly you get events like this every now and then, but they're not common."
Flynn said the worst of the wet weather had eased, but there were still a few showers about.
Tomorrow would bring more showers, then further rain in the evening. Thursday was a similar story.
"There's a few showers around at first, but then we're getting a southerly change and it's going to be bringing some rain into the afternoon."
The wild weather comes after parts of Wellington including the CBD were damaged in yesterday's magnitude 7.5 earthquake.
Civil Defence had advised people to use common sense when in the central city today. People seem to have taken that message on board, with the streets eerily quiet this morning.
Some buildings are still being assessed and areas, particularly around Featherston Street, are still cordoned off.
Police are controlling traffic on Featherston Street and making sure people stay away from damaged buildings.
Road closures:
• SH58 from Paremata to Haywards Interchange at SH2
• Greys Road
• Paekakariki Hill Road
• SH1 between Mackays Crossing and Steyne Avenue at Plimmerton - closed northbound and southbound