An American tramper who survived four nights in the Kiwi wilderness with her mother has had a lasting memory of the near-tragedy inked on her body.
Rachel Lloyd - who lost 16kg in the ordeal, and is still in the process of battling back to full fitness - is on a mission to ensure other bush-goers set to enjoy the New Zealand outdoors over summer don't find themselves in a similar plight.
The 23-year-old was close to death when she and her mother Carolyn, 47, were airlifted from the Tararua Forest Park in May after spending four freezing nights lost in the bush.
Before being rescued, a hungry and hypothermic Rachel was piggybacked through the bush by her brave mum. They had also spelt out "help" with sticks for rescuers to see.
Speaking to the Herald on Sunday from Austin, Texas she revealed the pair now had tattoos marking their miracle survival and fulfilling a pact.
"Mum said 'If we get off this mountain we're getting matching tattoos, we're doing it'. I think she swore too, which is hysterical because she never ever swears," Rachel Lloyd said.
"It's definitely something that will always affect the both of us. I'm never going to be able to look at a helicopter or the waterfall the same."
The pair, from Charlotte, North Carolina, got lost after they followed the wrong markers down a mountain. They had set off to do a day trek on the Kapakapanui Track.
After staying the night in a hollow of a tree, Lloyd fell into a waterfall and hit her head. She was unable to warm up after emerging from the freezing water. From there her mother took over, building a "HELP" sign out of branches that finally led to the pair's rescue by helicopter.
"[Ambulance staff] said if I was out there for a couple more hours I probably wouldn't have made it. I was losing all my senses, I couldn't see, I couldn't hear, I lost all feeling in my legs and my arms and I was completely delusional."
Lloyd doesn't hold any grudges against the New Zealand outdoors.
"If anything it made me appreciate my time there more.
"The environment and people who were so genuine and honest and caring it was just so incredible living there."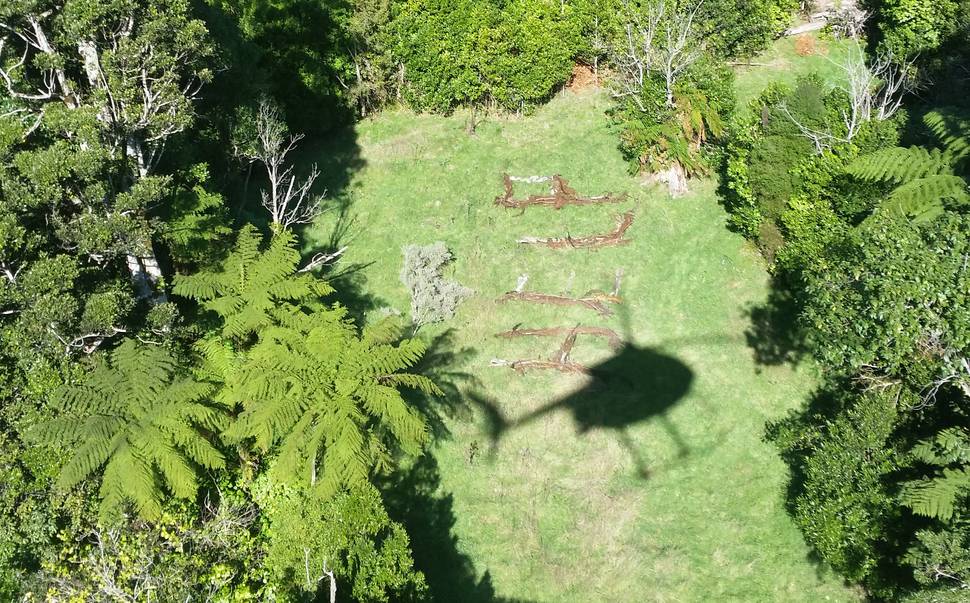 While Lloyd has been always been mentally very strong and positive it's her body that is taking time to heal.
She still wears a cast for a severed ligament and faces a battle to repair her bone marrow after she became severely malnourished and lost 16kg in the bush.
"I did not have that to lose. That's why it was so serious.
"I lost all my senses. I was so close to dying.
"I'm just so happy to be alive. A month ago I thought I might have to get my foot cut off but now I got cleared to run seven minutes this week."
Lloyd said she was lucky that the incident happened in New Zealand where healthcare was free instead of her home country where medical costs can cripple families. She was amazed at the team of nurses and doctors that helped her over the seven days she was in Wellington Hospital.
"There's no way in hell in America I would have gotten the same treatment."
She had been on a student exchange at Massey University in Palmerston North. Now back home she is focusing on getting her health up to scratch and studying her interpersonal communication degree at the University of Texas. She hopes to one day set up a charity that helps feed the city's less fortunate.
"On my doctor's orders I have to rest, work out a lot and I have to eat a lot."
Rachel Lloyd's tips for trampers
•Always tell someone local where you are going and when you should be back.
•Know the signs - orange triangles are the only sign of a DoC track. Blue triangles are for possum tracking.
•Print out a form that states who you are and how long you'll be in the bush and keep it on dashboard of your car.
•Read the weather conditions carefully and take enough warm clothing.
•Bring essentials like knife, matches, compass and nutrient dense food.
•Carry a map.
•Bring a portable phone charger.
•Know the area's level of difficulty.
•Bring a GPS or use an affordable trail-guide phone application.