Visa complications mean a couple who have just built a stunning tiny house on wheels in Paraparaumu have to sell up and leave the country.
Jessica and Vannesa Ortiz moved to New Zealand, from San Francisco, on a working holiday visa, and figured they would be able to live permanently in the country once they had secured work in their specialised career fields.
In between trying to find work, the couple decided to build their own tiny house in the backyard of Jessica's English parents home in Winton St, Paraparaumu.
After getting help to create the house's metal frame on a custom built 2.5m x 7.8m galvanised trailer, the couple started work on the project.
Apart from plumbing and electrical work, the novice builders - who did extensive research and had a strong willingness to roll up their sleeves - did everything themselves such as cladding, roofing, insulation, windows installation and much more.
"We've learned a lot through the process," Vannesa said.
"And there's been a lot of trial and error on certain things."
The tiny house, made from new materials, was finished this month and features a living area, kitchen, bathroom, two sleeping areas, storage areas.
The couple, who have been married for six years, were delighted with the finished tiny house.
"It's amazing to stand outside of it, or inside, and just look at it and think 'we built this', Vannesa said.
"It's just a cool space."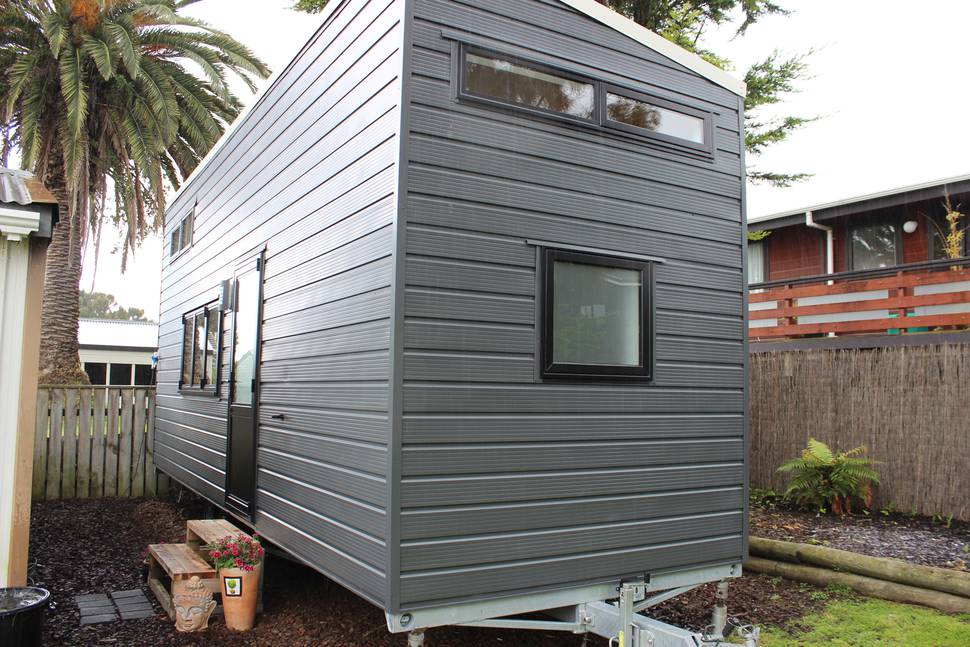 And living in the tiny house was fun.
"You have everything you need," Vannesa said.
"There's even something liberating about downsizing your stuff."
Jessica said, "We lived in an apartment in California and this doesn't feel any different."
Unfortunately the couple have only stayed in the house once because visa complications mean they have to go back to the United States.
So the couple have put their brand new tiny house up for sale on Trademe with an asking price of $85,000.
"It's very sad," Vannesa said.
"We didn't build it with the intention of selling it."
But they don't have any regrets about doing the project.
"Overall it has been a great experience and adventure," Jessica said.