Violent robberies have increased up to 54 per cent in some parts of New Zealand, as appalling videos of the crimes continue to surface.
This week, the Herald published a video of 5-year-old Sarah Patel confronting an axe-wielding robber when invaders allegedly stormed her family's North Shore shop.
The shocking incident on Monday is just the latest in a spate of the crimes - which data shows have increased in the year to June 30.
There were the brave Hawke's Bay dairy owners who fought back against their alleged attackers, and the Auckland liquor store workers hospitalised after a group of men allegedly tried to rob their store.
A breakdown of the New Zealand Police statistics, released last week by Statistics New Zealand, showed a 9.5 per cent increase of the crimes in that period, jumping to 54 per cent in some areas.
In Tasman, the crimes spiked 54 per cent. That was followed by 46 per cent in Canterbury, 33 per cent in Northland, 25 per cent in Wellington and 19 per cent in the Eastern police district.
Police changed the way they recorded crimes from July 1, 2014 - so comparisons can only be made for the two years since.
Analysis of the data recorded in that time period showed national increases across burglaries, assaults and robberies.
The Herald has highlighted some of the key trends from the data.
Crimes Recorded Nationally: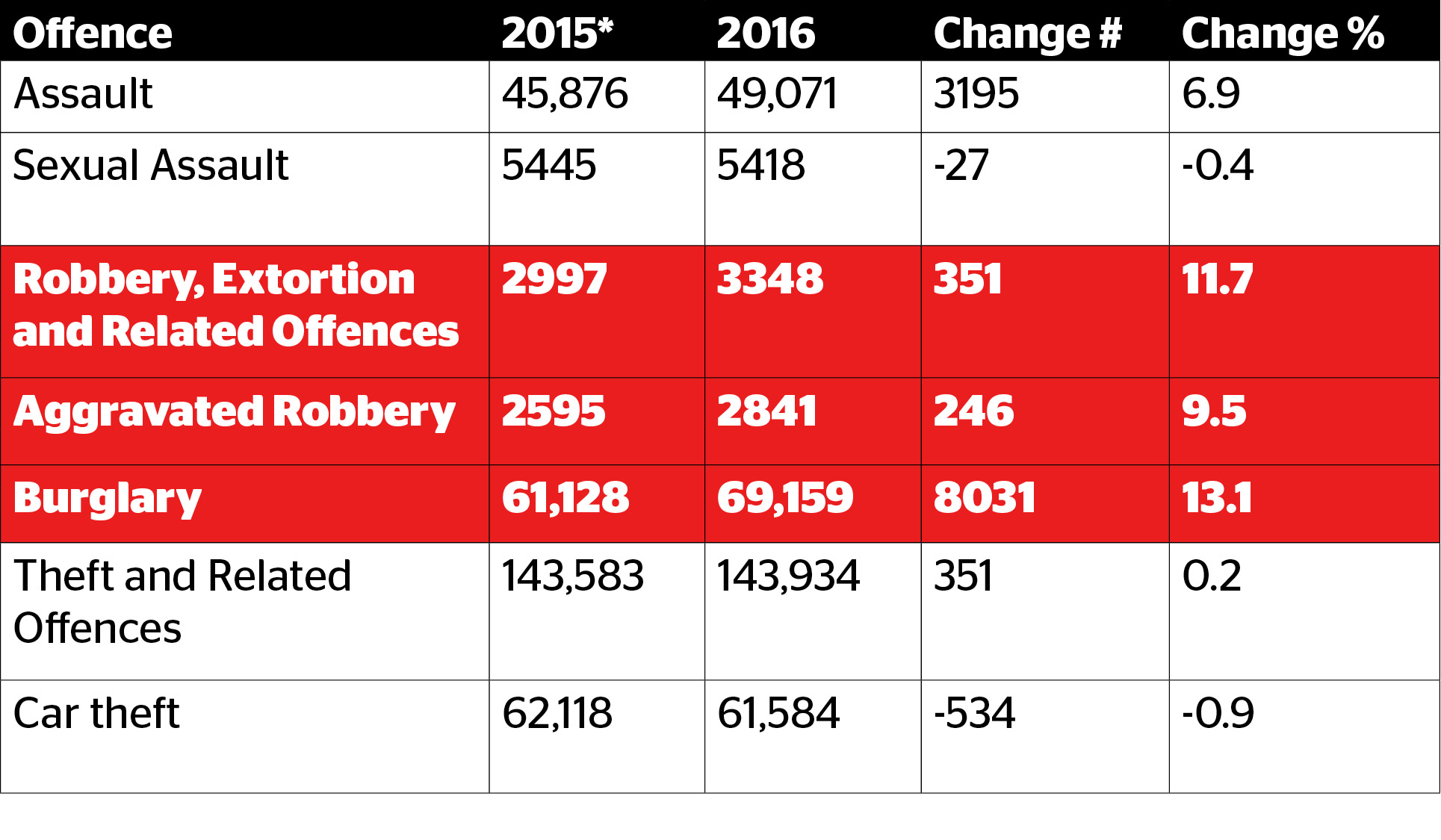 There was an 11.7 per cent rise in robberies and related offences, with 9.5 per cent more aggravated robberies.
There was a 13.1 per cent rise in burglaries and 6.9 per cent more assaults.
Crimes recorded in Tasman: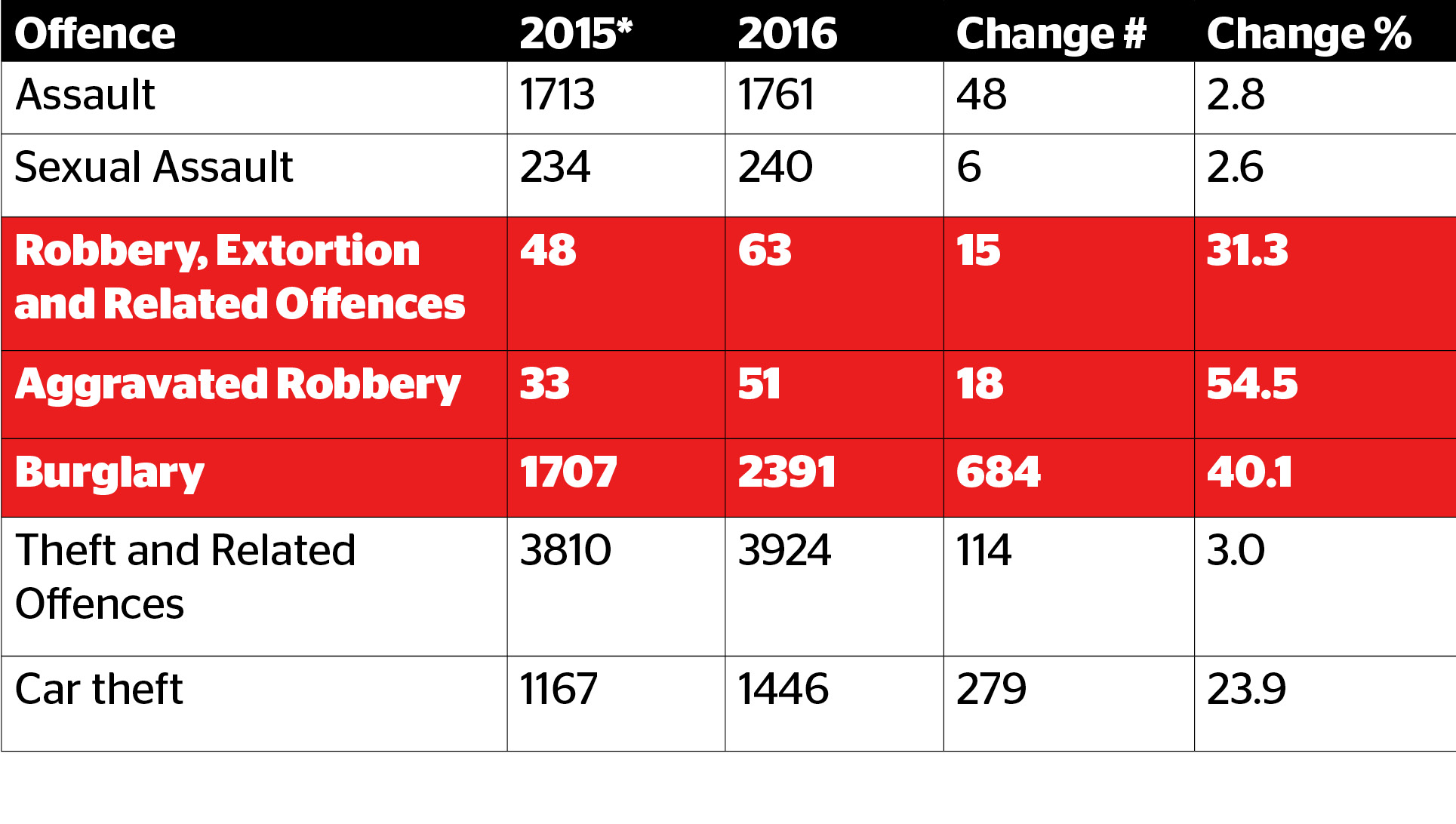 In the Tasman police district, aggravated robberies increased by 54.5 per cent. There were 51 in the year to June 30, up from 33 in previous 12 months.
Burglary was also up 40 per cent there, with 2391 of the offences recorded for the 2016 year, compared to 1707 in the 2015 year.
Crimes recorded in Canterbury: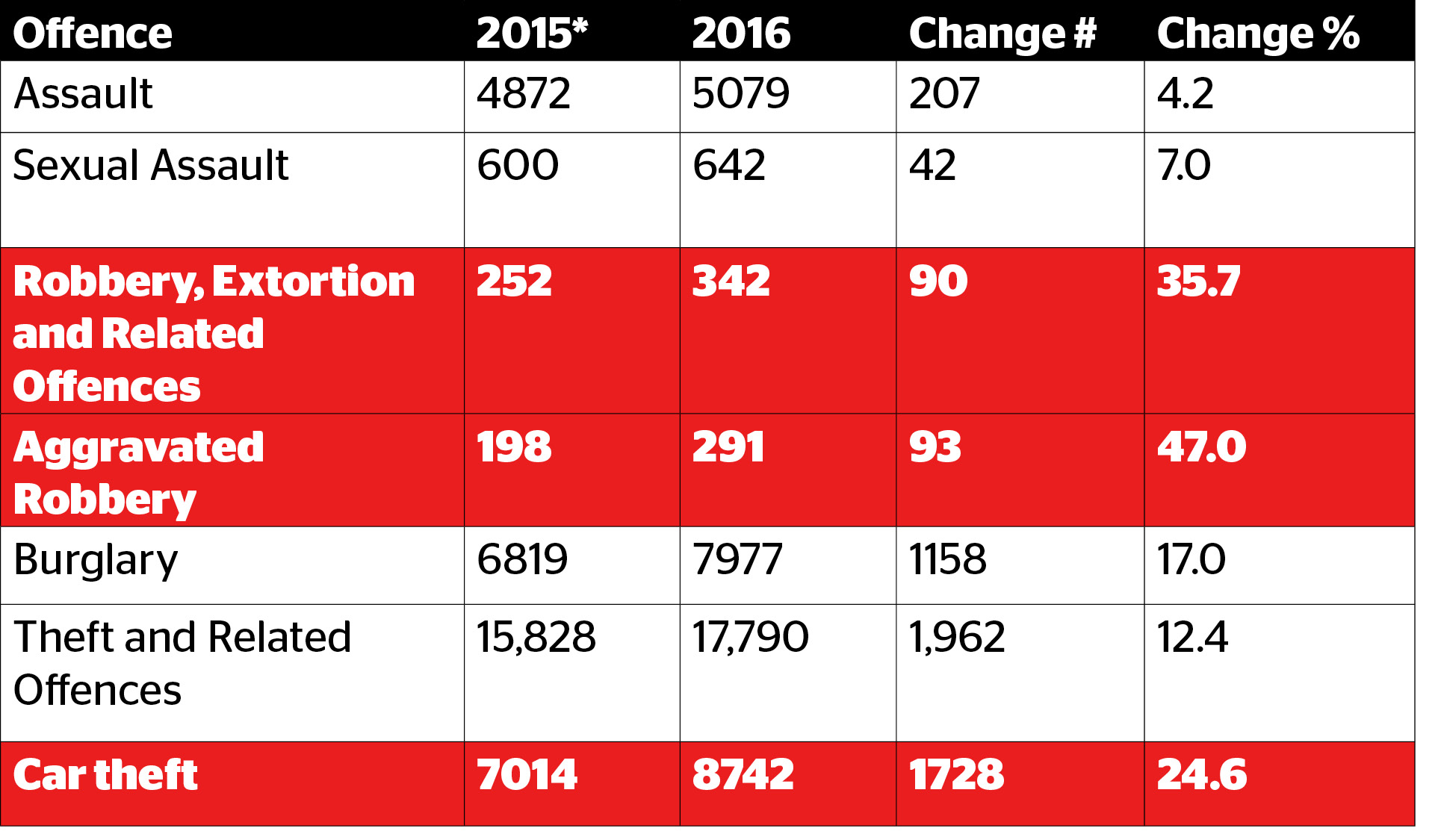 In Canterbury, numbers had also spiked. With a 47 per cent rise in aggravated robberies and 24.6 per cent more car thefts.
Criminologist Dr Jarrod Gilbert said while the data was only for a two-year period, any increase of over 10 per cent nationally was concerning.
"A national increase of over 10 per cent I have to say is fairly significant, but it does seem to be in the regions that are fairly isolated."
The difference between regions was "fascinating", he said.
"You've got some districts where it's down and some areas where it has increased markedly.
"Particularly in Tasman and Christchurch where it has spiked, it is nothing to sniff at."
Labour's police spokesman, Stuart Nash, said the increases were very telling.
"This shows the changing nature of crime in New Zealand," he said. "These are the bad types of crime, this is where people get hurt."
Gilbert said spikes in provincial districts "showed the importance of regional policing".
"Different regions at different times face different issues," he said.
It was important to ensure that all regions had adequate resources.
Nash agreed: "People need to know that the police are able to get on to these things straight away and are able to put people behind bars and the only way this can happen is if we put more police on the ground."
Police Commissioner Mike Bush last month announced four extra police officers would be sent to Northland after a spate of murders and violent crimes there.
At least five homicides have been committed there this year along with a number of violent assaults and robberies - including three knife attacks in Kaitaia in one week of July.
Crimes recorded in Northland:

Figures for the area show a 33.3 per cent rise in aggravated robberies, and increase from 81 in the 2015 year to 108 for 2016.
Following the announcement of new officers in Northland, Prime Minister John Key also revealed plans for 600 more officers nationwide.
It was "critical" that when new officers were allocated, they were sent to every region, said Nash.
He drew comparisons to crime rate increases and levels of concerns raised by staff.
He said there was a correlation to feelings of high stress and inadequate training amongst employees, that was revealed last week.
Police's official workplace survey results revealed close to 60 per cent of staff did not believe they were adequately trained for their jobs, and 55 per cent believed the level of work stress they endured was unacceptable.
Rates of dissatisfaction were highest in Northland and the Eastern region.
Crimes recorded in the Eastern district: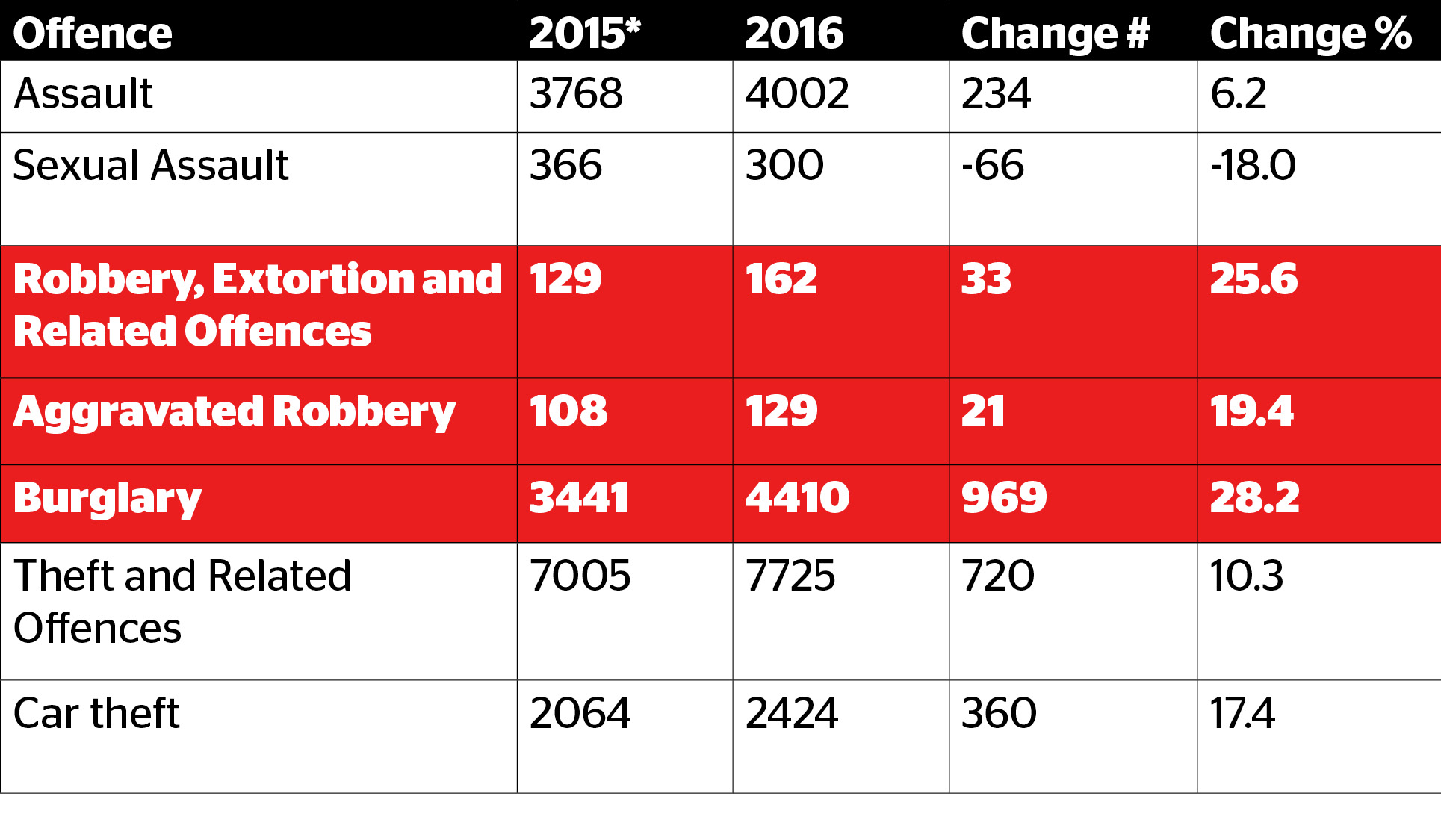 The rise of aggravated robberies has also been attributed to increases in the availability of methamphetamine in the community, and an increased demand for black market tobacco - a commodity often stolen in robberies.
A police spokeswoman said robberies were driven by a number of social factors.
"While the rise in aggravated robberies is of concern, it is hard without further analysis to say what may be behind the increase across these police districts.
"What we can say is that any such violent offences are taken seriously and are investigated thoroughly to determine whether there may be any emerging patterns that allow us to better prevent and respond to future incidents."
Police data did not collate the items taken in robberies, so it was unable to statistically pinpoint.
"However, what we do know is that cigarettes and tobacco have always been popular with thieves, with some anecdotal evidence suggesting that these small, high-value items are targeted in small business burglaries and robberies."