David Fisher and videographer Mark Mitchell spent almost a month driving round New Zealand in a campervan. Their mission: to find out what it means to be a New Zealander. Find out more about the series below.
Part 4: Rai Valley to Norsewood
In this edition of great New Zealand travels, let me gloss over Wellington and instead highlight two great provincial pubs.
We came upon the Crow Tavern and Restaurant in Picton after a long day on the road. The All Blacks were playing the first test against Wales, so knocking off early for dinner and the game was essential.
Now, Picton is a cool town. We were spoiled for options, but none was so close to the campground as the Crow Tavern. Having been there, I can promise that proximity is the cheapest and most unworthy reason for picking it over others.
The Roast of the Day set us back $22 each and when it appeared, it was as if the heavens parted and a chorus of angels burst into song.
The publican clocked us as not particularly local when we walked in. Exclamations of wonder over the Roast of the Day were met with derision, as if expecting anything else showed we were in the wrong place.
"It's a pub," he declared. When amazement was expressed at $10 jugs of Monteiths, he scowled: "It's a pub." When the whiskey came in at $7 for a double, I tried to correct the bill and he expanded on the point he was making.
"It's a pub. It's not one of your fancy places."
No, it wasn't one of those. This was a classic Kiwi pub of the sort vanishing under a rising tide of espresso machines, bright green energy smoothies and crispy pork belly done 10 different ways. This was nostalgia on a plate, in a jug, and seated at the tables around. The beer came in bottles which came in crates - you know the sort. It's beer, not one of your fancy ales.
The food was good, and so was the rugby. Older couples packed the benches, laughing and occasionally arguing until the match began.
The haka was matched by one in the pub, young guys down the front eyeballing the big projected screen with fearsome pukana.
Isn't it cool that the Cook Strait is part of State Highway 1? I've known editors who felt they could probably walk the route. There are no such imaginings aboard the Aratere - everyone working on it knows each other too well. They work seven days on then seven off, the ferry becoming a home for half their life.
It's a spectacular trip, whatever the weather. And there's a joy in travelling at boat speed - it's not fast and forces you to slow down while still having the freedom to move around. Wellington arrived too soon.
We didn't dally in Wellington. We hung around Parliament for a bit. I thought about Rob Muldoon, David Lange, and other prime ministers I've met. They always seemed deeply connected to the people of this land, although it's a connection drawn thin with more time in the Beehive. We do well with our leaders.
Up the Rimutaka Range, down into Wairarapa. We barrelled through Featherston, Carterton, Masterton and then, brilliantly, Eketahuna. There, in a former bank, lives a man who dated a pop star and once wrestled Hulk Hogan. This is true. I have seen pictures. Honestly, I'm constantly amazed by the lives hidden behind closed doors.
At Woodville, the New Central Hotel and Motor Inn offered up food and lodging. The campervan was abandoned for the night - mounds of gravel were piled around the local campground. Woodville's appeal to the world's tourism market appears to be a work in progress.
No matter. The pork chops at the New Central were incredible. Like the man in Picton said, "it's not one of your fancy places".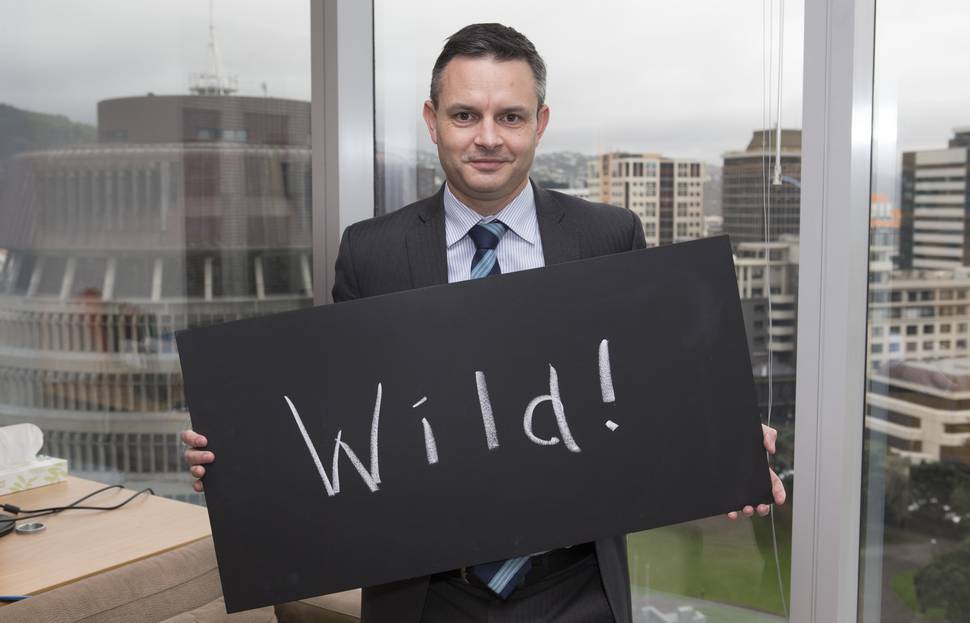 In the next morning's sunrise, Woodville was revealed as the crisp, smart, provincial centre it had always been. It was odd, though, to see the stately buildings common to provincial New Zealand being repurposed in the pursuit of relevance.
They once served the farming needs of the area and those needs are now served by larger centres or collective purchasing contracts.
This was a feature repeated across the country. The old means of making money are disappearing from the provinces. If you want to thrive, you have to hustle. You have to work at making work - and work at getting paid for it. It's not easy out there.
• Tomorrow: Norsewood to Manaia

About the series
The current flag got a tick from the people of New Zealand, but the referendum triggered an unprecedented debate about our sense of national identity and how we're seen on the world stage.
What better time to hit the road and visit every corner of our amazing country. We wanted to know how we feel about ourselves. What are our hopes? Our fears? Do we like our national character? What could we do better? What should we celebrate?
We met dozens of Kiwis. This week and next, we're telling their stories, showcasing the places where they live and investigating the themes that unite - and sometimes divide - us.
We're publishing daily travelogues and video blogs by two-time reporter of the year David Fisher. His words are illustrated with stills and video by award-winning Mark Mitchell.
We're also publishing animated graphics featuring everyday New Zealanders and the word (or words) that best sum up, to them, being Kiwi in 2016. Here is today's:
On our travels, we gave New Zealanders a blackboard and asked them to write the word – or words - summing up what it means to be Kiwi. We'll publish them each day of the series.
Next week we'll go into even more depth, publishing a series of mini-documentaries about those themes. The series will conclude with an interactive presentation showcasing our conclusions.
We want you to be part of this special project. On social media, share the word (or words) that sum up being Kiwi to you. Use the hashtag #NZin1word and we'll add the best submissions to our #NZin1word hub which will run throughout the series.
At the end we'll analyse the answers to create the Land of the Long White Word Cloud - a visual representation of how we perceive ourselves.
• Part 1:Bluff to Dunedin
• Part 2: Dunedin to Hokitika
• Part 3: Hokitika to Rai Valley