Sheep, hills, remoteness and rockets. New Zealand is about to blast off from distant Mahia and into the world's $350 billion space economy, reports Jamie Morton.
Stand in the main street of Mahia on a mid-winter morning and you'll hear little else but tui singing from the pohutukawa that line its shore, or the cattle trucks that occasionally rattle through.
It's a classic picture of East Coast isolation: white cliffs, empty beaches, sheep-rutted headlands and faded weatherboard holiday homes.
Getting here takes a two-hour trip from Napier, northward up a winding State Highway 2, then a right turn through run-down Nuhaka and out on to a hilly peninsula.
Mahia itself, population 849, is just the way the locals like it: no gumboots or gang patches are allowed in the Sunset Point Tavern, and the head of a 200kg marlin proudly hangs above the dairy across the road.
Beyond it is another hour's drive to the tip of the peninsula; yet more hills, more sheep, more silence.
For city dwellers, it's nowhere, but to an inventor named Peter Beck, it's the most beautiful launch site on Earth.
In just a few months, one of the sleekest space rockets the world has ever seen will blast off from a grassy, windswept field overlooking the Pacific.
It seems like a strange a spot for New Zealand's Cape Canaveral, but then nothing about Beck's burgeoning business Rocket Lab, or the engineer-cum-entrepreneur himself, ever seemed predictable.
As a boy, one of the first things Beck built was a bike made from aluminium; as a teenager, he overhauled a rusty, dented $300 Mini and fitted it with a turbo-charger.
By the time he was hammering his way through an apprenticeship at Fisher and Paykel, he'd created a rocket bike, a rocket scooter and a jetpack that powered a pair of roller blades.
There was another formative stint at the former Department of Scientific and Industrial Research, but it was the month he spent travelling around the US that seemed to confirm his destiny; he would help change the way we reached space.
When he first started peddling the idea of rockets firing off from tiny New Zealand, a country not particularly renowned for its space capability, many thought him fanciful, or just crazy.
They now know differently.
Just two years after its inception in 2007, Rocket Lab became the first private company in the Southern Hemisphere to reach space, having shot a prototype from Great Mercury Island, owned by one of Beck's staunchest supporters, Sir Michael Fay.
When the lightweight Atea1 rocket powered through the sky at Mach 5 speed until it reached suborbital heights, probably as high as 150km above Earth, the legend had begun.
"It was a huge defining moment, life-changing really," as Beck earlier put it.
"There are other companies doing this stuff that are all glossy with videos and all the rest of it, but we're not like that. We do it, then talk about it, and now we had the credibility to talk." The world sat up, took notice, and climbed aboard for the ride.
Rocket Lab now boasts among its major investors aerospace giant Lockheed Martin, while Nasa and satellite-powered data company Spire have signed up to use the cutting-edge technology that now underpins it, Electron.
It meets the simple business case that small payloads need dedicated small launch vehicles, along with the kind of flexibility not offered by traditional rocket systems.
Beck's rockets have the potential to send fridge-sized satellites into space but cost just $8.4 million to build. Conventional rockets can cost more than $200m to construct.
The big difference is his rocket's nimble size, about a third that of other rockets at just 16m, and its wonderfully ingenious design.
Instead of clunky gas generators, it draws on small high-performance electric motors and lithium polymer batteries, mustering an impressive 4600lb (21,000kg) of thrust.
Its Rutherford engine, successfully tested in Auckland this year, is notably the first in a space vehicle to use 3D printed parts for all its primary components.
Nine of these power the Electron's first stage of launch, before a vacuum variant of the same engine takes over for the second stage. Remarkably, it could lift a 150kg payload to a 500km orbit with less fuel than a Boeing 737 would use to fly from San Francisco to Los Angeles.
For a spot on Electron, Rocket Lab would charge just between $70,000 and $130,000 for a single satellite of the smallest size.
Last August, the company unveiled its online booking system for carrying "nanosatellites", or CubeSats, into space.
Customers will be able to select a date, destination, and position on the rocket for a CubeSat, which can be as small as a 100mm by 100mm cube, and weigh less than 2kg.
"Space is one of the largest emerging industries at the moment, and it's also at that pivotal point of turning from a government-dominated domain to a commercially-dominated domain," Beck tells the Herald on Sunday.
"It's much like the airways 100 years ago: there were a few elites and that was it.
"What we are witnessing now is the democratisation of space, and it's really exciting."
Having built his rocket, the obvious question for Beck was where to send it from. He searched the planet for a launch range that would suit his requirements, and was amused to find the answer was his own country.
New Zealand had a government more than willing to back him and the unique geographical advantage of being able to access an unusually wide range of orbits. But many things still had to fall into place. "If you are launching a rocket, you do so under an FAA [US Federal Aviation Administration] launch licence, which is an incredibly intensive safety programme.
"So you can't just pick a spot and launch. Really, we needed a remote island in the middle of the Pacific ... and it just so happens that New Zealand is a remote island in the middle of the Pacific."
It was a "bit surreal", George Mackey still reckons, when Sir Michael Fay came forward with an out-of-the-blue proposal about space rockets and the Mahia station he helps run.
Fay had bought a farm in the area a few years earlier and had suggested Mahia for Rocket Lab's shortlist.
Mackey and his father Ben, chairman of Onenui Station's owners Tawapata South Maori Incorporation, were then invited to lunch in Napier.
"We walked away from that meeting thinking, jeepers, what's just happened here?"
With 1800 shareholders, Onenui is one of the East Coast's last Maori-owned stations, and has long been a traditional sheep and beef operation.
"I guess when you're farming, you're market-driven and always looking for ways to diversify ... but never with something like this."
When told that another site was being explored - a farm at Lake Ellesmere, south of Christchurch - the opportunity seemed lost. But Mahia won out when consenting challenges put Canterbury out of the running.
Wairoa District Council made a point of showing Beck and his people they wouldn't hit the same snag in Mahia, clearing the consent in only seven days.
"I guess the most important thing we did," says Wairoa mayor Craig Little, "was to be upfront and honest with Rocket Lab and [we] formed a good relationship from the start".
That good faith has been reciprocated. The Mahia community, has been kept up to date with meetings and regular briefings.
Rocket Lab winning local backing of the project is an outstanding feat on its own, given how much Mahia people relish their privacy and isolation, and typically shun the swarms of holidaymakers who arrive every summer.
"Most of our people have been very receptive of Rocket Lab, because they've been very careful to come in and tell us their vision and that there would be no harm to the environment," says local Pauline Tangiora.
She says the concept has gone down particularly well with the kids at Te Mahia School, who were testing rockets they had made out of Coke bottles when the Herald on Sunday visited.
"It's created that context and triggered that curiosity that all kids have," principal Aan Hoek says.
"It's made them engaged, and wondering, and wanting to learn."
The peninsula's iwi is Ngati Rongomaiwahine, descended from the Takitimu and Kurahaupo waka. Mackey doesn't think it too much of a stretch to find some cultural relevance to Beck's rockets. "We've always considered ourselves a celestial people - we navigated our way from Hawaiki by the stars - so there is a potential to share a romantic view of reconnecting with what was done in the past, albeit with modern technology."
Though the plan did spark fears at first, these have largely been allayed by Rocket Lab, which has also brought big benefits to the district.
Science and Innovation Minister Steven Joyce discusses the rapid rise of Rocket Lab
The company has upgraded 30km of road, built another 4km of new road to access the launch site at Onenui Station, and introduced high-speed internet to a place where there previously was none.
Local contractors have been hired for much of the infrastructure development - a request by the community Beck was more than happy to grant. "The support we've had for the project is phenomenal."
"The one thing that's over there is a lot of pride, and everybody there has worked hard on this and wants to do a really nice job."
There are also real hopes that fascination will fuel another boost for the region: "rocket tourism". According to economic analysis by Australian research group Sapere, each launch will bring 140 visitor nights for the Wairoa district, and tourism in the wider Gisborne region will grow by up to 8 per cent each year.
Tourism Eastland's chief executive, Stuart Perry, doesn't expect this to change the coast's famously laid-back character. "I suspect lying back on a beach with the family having fun and watching a rocket soar into space is a reflection of the unique place the region really is."
Seven months on from the start of construction, the site's concrete pad, launch tower and hangar have taken shape and are nearly ready for commissioning work.
After an initial test launch at some point later this year - it's still unclear exactly when - the company plans to launch rockets every month.
"We've been lucky to have flown in some very senior people from all around the world, and when we're blasting down the coast in a helicopter, their jaws are just sitting on the floor," Beck says.
"I've been to a lot of launch sites around the world, and I can put my hand on my heart and squarely say that it's the most beautiful one in the entire world."
The Government has helped clear regulatory hurdles with a three-in-one regime. This combined a new bill before Parliament, a formal agreement between New Zealand and the US, and signing up to a UN space convention.
In another odd first, New Zealand now also intends to join the UN's
Committee for the Peaceful Uses of Outer Space.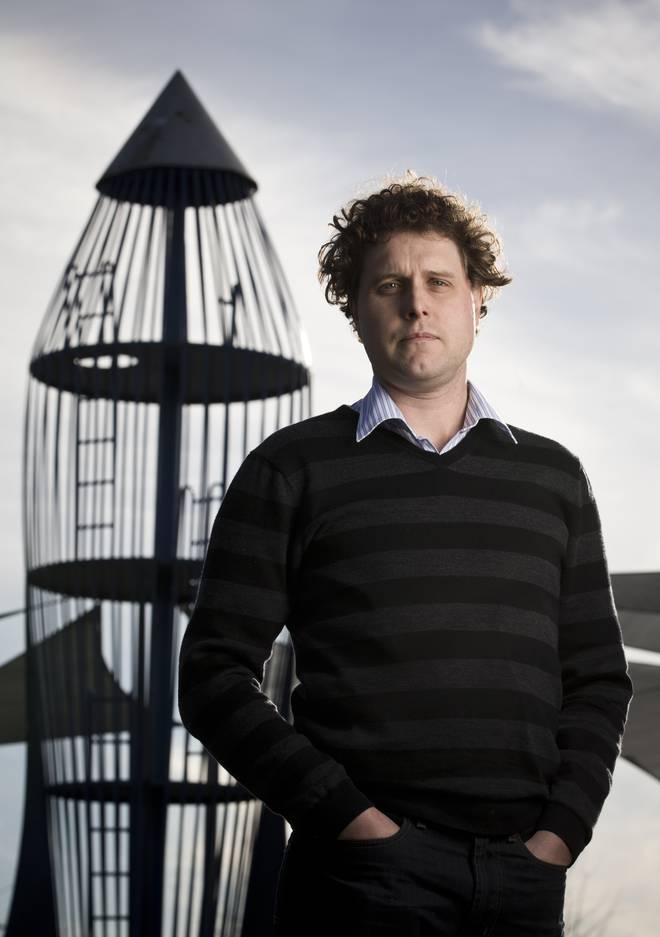 Beck says Rocket Lab, the only launch company in the entire world that enjoys its own private launch range, is now the envy of the space industry.
There are clear reasons why the Government has helped with the groundwork: a new rocket-launch industry carries the potential to pump up to $1.1 billion into the national economy over the next 20 years.
Added to that is between $30m and $110m in "catalyst effects", and between $160m and $340m as a -result of Kiwi industries having easier access to satellite technologies.
Aside from the big cash spin-offs, Beck wants his country to have more expertise in a $350b space industry, and is supporting a new PhD programme at the University of Canterbury.
"New Zealand has some very talented engineers, and in terms of space infrastructure, it doesn't really matter where you are, so it plays right into our hands here," he says. "We've always been at the frontier of niche industries, where we don't do mass-manufacturing and we don't do the stupid stuff. We do the really tricky, complicated, high-value stuff."
It's a point Kiwi scientist Sir Paul Callaghan made shortly before his death.
"We get pretty good at the weird stuff," Economic Development Minister Steven Joyce says.
"And while it's slightly weird to be thinking of New Zealand as a space rocket-launching country, these guys are consistent with a long line of Kiwi inventors who just said, we've got to be able to do it cheaper and this how we might do it."
It is entirely possible that New Zealand could carve a boutique spot out of the space economy, just as it has done in winemaking.
Besides Rocket Lab, and a bold bid by Alexandra-based Bodeker Scientific to create a Centre for Space Science Technology, the country holds only a sprinkling of true ties to the space sector.
These include Auckland-based company Rakon, whose technology was partly behind the probe Rosetta's historic comet landing in 2014, and a group of Auckland scientists helping track the world's first private space flights, led by billionaire Elon Musk's SpaceX.
AUT's pro vice-chancellor of research and innovation, Professor John Raine, sees no reason why Kiwis can't play a larger part, as long as we are realistic about what we can contribute. "I would say one needs to look very seriously at these opportunities, and if we find a way into them, we go for them."
For Beck, letting go of the dream he's finally realising at Mahia for a fat cheque from a big player isn't an option.
"This has been a 10-year crusade for me, my life, and the better part of my professional career, so I'm not looking at going out to pasture any time soon.
"This, really, is the beginning of Rocket Lab. There's a lot more that I need to achieve."