A man holed up in a house in Porirua since shooting dead a police dog yesterday has been found dead at scene, police say.
Police were earlier seen carrying a pistol out of a house on Kokiri Cres.
Pita Tekira was described by one teenager who lived on Kokiri Cres as a "good guy".
"I knew him only briefly," Odysseus Tipiwai said.
"He gave me a couple of smokes. He was all good. I didn't expect to hear that he did that. When I saw him with his kids he was a happy guy."
Odysseus, 15, believed Mr Tekira had lived on the street since the start of the year. He saw him with his two kids.
One Kokiri Cres resident had told of how the gunman Pita Tekira ran past her, just metres away.
Jo Repia lives next door to where the drama unfolded yesterday.
"I saw two police cars parked outside then I saw about three or four police officers get out of their vehicles with guns. One police officer was asking for the occupant, saying ' answer the door or come out'.
"There was no response and I saw one of the police officers smash the windows to get inside," Ms Repia said.
"About two minutes later I saw the (police) dog come out going wild, obviously due to the injury."
The dog was yelping, she said.
"I saw one of the police officers carry it out. It had blood all over it."
Police told Ma Repia to get away. She drove up the road, got out of her car.
" I turned around and saw the gunman run past me, about two metres away."
He didn't say anything but he looked at Ma Repia.
She ran inside a friend's house.
This afternoon Ma Repia was looking forward to returning home, after staying with a friend last night.
Others want to get back to their pets, with one man saying his dog had been tied up in his wash house since 10.30am yesterday.
The man, who didn't want to me named, saw all of yesterday's incident. He stayed inside until police knocked on his door and armed officers later used his upper storey as a sniper's position.
Porirua mayor Nick Leggett said the community had pulled together well, including the Horouta Marae, which fed 85 people for dinner last night.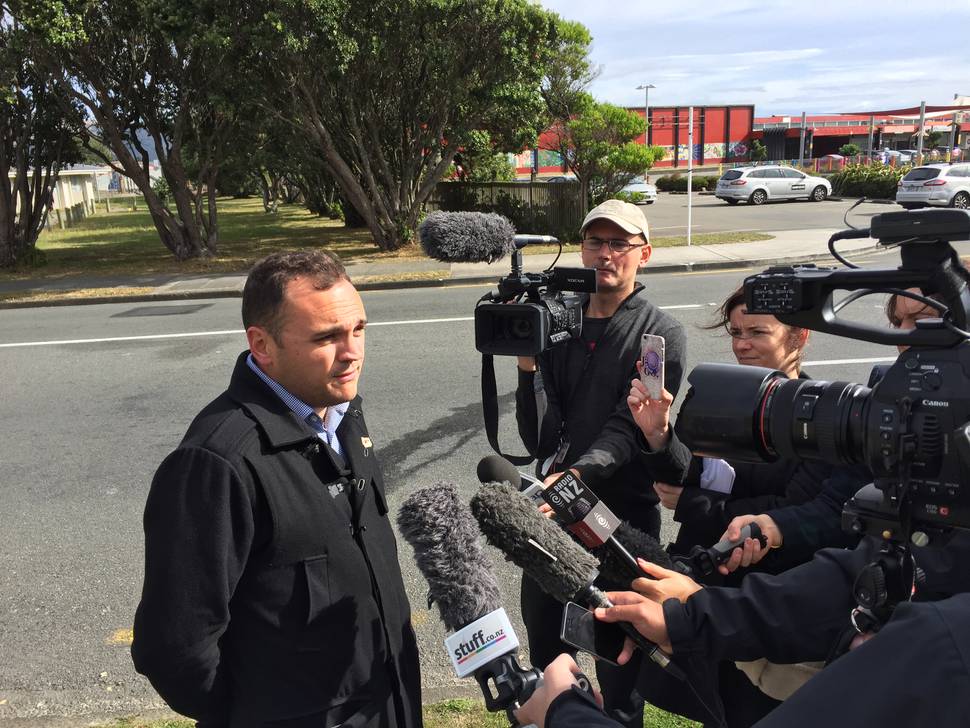 He said the past 24 hours were stressful as he feared for residents' safety.
Police have expressed regret at the death of the man at the centre of the Kokiri Cres siege in Porirua.
Superintendent Sam Hoyle said at a press conference in Wellington this afternoon that while the deceased had not been formally identified police believed it was Pita Tekira.
"This is not the outcome we wanted. Our negotiators worked tirelessly throughout the night in an attempt to get a peaceful ending to this event, unfortunately that didn't occur."
Mr Hoyle detailed how the negotiators had attempted to talk Mr Tekira out of the house and employed a number of "tactical options" including the use of tear gas.
While he couldn't divulge the full details of what these negotiations entailed, he said Mr Tekira had been communicative.
"He did communicate, he was responsive what we wanted was him to come out and everyone to leave safely, for no one else to get hurt."
Mr Hoyle said the last words exchanged with him were just prior to midnight before he was eventually found dead at 11am this morning.
"We entered the lower level of the house this morning and secured it," he said. "Using a remote camera we were able to confirm that he was in fact in an upper room in the house, he was alone in that room, there was a firearm present.
However, Mr Hoyle said he couldn't' speak to the cause of his death because it was a matter that would be referred to the coroner.
He said the scene investigations would be continuing for at least a couple of days.
"The cordons will shrink back as we examine the ground around those two houses, I think we will be there for some days yet."
Earlier
Police said they set off gas canisters at the property on Kokiri Crescent.
There were several reports of loud bangs and gunshots, but no shots were fired, police said.
The noises heard were from deploying gas canisters into the house.
Police said they remained focused on negotiating with the man holed up in the house.
An officer injured after jumping to safety from a second story window during the incident is in stable condition in hospital and is receiving medical treatment.
At the Natone St cordon emergency services are parked up at the roadside at what looks like the operation's HQ.
Armed police and police dog squad cars are present.
Renata Hotene lives in the street. He was allowed home at 2am. He was told the bangs were gas cannisters fired by police.
One woman who asked only to be named as Lucretia has been waiting at the cordon since 6am, seeing if she can get back to her Kokiri Cres home.
She was there yesterday morning before being evacuated, having to climb over neighbours fences.
Lucretia spent last night in a local marae and has only the clothes she is standing in.
"We were actually at home when this all happened. I saw all the police, the armed offenders. Next minute the ambulance came down and the Westpac helicopter parked right outside house."
She didn't hear any gunfire.
Jo Brown also lives on Kokiri Cres. He was at work when the drama unfolded yesterday and stayed the night at a cousin's place.
Mr Brown said he heard banging sounds from within the cordon between 6.30 and 7 this morning.
Mr Brown is "a bit angry" about the whole situation.
"Apparently (the gunman) stayed on the street but I've never seen him on the street before and I've been there 15 years."
Other people living in the area reported hearing about six bangs at 11.30 last night.
The stand-off began yesterday morning after a visit to the property to make an arrest.
A robot was sent into the Kokiri Cres property just before 1am.
The move followed earlier bangs heard at the property where a man, believed to be Pita Rangi Tekira, has been holed.
Witnesses described hearing "six gunshots and a man screaming and yelling" at the scene of the siege.
Police were overheard saying there had been no response from the man inside the house after the loud bangs were heard.
Earlier in the evening police said they were negotiating with a person who was inside the house and talking to his nan on the phone, reports have said.
Tekira has been on the run since April 1 after removing his electronic monitoring bracelet. He was facing 11 charges, including dishonesty, driving offences, and violence.
At around 5pm at the scene loud thuds could be heard and a police officer was seen crouching behind a vehicle. Other officers were spotted jumping over fences. Then at around 9pm armed police reportedly delivered dinner to Tekira.
Porirua residents who were unable to get to their homes due to a cordon at the site were given refuge from the cold at the Horouta Marae.
Around 35 families are at the marae where they will have to stay until negotiations between police and a gunman conclude.
Local community member and helper at the Horouta Marae, Pania Houkamau-Ngaheu, said said there was a heavy police presence at the marae and several Maori wardens had been transporting families and individuals from the scene to the marae.
"The feeling here right now is a lot more relaxed because we have had the police in to advise them of the progress today and which streets are open. Still many of the families can't go home ... but we are okay for them to be staying here tonight and for however long they need to."
Ms Houkamau-Ngaheu said the marae had ample bedding and food which it would use to house and care for the families.
This afternoon it was revealed the shot dog was Gazza who starred on TVNZ's Dog Squad and made headlines last year after helping to capture a fleeing burglar in Wainuiomata.
Shortly after the news was made public, New Zealand Police confirmed the dog was Gazza and wrote: "Our thoughts are with his handler and his family."
Dog Training Centre national coordinator, Inspector Todd Southall, said Gazza and his handler Constable Josh Robertson had made an effective team in Wellington tracking, searching and catching offenders.
"Gazza was a four-year-old German Shepherd, bred at the Police Dog Training Centre at Trentham. He graduated as an operational dog in late 2013 with his handler, Constable Josh Robertson, and both have served police bravely since that time," he said.
A Police dog shot and killed in Porirua and a police officer injured after jumping from second story of a house. A manhunt under way for Pita Rangi Tekira, as part of the Cannons Creek suburb is in lockdown.
NZ Police Association vice-president Craig Tickelpenny said Mr Robertson was upset following the incident.
"He has been spoken to and given some support already. Obviously [he is] upset that his work mate has been killed but he realised that it was a near miss for himself and the other police staff that were there."
Mr Tickelpenny said Mr Robertson would be offered ongoing support following the tragic incident.
"Police dog handlers are obviously very close with their dogs and they work in partnership so I think it only appropriate that a memorial service is held."
Meanwhile, the officer who had been injured after jumping out of a window was "doing okay", he said.
"He is obviously with his family and they are offering him support. Things are looking positive.
"He is seriously injured but he is definitely talking and chatting away to people."
Mr Tickelpenny said considering how the incident had unfolded, the officer seemed to be in good spirits.