International TV smash Coast is on its way here for a never-seen-before, bird's-eye tour of New Zealand. The epic voyage of discovery looks at the social and natural history of our shores, and showcases Aoteaora from the air. The show took Britain and Australia by storm and now, acclaimed Scottish archeologist and historian Neil Oliver leads a team of local presenters to tell the history of the formation and evolution of our nation, history, people and culture. Today, Oliver and four of his specialist co-hosts preview some of their favourite moments. By Russell Blackstock.
Neil Oliver
"We visited Young Nick's Head, at the southern end of Poverty Bay, where Captain Cook's 12-year-old crewman famously spotted land for the first time.
We were beside a beautiful, peaceful tidal inlet nearby and from the moment I got out of the car, I had a strong sensation of being watched. I met a Maori elder, a custodian of the land. He told me the Maori name of the place was Te Kuri o Paoa, meaning the dog o Paoa. Apparently the headland reminded Paoa, the famous Maori explorer, of his dog's face. He also told me it was sacred ground, one of the places where Maori spirits gather before departing on the long journey back to the spiritual home of the people. I told him what I was feeling, about being watched by people I couldn't see. 'Apart from us, it feels like there are other people here,' I said. He stopped and looked me in the eye. 'Oh, they're here, all right,' he said.
Every hair on my body stood on end. It was a moment I will never forget as long as I live. New Zealand is blessed with a vast, unique beauty. A deep soul. It is easy to understand why it is cherished by its people."

Dr Hamish Campbell
Geologist and palaeontologist, and senior GNS scientist
"An unforgettable highlight for me was flying by helicopter from Te Anau to Coal Island on the south coast of Fiordland in winter. It was exhilarating and breathtakingly scary. So much so, that I quite literally had to remind myself to breath.
Weird! I was way out of my comfort zone. We rushed up steep snow-laden slopes that seemed to approach the helicopter with ever alarming closeness and were then catapulted over a razor-sharp ridge crest into thin air above the deep abyss of the next frozen valley. I was freaked by the thought of all those killer rocks beneath us. It seemed to go on forever but thankfully I had to compose myself for a 'piece-to-air' during the flight. We survived. Landing on Coal Island was ultra-special for me as a geologist: it has a boring name but Coal Island is home to the oldest rock formations and fossils (Ordovician graptolites, more than 400 million years old) that we know of from our coast. Older rocks are known from New Zealand in northwest Nelson but they are not exposed on the coast. Our return to Te Anau as night approached was just as thrilling, made memorable by a blazing heater at the heli-pad."

Matt Carter
Maritime archaeologist
"As if being a specialist presenter for Coast New Zealand wasn't exciting enough, one of my projects was to investigate the sinking of the Russian cruise liner the MS Mikhail Lermontov. As a maritime archaeologist and avid wreck diver, getting to dive one of the largest shipwrecks in Australasia was unforgettable. My most vivid memory from the shoot was following Brent McFadden, my dive guide, through a blackened doorway into the Bolshoi Lounge.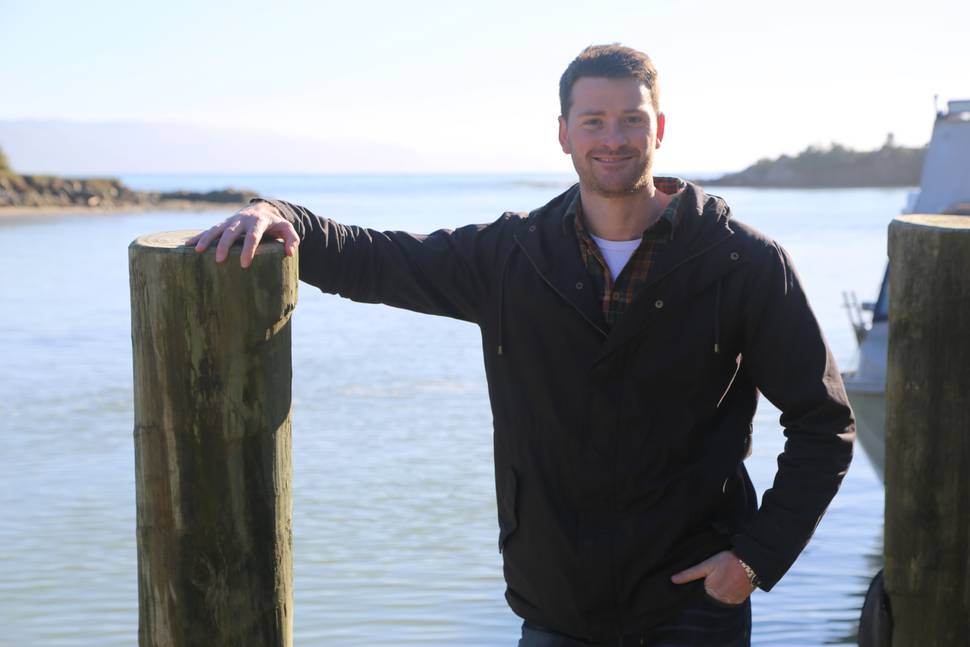 This lounge was where the passengers would have drunk cocktails while enjoying their views of the Marlborough Sounds. That day, swimming through the doorway, my torch revealed the remains of the cocktail bar with tables and chairs bolted to the floor looking frozen in time. We swam around the lounge taking in the spiral staircase and eventually working our way up and out through the windows on the port side of the ship. It was an incredible feeling to explore such a historic and iconic part of New Zealand's maritime history, and I can't wait until I get the chance to dive there again."

Jacky Geurts
Marine biologist, actor and stunt performer.
"I flew into New Zealand on a Sunday afternoon, coming back from my travels to Italy, and the next day I was on a plane to the South Island to start filming. Despite travelling the world, I had not been to the South Island. So it was exciting to travel all over the country and work with such fun and interesting crew and talent. From diving Fiordland's Doubtful Sounds in search of Black Coral to riding a motorbike along Invercargill's beaches during the Burt Munro challenge, every moment was one to be cherished.
One of the best moments for me was seeing Bottlenose dolphins in Doubtful Sounds, something, as a marine biologist, I had dreamed about seeing for years. I loved hearing seals at night while on the boat looking at the stars, and playing in the snow on our bus trip through the Fiords. I'll never forget our one night that we were sleeping on the boat, I woke to the captain running up the stairs (in his underpants) to turn off the fire alarm, as the burner had gone out and the cabin was full of smoke. Moments like that always make for good boating stories. Filming the series made me realise New Zealand is such a beautiful country with so much to see, that I feel excited about getting out and seeing more of it."

Riria Hotere-Barnes
Te Aupouri, Ngati Maniapoto, Ngati Wai, Te Rarawa, actor, historian.
"My memories of filming intertwine, weave together to create an experience like no other. I remember flying high over frozen peaks in Fiordland, clawing my way up and down dirty trenches and retracing the footsteps of my ancestors at Kororipo pa, shooting a real-life musket and visiting Waitangi for the first time in my life. Uncovering middens hundreds of years old and witnessing a waka, a taonga to its people, being preserved.
Behind the scenes, I have favourites, too. I acknowledge the film crew with whom I worked, who helped keep me safe throughout our filming and whose guidance and humour proved invaluable to me. I feel like I'll have some unbelievable, incredible stories to share with my mokopuna when I'm older. If Coast New Zealand is about the stories
we tell about our whenua, Aotearoa, then we have scratched the surface. We have so much yet to reveal."