Today is the 10th anniversary of the deaths of the Kahui twins, Cris and Cru. In March, to mark a decade since their births, Anna Leask revisited the tragic tale of the twins.
Two schoolboys walk along the footpath in Mangere. They are about 10 years old, give or take a few months. They chat animatedly and laugh and one jumps on to the other's back.
They scuffle a bit - in that boisterous-but-matey way boys do - and carry on walking.
Down the road are two other little boys. They, too, would be about 10 years old. But these two never made it to their first birthday.
Their names are Chris and Cru Kahui, twin brothers who died violently a decade ago and are buried together at the Mangere Lawn Cemetery.
Tomorrow marks the day the twins should have turned 10.
Perhaps there would have been a party with friends and family, a cake - maybe one each. The lounge might have been strewn with discarded wrapping paper from gifts; maybe PlayStation games, Lego or remote controlled cars.
But the only toys the Kahui boys have are ones they will never play with: faded police cars that sit at the foot of the headstone that marks their grave.
READ MORE
• Toddler's death 'no accident'
• Chris and Cru: The fatal 24 hours
• Macsyna's world
• Kahui twins book: blame on Chris
• The Kahui twins: Murder - and the cover-up
• Chris Kahui a father again
The only Christmas tree they will ever know is the faded plastic miniature that sits on the marble above the plaques that bear their names and the inscription "forever love and never forgotten" followed by "moe moe ra" - rest in peace.
The issue of child abuse reached fever pitch in 2006 when Chris and Cru died. They were 90 days old and suffered horrific injuries. Their deaths shone a spotlight on our shocking rates of child abuse. There were Government-ordered reviews and task forces.

Never again, we collectively vowed. Since then, 60 other New Zealand children and babies have died as a result of non-accidental injuries. At least half of those were fatally abused, either once or repeatedly and systematically, by someone who was supposed to be protecting and caring for them.
New Zealand has the fifth-worst child abuse record of 31 OECD countries. On average, a child is killed here every five weeks. In the last half of 2015, Child Youth and Family recorded 8800 cases of child abuse and neglect.
We will never know how life would have played out for Chris and Cru Kahui, but one thing is certain - they should be alive today. The babies were born on March 21, 2006 at National Women's Hospital in Auckland.
Their mother, Macsyna King, then 29, had an emergency caesarean section when she was 29 weeks pregnant and despite being born two months early, Christopher Arepa and Cru Omeka Kahui were healthy little boys.
They were transferred to the Kidz First neonatal intensive care unit at Middlemore Hospital and spent about six weeks there before they were strong enough to go home.
They were discharged on May 7 and were taken home to the Mangere house where their parents lived with other family members.
The boys' paternal grandmother, Gwen Hetaraka, was the tenant of the Housing New Zealand property but she was admitted to hospital with pneumonia the day after the babies came home.
In the weeks after their discharge, Chris and Cru were seen seven times by health professionals and no injuries were noted and no concerns raised.
One nurse recorded the boys were "both doing nicely" and described them as "beautiful babies" who had put on weight and were "in very good condition".
Another reported the babies were "thriving" and being fed and looked after properly.
She said King was interacting with the babies well, picking them up and kissing and cuddling them.
That all changed on Monday June 13. The boys were just 85 days old when they were admitted to Starship Children's Hospital with traumatic brain injuries. Five days later after their life support was withdrawn, both boys died - Cru at 5am and Chris at 6.45pm.
It would then be revealed both infants had severe brain injuries, the result of blunt force trauma, and Chris had a broken femur.
The injuries could not be accidental, experts ruled, and a murder investigation was launched.
The twins' father, Chris Kahui would eventually be charged with murdering both boys but after a high-profile trial in the High Court at Auckland a jury took less than one minute to acquit him.
Ten years on, and despite the findings of a Coronial inquest pointing squarely and solely at their father, no one has been held accountable for the death of the twins.
Their deaths shocked, disgusted and disturbed the nation. A decade later the reaction is the same.
A decade on they are a memory. They lie together in a single coffin in a grave they share with their great grandmother.
There are many paths Chris and Cru's lives could have taken.
The first leads to Mangere, where they lived during their short life. After the boys died their parents split up. Both have moved on. Had they stayed together, though, the Courtenay Cres house is what the twins might have called home.
Ten years on the street is much the same. Many homes are owned by Housing New Zealand, the tenants only residents of the street for a handful of years at best.
Had the twins survived, they wouldn't have been short of mates. Many yards have evidence of kids - trampolines, bikes, balls, little items of clothing drying in the autumn breeze on washing lines.
A man who lives opposite "the Kahui house" has young ones aged 2 and 4. Their toys litter the driveway. The family have lived here for four years and the man says the street is a nice place to bring up kids.
It's quiet and there are heaps of other youngsters for them to play with.
Number 22, now occupied by three generations of a Samoan family, looks much the same from the outside - albeit a lot tidier than when it came to national attention.
The grass is mowed and tidy and out the back a well-used rugby ball lies on the lawn, waiting for its owner to kick it around after school.
Chris and Cru could have been pupils at Kingsford Primary School, just 450m from home. A neighbour says most Courtenay Cres kids go there and many walk to school together each day.
Her youngest daughter is 12 and attended the school. She would have been a couple of years ahead of the twins, closer in age to their brother Shayne, and probably would have played with them after school and on weekends.
Kids in the street often play together - usually on the road, which can be problematic - but the area is generally safe.
"There are some nice people here, lots of kids," she says.
She never met Kahui, King or the babies but knew they had moved in next door.
She remembers hearing from another neighbour that the babies had been killed and seeing police come and go from the house.
"I remember it. I was shocked and I felt quite scared at the time living next door," she says.
"They are always in our minds. It is so sad."
People who visit often quiz her on the Kahui case - did she know them, what does she think. "We always talk about them ... they could have been friends [with my kids]," she says.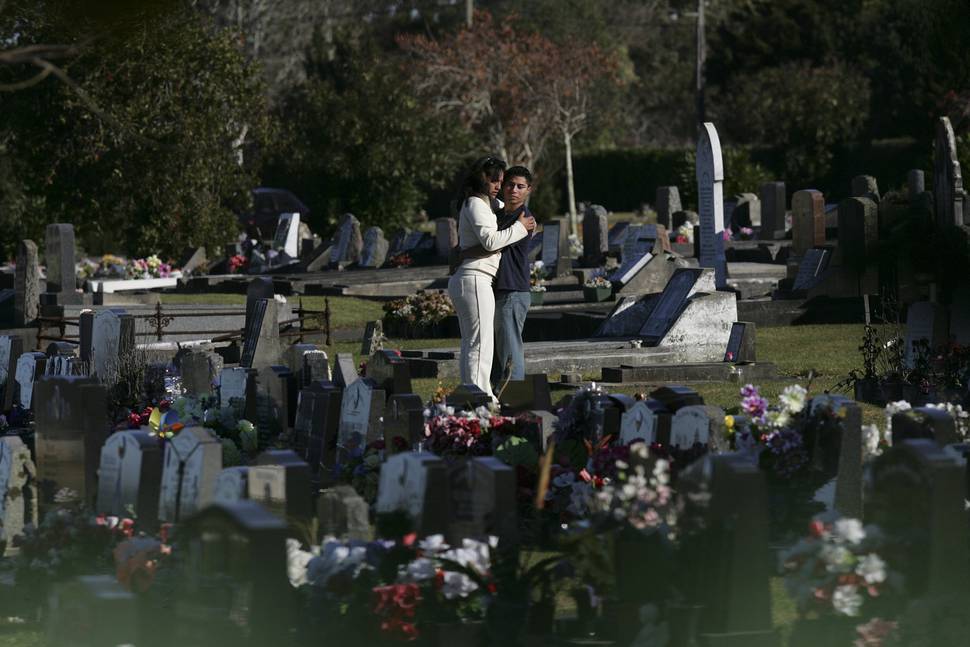 The second path would have taken Chris and Cru to Panmure, where their father lives.
After he was charged with the murders, Kahui was was taken in by Pastor Tom Ngapera from the Faith Family Baptist Centre. He went on to marry the pastor's daughter, Marcia, and the couple have a daughter who is about 7.
They live in a three-bedroom Housing New Zealand home in a quiet cul-de-sac close to Panmure's main street.
According to public records they live there with Tom Ngapera and his wife, Margaret. Kahui's father, Banjo, also lists the property as his address.
The humble red brick house has a large grassy yard, plenty of room for two little boys to tear around on bikes and play rugby or whatever else takes their fancy.
When the Herald on Sunday visited the house this month Kahui was tinkering with one of three cars parked on the front lawn.
He was nervous when asked to speak about his boys. He said he had difficulty trusting journalists and his lawyer had told him not to speak to anyone about the case or the anniversary.
He later provided a statement through defence lawyer Lorraine Smith, but would not be drawn any further on the twins.
"Every day I carry within me the sadness of losing my sons and knowing I will never see my boys grow up," Kahui said.
"I have got through the last 10 years with the help of my Christian faith and the support of my wife Marcia."
The third path takes Chris and Cru to Gisborne, where their mother has carved out a new life, family and identity.
For many years King, who turned 39 in February, has lived in Gisborne where she has a job in administration and is married.
A black-and-white photograph posted on her Facebook page last year shows the happy couple, both dressed in white, on what appears to be their wedding day.
Other photos show King with her husband and their children.
A childhood photograph of Shayne, her surviving child with Kahui, is also posted.
To protect the children living with her, the Herald on Sunday has chosen not to publish King's married name or her husband's name.
King also refused to speak about Chris and Cru.
Her husband called the Herald on Sunday on her behalf. He did not want this story to be written, saying it was not fair to his wife to "bring up the past".
"Having this [anniversary] coming up is really hard. I am worried about her. She is not in a good place," he said.
"She has a job, she has got other kids. When she first came to Gisborne she couldn't even walk down the main street, she couldn't walk around town. No one would talk to her. Now people talk to her, no problem."
He said the twins' birthday was not something his wife or family would celebrate or talk about.
"This is really sad. It's something that needs to be left alone," he said.
"There are so many things that are positive for [King] now. This could really throw a spanner in the works when she has finally got her life back."
He said the way the boys died still troubled King but he felt it was time for her to move ahead with her life. He said she was "a beautiful person" who deserved to live in peace.
"She was never guilty ... her life has been topsy-turvy for years. It's just really hard.
"The boys are gone. We can never bring the boys back and she lives with that every day. What happened to them was really, really hard for her."
Audio provided by author and investigative journalist Ian Wishart from his recorded interviews with Macsyna King for the book Breaking the Silence.

Get help
If you see or hear about a child whose safety and wellbeing is in immediate danger, don't wait, and don't assume someone else is acting.
• Call police on 111 or Crimestoppers anonymously on 0800 555 111.
• You can also report any suspected child abuse, neglect, harm or maltreatment to Child Youth and Family on 0508 326 459.
• In tomorrow's Herald: The Government's new plan to solve our child abuse shame

THE MAIN PLAYERS
CHRIS AND CRU KAHUI
- the victims. Born March 21, 2006 and died 18 June same year.
THEIR DAD
- Sonny Christopher Kahui, known as Chris, now 30
THEIR MUM
- Macsyna Pono King, now 39
The twins were born 11 weeks early at National Women's Hospital in Grafton and spent five-and-a-half weeks in the neonatal intensive care unit at Middlemore Hospital's KidszFirst.
The boys were discharged on 7 May and taken to Macsyna and Chris' home at 22 Courteney Crescent, Mangere East.
22 COURTENEY CRESCENT OCCUPANTS
• Chris and Macsyne, the twins and their other son Shayne
• Shane Kahui the couple's 13-month-old son
• Mona Kahui, younger sister of Chris and daughter of Banjo
• Stuart "Stewie" King, Mona's partner who is also Macsyna's brother
• Cyene, Mona and Stuart's daughter born a month before the twins
• Chris' father and siblings lived about 10 minutes away in Clendon.

101 MAPLESDEN DRIVE OCCUPANTS
• William "Banjo" Kahui, Chri's father
• Eva Hetaraka, younger sister of Chris
• Elvis Kahui, Chris' younger brother
• William Kahui, Chris' younger brother
• Ray, William's boyfriend
Macsyna's sister Emily lived on Rollerson Drive in Papakura.

On Monday June 12 Macsyna left the Courtenay Crescent house after an argument with Chris.
While Macsyna was absent Chris' cousin April Saunders, her partner Shane Saunders and Banjo Kahui visited the house. Mona and Stuart were also there.

Macsyna returned at 9.30am the next morning and at that stage realised the boys were injured. Before she returned family members at the house had realised the twins were unwell and performed CPR. They discussed calling an ambulance or taking the boys for help.

Just before 12pm it was decided that the babies should be taken to a doctor. Chris and Macsyna went to McDOnalds on Massey Rd and then arrived at the Otahuhu doctor's surgery at 1pm.

THE INVESTIGATION
• Gopinath Nayar - the Otahuhu GP who first saw the boys after Macsyna found them injured. He ordered their immediate hospitalisation.
• Detective Sergeant Chris Barry - worked on the investigation into the twins' death and interviewed their father the day he was arrested and charged with their murder.
• Detective Senior Sergeant John Tims - now a Superintendent and top cop for Counties Manukau, he headed the investigation into the assault and then the death of the babies.
THE TRIAL
• Lorraine Smith - defence lawyer for Chris Kahui. Remains his lawyer to date.
• Marie Dhyrberg QC - lawyer for Macsyna King. She was never charged but was represented by Ms Dhyberg in court and at the inquest.
• Simon Moore QC - now a High Court judge, he was the lead prosecutor for the Crown at trial.
• Simon Mount - assisted Simon Moore at the trial, and went on to represent the Crown at the Coroner's inquest.
• Dr Patrick Kelly - paediatrician and director and clinical director of the Starship Child Protection Team.

THE VERDICT
Chris Kahui was found not guilty of the murder of the babies.
In 2012 following an inquest Coroner Garry Evans pointed the finger of blame for the deaths of the Kahui twins squarely at their father. He said the injuries suffered by Chris and Cru Kahui were "whilst they were in the sole custody, care and control of their father".