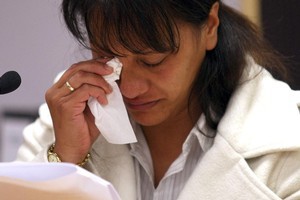 Macsyna King blames her former partner Chris Kahui for the death of their twin three-month-old baby boys, in a book to be released next week.
Breaking Silence: The Kahui Case, co-authored by journalist Ian Wishart, tells her side of the highly publicised deaths of the twins Chris and Cru from deliberately inflicted head injuries in 2006.
Their father, Chris Kahui, was acquitted of their murders in 2008 and no-one has yet been held accountable for the deaths.
The book, out on Tuesday, has sparked public outcry. A Facebook group calling for a boycott quickly attracted around 45,000 members and it has been banned by some retailers.
In the book Ms King details the moment she realised he was responsible for the twins' deaths in 2006, Fairfax Media reported.
"That f...ing c..., he's done something to my babies," she says.
The book claims Chris Kahui had the opportunity to kill the twins because he was looking after them while Ms King had gone out for the night.
She claims he frequently changed his story and lied about the last time he had fed the twins.
She says he was "evasive and resentful" in the days after the twins' deaths, withholding vital information about giving them CPR and refusing to accompany her to the hospital with the injured babies.
Ms King said she was now speaking out after being silenced for five years by the court process and Mr Kahui's right to a fair trial. "I was told just to stay quiet, to bite my lip."
She claims Mr Kahui's defence team deliberately tarred her in court in a premeditated character assassination to win his acquittal.
Ms King, now 34, had four children before the twins. She met Mr Kahui in Auckland when she was 27. He was 19. His upbringing matched hers in terms of violence and abuse, she says.
She admits neglecting her young children while bingeing on alcohol and dabbling in speed, cannabis and P.
She had six children to three men and admits neglecting the youngsters after discovering a thirst for alcohol and clubbing. The children would sometimes go without milk or nappies.
"I did not see anything wrong with my attitude or my growing taste for alcohol and parties. Every fibre of the good mother I had once been was draining away."
Wishart has said Ms King will not receive any royalties from the book.
Mr Kahui's lawyer, Lorraine Smith, dismissed the allegations as baseless and questioned the timing of the book's release ahead of a coroner's findings.
Mr Kahui was "deeply and seriously affected" by the twins' deaths and the court case and she did not think he would read the book.
- NZPA