Thousands of people are still without power in Otago.
Aurora Energy has confirmed that as of 11.30am, 1800 people are still without power in Otago.
There are 823 customers on the Otago Peninsula without power, 481 in Outram, 234 in Berwick, 100 in East Taieri, 79 in North East Valley, 50 in Anderson's Bay, and 30 in Aramoana.
All power has been restored in Central Otago, however.
Meanwhile, PowerNet chief executive Jason Franklin said power outages affected about 5600 customers in the region yesterday.
There are now less than 100 customers left without power, he said.
Earlier
The strong winds seen in the region yesterday should weaken today, however, and it will be mostly sunny with a high of 12C-17C.
It will also be a much colder day across Canterbury, Marlborough, Wellington and Wairarapa as a southerly from the Southern Ocean replaces the hot north-westerly seen yesterday.
At least 2500 remained in darkness overnight in the south, as winds downed and damaged power lines throughout the region and 7600 consumers lost power in Dunedin alone.
At least two vessels were torn from their moorings on Otago Harbour, and last night they were still unrecovered.
Flights were cancelled at Dunedin Airport, leaving hundreds stranded overnight, and late last night the cruise ship Explorer of the Seas was still at Port Chalmers waiting for the wind to drop, delaying about 3000 passengers and 1180 crew.
MetService duty forecaster Neal Osborne said a rapidly developing low off the east coast of the South Island, and a front that followed it, brought the strong winds.
The strongest gusts recorded were 152kmh at Taiaroa Head at 6pm and 7pm, while Goat Island, by Port Chalmers, had winds of 144kmh at 7pm.
Mr Osborne said the device that recorded wind at Dunedin Airport stopped working early in the evening, probably because of the weather, but recorded 124kmh gusts about 6pm.
Late last night, Aurora Energy marketing and communications manager Gary Johnson said hundreds in Port Chalmers, Berwick and Outram would be without power overnight.
Smaller outages were also affecting customers in Hampden and Moeraki on the Waitaki Network and those in Lawrence, Waihola and Clarks Junction on the PowerNet network.
Mr Johnson said lines staff were still working on outages at 9.30pm.
Road blocks have been put in place and homes are being evacuated after a burn-off in Canterbury went out of control in high winds.The fire was this afternoon threatening properties on Rowallan Rd and Deans Rd west of Darfield, near Christchurch.
"We understand the inconvenience that service interruptions cause and we will be working hard to restore power to remaining customers as soon as possible,'' he said."Delta crews are assessing damage and responding where it is safe and possible to make repairs.''
PowerNet chief executive Jason Franklin said power outages affected about 2900 customers on the network, but supply was restored to all but 675 last night.
The repairs could take several days, although linemen hoped to have the network fully functional today.
"It will depend on the extent of the damage but it's nowhere near as bad as what we had in September and October,'' he said.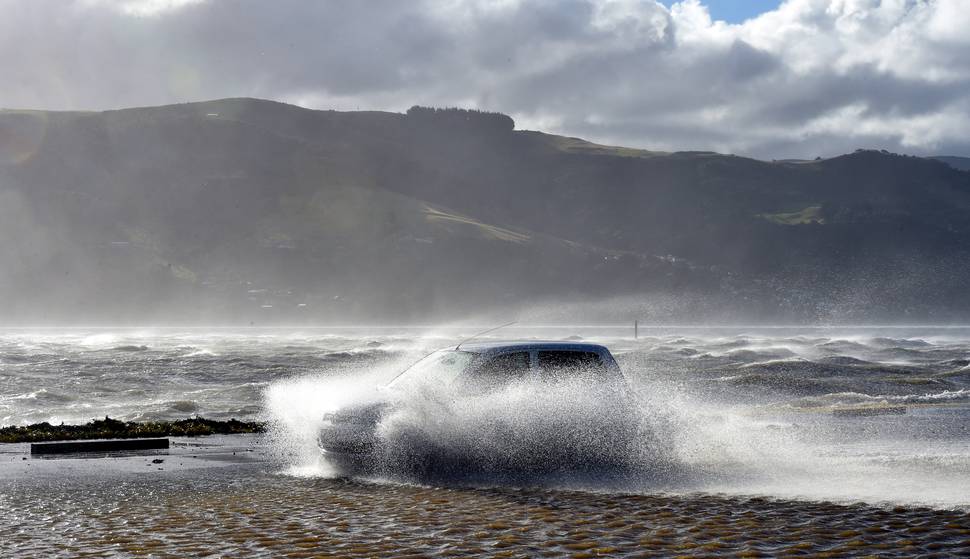 Waitaki Network chief executive Graham Clark said falling trees cut lines between Maheno and Shag Point. Lines staff were yet to locate the faults late last night and it was unknown how many customers had been affected, although it would number in the hundreds, he said.
Senior Sergeant Craig Brown, of Dunedin, said two boats, a catamaran off Portobello and a yacht in Deborah Bay, broke away from their moorings and late last night, both were still loose on the harbour.
On Otago Harbour, powerful waves whipped up by southwest winds made landfall at Macandrew Bay, flooding the road and washing debris from the harbour across both lanes.
Parks around the city were littered with broken branches .
A large pine tree fell on State Highway 1 near the summit of the Kilmog about 7.30pm, blocking the northbound lane, while trees also fell on the highway at Waianakarua, Lovells Flat and Herbert.
There was a temporary road closure in Herbert, but a Fire Service spokesman said all were being dealt with last night.
There were many jobs last night in Otago, including dealing with downed or arcing power lines, but none was major, he said.
There was, however, "a fair amount of damage''.
Dunedin Airport marketing and communications manager Megan Crawford said five departing flights, four Air New Zealand and one Jetstar, had been cancelled between 5.30pm and 8.10pm.
Two Air New Zealand flights arriving from Christchurch and one from Auckland were listed as cancelled over the same time period, as was a Jetstar flight from Auckland.
Ms Crawford said more than 400 people were affected by the cancelled departures, and she understood Air New Zealand had been helping with accommodation.
Air New Zealand could not be contacted last night.
The winds also caused disruption to flights at Queenstown Airport.
An inbound Jetstar flight from Auckland at 8.55am was cancelled, as were two inbound Air New Zealand services - one from Christchurch at 9.45am and the other from Auckland at 12.05pm.
The corresponding outgoing Air New Zealand flights were also cancelled, as was the 9.40am Jetstar service to Sydney.
Jetstar communications manager Phil Boeyen said passengers diverted to Christchurch had been taken by bus to Queenstown.
A Queenstown Lakes District Council spokesman said wind also caused a tree to fall at Arthurs Point, partially blocking the road, about 2pm. It was cleared by contractor Downers.
Rest of the country today
Auckland - as well as Northland, Waikato and the Bay of Plenty - will have a mix of sun and cloud today with a chance of a morning shower or two. It will be mostly dry, however, with a high of 23C-26C.
The eastern North Island will be fairly cloudly with colder winds and a high of 17C-21C, and the western and central North Island will enjoy a mixture of sun and cloud with winds from the south to south east and a high of 24C-26C.
Wellington will have cold southerly winds and passing clouds today, but nearby Kapiti Coast will see more sun and warmer temperatures. There will be a high of 16C-20C in the region.
Marlborough and Nelson will be mostly sunny, but Marlborough could see colder winds and perhaps more cloud. There will be a high of 17C-19C.
The West Coast will be sunny with southerlies and a high of 23C, and Canterbury will be cold and become dry throughout the day. There will be brisk, cold winds but these will fade out by this evening, replaced with northerlies overnight and tomorrow. There will be a high of 12C-16C.
Gary Johnson, marketing and communications manager for Aurora Energy, said at 8.30am today 2400 customers were still without power.
Crews had responded overnight by restoring power where possible and repair work was under way again.
"We understand the inconvenience that service interruptions cause and we are working hard to restore power to the remaining 2400 customers as soon as possible. Power was restored to 5250 customers overnight."
In Dunedin, power has been restored to all 4078 customers affected overnight in the areas of Burnside, Caversham, Concord, Abbotsford, Green Island, Sunnyvale, Fairfield, Waldronville and Ocean View.
Power has been restored to 569 customers in North East Valley, but 79 customers still don't have electricity.Power is also still out for 513 customers in East Taieri and 1188 customers in Port Chalmers.
Electricity has been restored for 278 customers in Berwick, but 65 remain without.In Outram, power has been restored for 320 customers, but 481 are still waiting.
Power has been restored for 488 customers in Anderson's Bay, but 50 remain without.Crews are attending in all of these locations.In Central Otago, power was restored last night to the up to 50 customers affected in Dalefield and Roxburgh.
WeatherWatch.co.nz said the damaging winds were above hurricane force last night.The winds hit over 150km/h in exposed parts of Dunedin and a report at Mid Dome - the top of a remote hill - reported a gust at 170km/h.It was just 8C in Dunedin at 8.30am today, but the worst of the winds have passed and a high will roll in across the region today.
Meanwhile, blustery cold southerlies up to 60km/h are still hitting Christchurch and Wellington but these will ease later this morning.
The North Island's east coast will be getting windier, colder weather from today but nothing like the damaging gusts seen yesterday in Otago and Southland.
Some inland areas of the South Island could get close to freezing tonight, signalling the frosts of winter are not too far away.
- Additional reporting: NZ Herald