A large-scale fire has broken out at a house located inside the Long Bay Regional Park, on Auckland's North Shore.
Auckland Council parks, sport and recreation general manager Mace Ward said the fire broke out at a council-owned house at the entrance to Long Bay Regional Park.
"The house was formerly a ranger's house but is now privately tenanted.
"The Fire Service is currently investigating the cause of the fire and council staff will be working to ensure the tenants are safe and have alternative accommodation.
"Any decision to repair or replace the property will be made in due course, once the extent of the damage is known."
Massive flames can be seen engulfing the property with black smoke billowing across the suburb of Long Bay and surrounding suburbs.
A Fire Service spokeswoman said they are considering it suspicious, but they did not know what caused it.
She said the house was "well ablaze", and six fire trucks are being sent out to combat it.
Fran Lietz, 13, was at home when she saw smoke.
"We saw some people walking over toward it. We called 111 and then walked down. There were a lot of people there.
"We could see flames through the fence and the trees. I thought it was a barbecue on fire.
"It was really hot, everyone was sweating."
Neighbour Sally Tasker said she could see smoke billowing from her house, and she went down with husband Mark to see what was happening.
"The house has gone up in flames. It's pretty damn awful, the house must be burnt to a cinder."
At 5.40pm she said she could still see smoke, and that the fire was "not getting marginally better".
Another neighbour, Margaret Brill, said the house looked like it was "completely gutted".
Another neighbour said the fire "caused a bit of chaos with people trying to leave the park".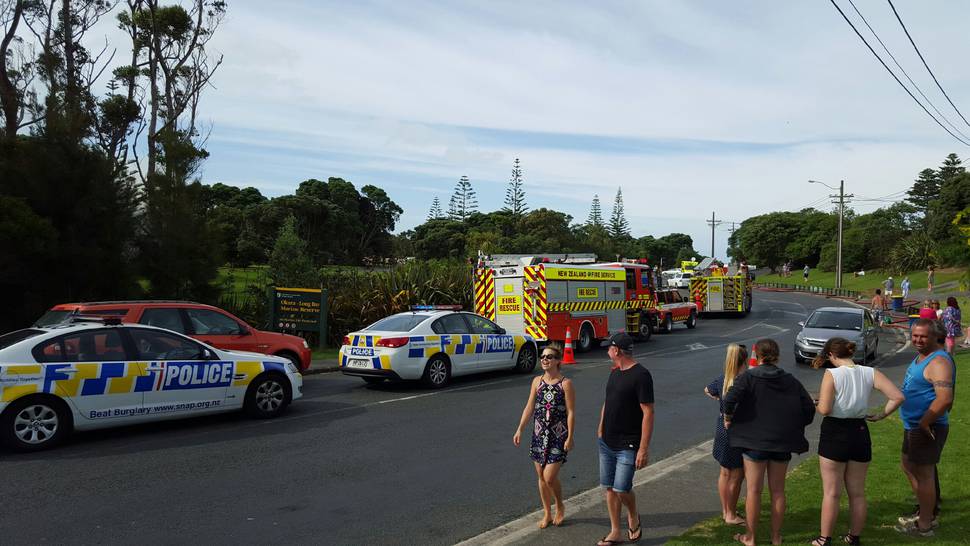 Mike Hall said he saw smoke coming from Long Bay Reserve from his house on East Coast Rd.
"I was taking my washing out, and we're a bit higher up and I saw smoke coming from the reserve down there."
At 6pm, he said the smoke was "definitely dying now".
Hans Pronk said the fire was coming from within the reserve.
"I was stuck in traffic so I got out of the car to have a look at what was going on, and I could see smoke and flames.
"It was the first house in the reserve, just past the bridge."
He said access to the park had been shut off but it was now reopened.
Mr Pronk said emergency services "looked like they had things under control".