Businesswoman Victoria Crone has been headhunted for the job by top National Party figures. She talks to Phil Taylor.
Victoria Crone means business. She's not in it for ego, she says. She just thinks she can do a hell of a job.
At 42, a solo-mother of two teenage daughters, a multi-sport competitor and boasting a corporate CV that features leadership roles with Telecom, Chorus and Xero, she is in the prime of her life. And that's what this Lower Hutt-raised, daughter of an accountant and a nurse, is offering Auckland - her best years. "It's now or never."
She has drawn up the pros and cons. "The list is equal," she tells the Weekend Herald. "There is as much upside as downside. I believe I can do it. I believe I have some very good skills. These are the best 10 years of my life and I want to provide that to New Zealand."
Though both are standing as independents, Crone is centre-right by experience and inclination and will be favoured by National figures, likewise Phil Goff and Labour.
Crone's name came up last year when National Party figures, including former president Michele Boag and, reportedly, two of John Key's ministers, Nikki Kaye and Paul Goldsmith, cast about for young blood. "Michelle and everyone on the right were looking for a winnable candidate," says Crone's UK-born, North Shore-raised campaign manager, Joe Davis. John Banks, the former mayor, Act leader and National cabinet minister, has since chipped in. "Vic has met and had really good advice from Banksy," said Davis.
Davis was in at the birth of Auckland Future, a new-right-of-centre group aiming to push past the old blue of C & R (Communities and Residents). Might Auckland Future endorse Crone at some point? "Maybe" says Davis.
Auckland Future's task will be to deliver Crone a power-base of elected centre-right candidates come October.
Crone may appeal to voters tired of those with long shadows in politics. "Someone called me a loveable Donald Trump," Crone exclaims. "I was like, "I'm not sure how you get to that!" While we are on the subject, she reckons Trump is running a "purposeful", headline-grabbing campaign that is exactly as he wants it to be. "He's playing into people's fears and there's two ways to play the game, hope and fear."
Her campaign recipe is hope, with a touch of fear - "which is, people are sick of paying more rates and of wastage in council".
A key council IT project - NewCore - has doubled to $157 million, she notes. "We can't afford that with the City Rail Link [estimated cost of around $2.5 billion]. The possibility for it to do so is huge."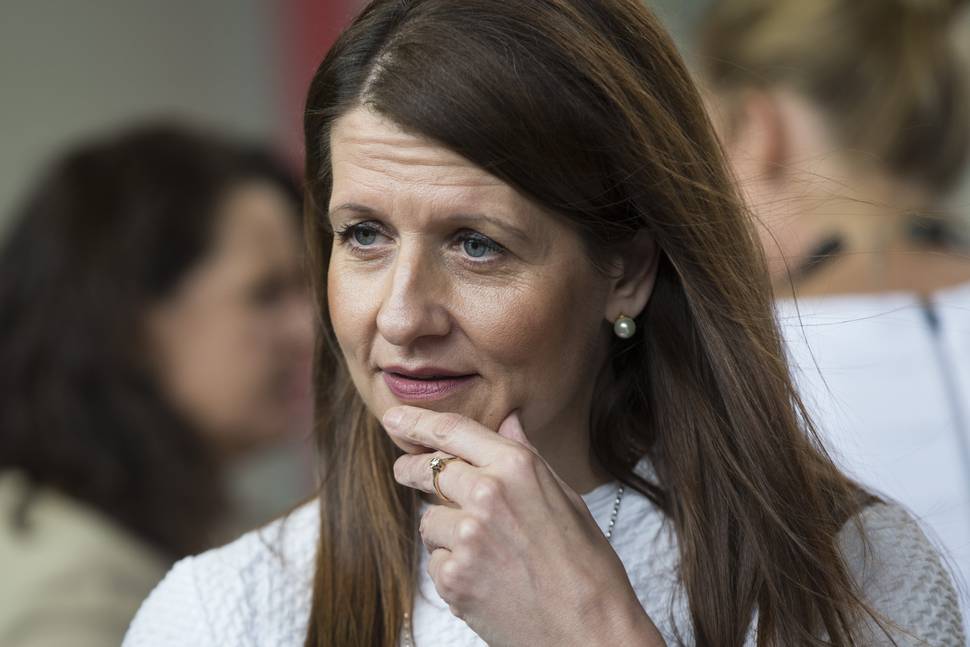 Crone has nine months to let Aucklanders get to know her, her style and vision. She paints the later with broad brush strokes, though it is probably a fool's game to get pinned down on specifics. She'd previously told the Herald that the port needed a look - "What sort of cities have major ports in prime real estate? None of the most successful cities." She now says change would come as part of a nationwide port strategy and take decades.
She is worried about housing affordability but doesn't mention any plan to change zoning to increase land supply. "I see the mayor's role as a champion for the city. So in areas where council doesn't have control, we really need to be influencing and lobbying [central Government]."
She talks in catchphrases about good governance, leadership, efficiency, adaptability, the need for fresh perspectives and for the city to be "in tune with the future". Her pitch is that Auckland may miss the [driverless] bus unless it has a leader who is chasing the future.
The changes brought by the internet revolution are just getting going, she says. In the next decades, drones, cameras and GPS will advise of traffic jams, turn lights red when emergency vehicles approach, monitor pollution and much more. Auckland should be on the pace of such change. Singapore, she notes, plans for driverless buses to make up a third of its fleet by year-end.
Though she never forgets the purpose of the interview, Crone is easy and obliging company at Muriwai beach where we shoot stills and video this week before settling at her beach house to hear her story.
She is from English and Irish stock, the youngest of three daughters of parents who worked their way up to comfortable middleclass. She was schooled in the Hutt Valley at Presbyterian St Oran's College - motto "Unless the Lord guards the city, the guard keeps watch in vain" - then at an exclusive girls' school in Melbourne, where the family moved for her father's job, then back to Victoria University which she left with top results in commerce, marketing and psychology.
Her upbringing made her aspiring and practical. "I can back a trailer!" she said. Family weekends sound like working bees. "We did everything, painted fences, landscaping. Everyone had their role, their bit to do." Her father, Roland, grew up in a rented house in Days Bay, her mother, Marvyn, in a state house. "They were so determined not to have that for us. They worked hard to give us a really good education."
Her father took his own advice, studying chartered accountancy at night school. He ended up as managing director of a manufacturing company. "I think I learnt a fair amount of my values in terms of hard work, always aspiring for the next step and creating more than the last person left you from my parents."
Crone loves the story about an ancestor, Georgina, who was a grocery shop proprietor in 1890s England. "Her husband didn't like it, as women didn't work then. She was an astute very straight-up businesswoman who worked really really hard.
"I think those kind of characteristics come through me. You get to understand that this drive that's in you isn't a fluke. It's generations of it."
During her university years she had jobs waitressing, cleaning, teaching piano and playing ambient piano music in apartment stores.
Being voted house captain by her peers at the smart Melbourne school provided her first leadership role. "I did enjoy that and I was quite proud."
She bought a house at age 24, a year after starting work as an analyst for Telecom, and let the other bedrooms.
Did she forget to have fun? "I went out, I went drinking, I had parties," she laughs, "but I had my eye on the prize. I was looking to achieve the next thing so I didn't do my OE."
That can wait, she says, till her daughters have flown the nest. Make that nests.
Weekdays, she, Megan, 15, and Mackenzie, 11, live in Crone's Parnell apartment. Weekends - kids' sports commitments allowing - they retreat to the house at the beach with its big David Trubridge lampshades and picture windows framing an idyllic Kiwi view across the golf course to the breakers.
It's a light, casual and airy place where even Milo the dog chills a notch or two. Crone's parents are just 10 minutes drive down the road, having moved three years ago to Waimauku.
Crone, who owns a watch that does everything including assess the quality of her sleep, arrives for our meeting in the family wagon loaded with mountain bikes.
She talks about life balance, getting the mix of work and home right, and about how everything is a chance to grow, including the break-up of her marriage to the girls' father a decade ago, a "curve ball" that has made her more resilient, which in turn has made her a better leader.
She has done well in senior executive roles in marketing and sales at Telecom and at communications infrastructure company Chorus and was at Xero, maker of online accounting software, for less than two years when she resigned to run for mayor. "She was starting a great career," said Xero's Rod Drury, after Crone announced her candidacy.
"That's a big call, right? We were surprised ... If she wants to go and do God's work, we have to let her. It's a tough thing. I wouldn't do it." It can't be the money, though her recent appointment to the board of Contact Energy (which pays $126,500) will help keep the wolves from the door.
An ego trip? "No, not for me," says Crone. "I'm very intrinsically motivated. I don't kind of look for reward and external validation."
"I'm not a mainstream, status quo manager. I'm an: OK-we-have-a-job-to-do, where there's a big catalyst for change, some big plans are needed and I go and fix it."
"The reason I didn't go in at either CEO or councillor level is because my skill set is too strong. I'm a really strong leader. [You unite staff] through strong purpose and vision and that comes with really powerful leadership."
Flaws? "I'm too blunt. In my announcement speech I made reference to Phil Goff as a serial politician. Some said, that's not very nice. But it's like serial entrepreneur, it's just, serial."
Can she manage the bear pit of politics? "I understand there are big egos. I understand people are very dogmatic. However, I'm also quite good at being able to work one-on-one with people, understand where their drivers are, find out what needs to be done and find the intersection points."
And you can forget that she was made in Wellington.
"I've lived in Auckland 13 years now. It's my home. I'm here, I'm not moving, so I think I'm a Jafa!"
Race for City Hall
• July 15: Nominations open
• August 12: Nominations close
• September 16: Voting opens
• October 8: Election day