Hundreds of people gathered in West Auckland tonight for a vigil in memory of an elderly woman killed in a violent attack there last week.
The ceremony to remember Cunxiu Tian, 69, was held at the Te Atatu Baptist Church, a short walk through an alleyway from her home in Glenvil Lane.
People lit candles in her memory and said prayers.
Some arrived with flowers - beautiful blooms in all colours: single-stemmed roses in red, pink and orange, bright-yellow sunflowers and posies.
Actor Teuila Blakely carried a posie of white flowers.
Fellow actor Oscar Kightley was also present, as were members of the Fire Service.
Kightley said he wanted to show his support as someone who lived in the Te Atatu peninsula.
"It was such a shocking and awful thing to have happened.
"The peninsula is full of people who live on their own during the day."
The "shock and horror" at the murder had driven him to take part in the vigil, he said.
"Also I just feel for the family.
"The baptist church organising this with the police was a chance for us all to come together and collectively show our connectivity.
"We're all living in our little quarter acre sections but when something like this happens you do get that sense [of community]."
Te Atatu was "a village", he said.
"The community here really feels it and I can't imagine what it's like for the Tian family, grieving and what they're going through.
"Hopefully they'll see this and realise they're not alone."
Blakely, who brought a bouquet of flowers to the vigil, also said Te Atatu had a tight knit community.
"We're like a small town within Auckland."
Ms Tian's death was "unbelievable" she said, and had shattered people's view of the peninsula being safe.
"It's so important for us to cone together because we're the kind of community that see each other every day."
She hoped that "by coming together we can give the Tian family our love and support".
"And also for the community - we're here for the good but we're also here for the bad."
"We're more than a neighbourhood, we're all together, we're a family really.
"I can't get over the tragedy. It could have been anyone, that's what's so awful about it. I just hope that people out there get a sense of the type of community that we are."
People had become more safety conscious since the killing, she said.
"We want to feel safe, this is a beautiful neighbourhood.
"We wish all the most heartfelt, deepest sympathies to the family and if there's anything we can do I hope they understand that, as a community, we are here for them."
One woman who attended the vigil, who did not wish to be named, said she wanted to "show the family that we're here" and that "we do care".
"It could have been any of us, that's really a really big part of it as well," she said.
"My elderly mother-in-law has been living with me for a while and she would have been on her own all day as well.
"But it could have been me or my husband or anybody. It's such a random crime."
Tables at the front of the church were laid out for people to set their lit prayer candles on.
People of all ages and ethnic backgrounds paid their respects to Mrs Tian, including families with young children.
David Spackman, volunteer youth pastor with the church, spoke briefly to the crowd.
"This is amazing to see," he said of the large turn out.
"We just want to give our deepest condolences to the family, if they are here or anybody who knows the family.
"We are all here for you."
Mr Spackman invited everyone to light a candle, regardless of whether they were religious.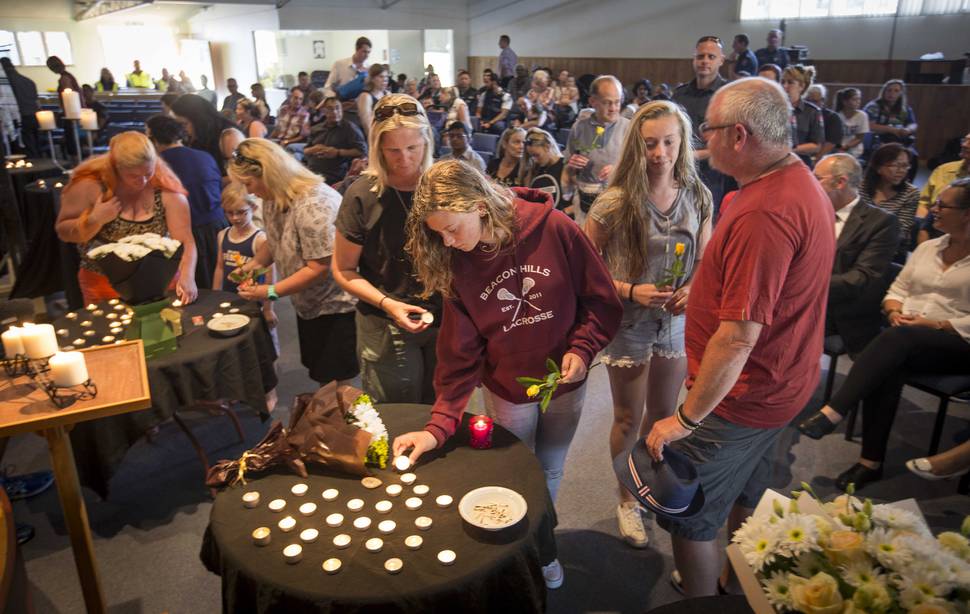 "Feel free to sit in silence, come light a candle, say a prayer, whatever it is that you do," Mr Spackman said.
A woman from the church also spoke to the gathering. She said the vigil was about coming together as a community "and saying we want to show love and we want to show support to this family, who are so hurting in our community".
She added: "It's about a family that we want it love an support."
A moment's silence was held at the end of the vigil, followed by the Lord's Prayer.
Police officers then led mourners on a silent march to Mrs Tian's home.
People outside a nearby service station and dairy stood in respectful silence as the crowd walked past.
At the house, mourners put flowers at the gate, beside a police patrol car that is guarding the entrance.
Melissa Fleming spoke to the crowd, saying: "We would like to extend our warmest condolences and absolute tragic sympathies to the family that are here."
The community was standing beside the family "100 per cent", she said.
Irene Razon, who attended the vigil with her husband Jay, and children Aira, 7, and Airus, 9, said they were "here to support the family".
"My condolences to the family and I hope that whoever did this crime [the police] will find the person, justice for the family."
Rosemary Smith said she came because "we're a small community and everybody sort of sticks together with everything that goes around here".
John Hubscher, a former member of the Waitakere Ethnic Board, said he felt compelled to go to the vigil to represent multi-cultural Auckland.
"I just felt it was the right thing to do," he said.
The Te Atatu he knew as a child had changed, he said.
"People come here to live, the more we can learn to live together, the better."
He added: "It would be nice if people just respected each other as human beings."
Milica Sale described the atmosphere as "solemn", and remarked on the "quietness of us all as we were walking down" to the house.
It was "freaky" that such a brutal murder could happen "in a little quiet cul-de-sac here in Te Atatu", she said.
"Hopefully this is solved," she said.
Shane Henderson, deputy chairman of the Henderson Massey Local Board, said the community had "really banded together tonight very strongly".
"I'm hearing a lot of people are door-knocking their neighbours and giving people phone numbers and things like that as well," he said.
Ms Tian's homicide was a rare occurrence, he said.
"This type of thing is unprecedented around here, I've never heard anything like this before."
Following the vigil and walk, Mr Spackman said he organised the memorial to "get the community together and show the family that we're here for them and show the community that we're here for each other as well".
He had "no idea" the turn out would be so large, he said.
"On Sunday we threw aroudn the idea of doing it and it has just gone from there really quickly, but it's been amazing the support we've had as well."
While there was a lot of nervousness and some fear in the community following the violent death, "we just have to show that we're not going to stand for it", he said.