Swathes of the beach at Waipu Cove in Northland are covered in smelly red algae, blighting the spot's usually pristine golden sand.
An image on twitter shows the algae coating much of the area where the waves hit the shore.
Sam McEwan, who posted the image, tweeted: "Super alien stinky red weed problem at Waipu Cove. Yick..."
Coastal engineer Andre Labonte, who also runs a bed-and-breakfast near the cove, said the algal coating was posing a problem to swimmers, surfers and those dining at the beachside restaurants.
"The surfers had to move to Langs Beach, as you just get covered in it if you try to move through it? When the stuff starts rotting, it will just be overwhelming."
Mr Labonte said that so far, locals had removed 350 tonnes of the as-yet-unidentified seaweed, which landed on the beach after the last lot of stormy weather three days ago.
"We think that this is just 20 per cent of the stuff," he said. "It will take three days to get all of it."
Mr Labonte said the patch of algae was 400m long, 25m wide and in parts a metre deep.
He believed such seaweed had first started arriving at Waipu Cove four years ago, but this latest batch was "by far the worst".
"Farmers in the area have never seen anything like it before."
Mr Labonte said that just before Christmas, another lot landed on the beach, but there was only around 50 tonnes of it.
Further out from shore, local divers and surfers have also reported seeing the seaweed deep beneath the water.
Camp Waipu Cove manager Anton Trist said it was frustrating to see first the poor weather and now the red algae put a dent in the busy summer season. "If we don't remove it, it will be bad for business."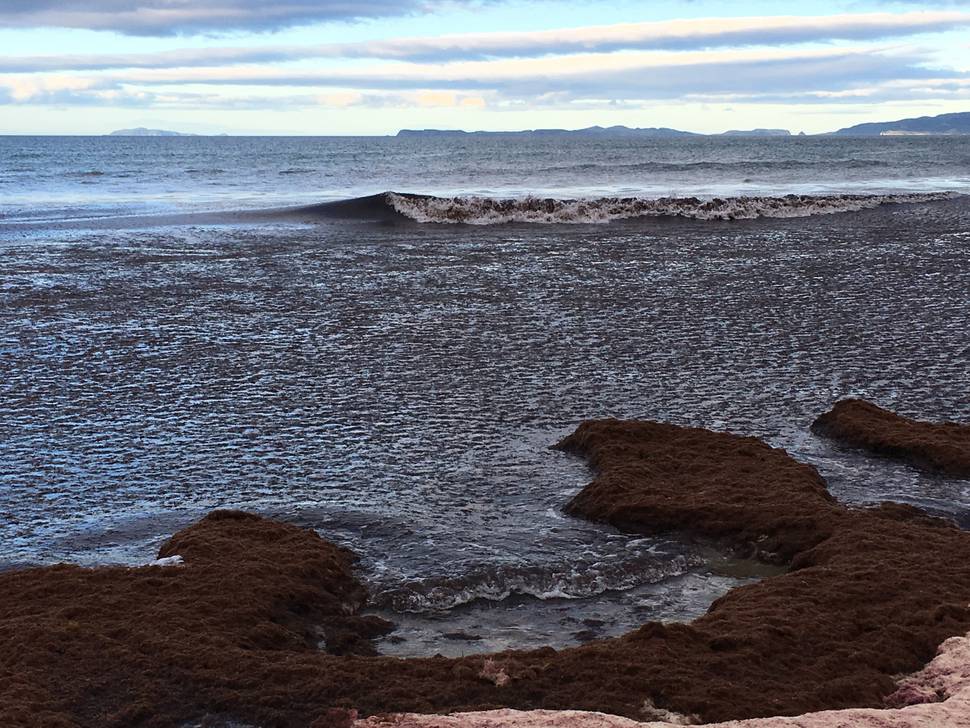 Mr Trist said a solution was needed to fix the algae, which had gotten "progressively worse" in his four years working there.
"It's a spectacular beach that's been tarnished."
Mr Labonte said that for a permanent solution to be found, researchers needed to establish whether something had pushed the algae's growth "out of balance".
The overproduction of the seaweed could be either due to the reduction in numbers of something that usually fed on it, he said, or there could have been an increase in its source of nutrients.
Mr Labonte said he planned to send samples and images of the red substance to an algae expert to try to solve the mystery.