High childcare bills mean returning to the workforce after having a baby can be hardly worth it. Social issues reporter Simon Collins crunches the numbers.
When nurse Sara Jones' paid parental leave ends eight weeks from now, she and husband Gareth face a serious dilemma.
She needs to go back to work to help pay the living costs of the couple's expanded family, which now includes 8-week-old Bryn as well as Amelia, 6, in their $400-a-week rental home in the West Auckland suburb of Massey.
But if she goes back fulltime, paying for childcare for Bryn plus after-school care for Amelia, and allowing for extra petrol, the family will be hardly any better off than they are on one income.
"I need to work financially because my husband's income is $200 short of our expenses," Mrs Jones says.
"But I simply can't afford to pay for childcare and work. I have to factor in petrol. At the end of the day you start to wonder why you bother."
It's a common predicament. A posting seeking feedback on the Herald Facebook page last week drew hundreds of responses, many from other parents for whom paid work simply isn't worth it.
"The more I earn, the less Working for Families [tax credits] we get and our childcare subsidy is also decreased, therefore I'd be going back to work for diddly squat and also giving up precious time with my children," wrote Danielle Fletcher from Gisborne.
From Taupo, working mother of two Renee Mihaere wrote: "We've [she and her partner] just been given pay rises and have spent the last few days contemplating not taking them as we're now not able to get the childcare subsidy. Basically all of my pay goes towards the girls attending daycare."
South Auckland mother of two Melissa Moe wrote: "I was working part-time during the week and studying fulltime but due to the costs of childcare I had to quit my job during the week and get a part-time weekend job and drop my studies to two days a week in class."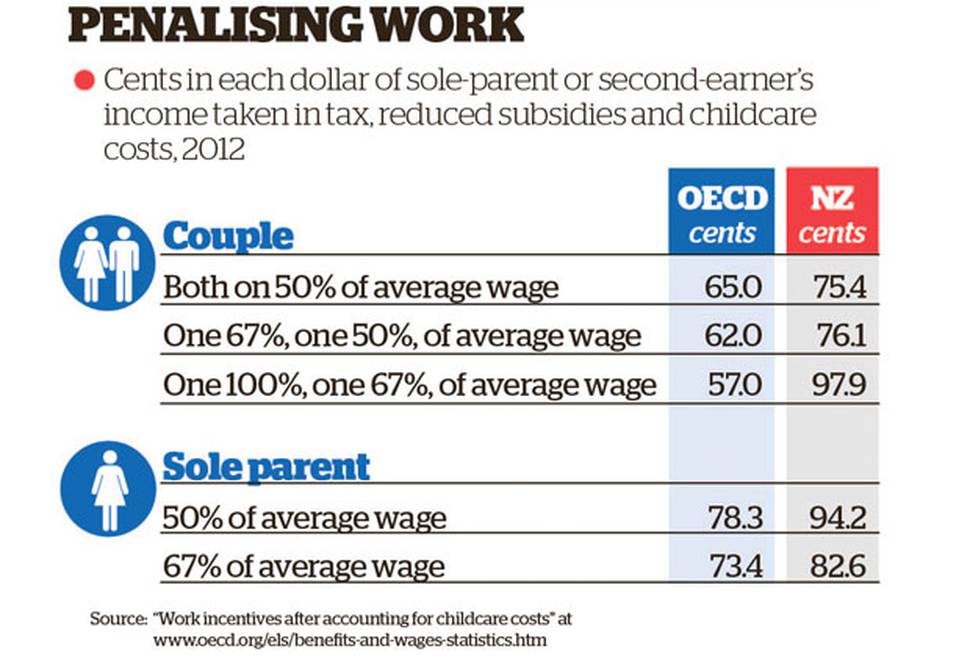 Her case, which came to light after the Herald asked for feedback on its Facebook page last week from parents facing high childcare costs, dramatises the perverse way our tax and subsidy systems combine to penalise parents going back to work.
Dominica Taani, 25, returned to her job in a freight company within a week after having each of her children now aged 3, 2 and 11 months.
Her husband, storeman Denver Taani, also 25, earns $650 a week after tax, leaving little left over after paying $460 rent for the family's three-bedroom house.
So Mrs Taani works too, making $800 a week after tax.
Ironically, their new baby Amanda now means that the second job is worth it, because their combined gross income is now below the $1800 cut-off limit for the Work and Income childcare subsidy with three children. Also, their oldest child has turned 3 and gets 20 hours of near-free care. Their childcare costs have come down to $270 a week.
But when they had only two children, their joint income was above the $1600 two-child subsidy limit, and both children were under 3, so they paid full childcare costs of $484 a week.
On top of that, Mrs Taani's income pushed them over the limits for both family tax credits and accommodation supplement. If she had stayed home, they would have been entitled to $200 a week in tax credits and $139 for housing in the smaller house they then rented at $380 a week.
And her job, and the need to drop the children at their childcare centre, added perhaps $40 a week to the family's weekly petrol bill which is now $120.
The net effect was $863 a week in higher costs - $63 more than Mrs Taani's $800 net income.
The family lives frugally with just one car. Luckily both parents work in the airport area and they use a local airport childcare provider.
"We wake at 7am. Our children are at daycare by 7.30am, I drop my husband at work at 7.45am and I start at 8am," Mrs Taani says.
"I finish at 4.30pm, pick my husband up at 5pm and the children at 5.30pm. When I took the job I made sure there was no overtime. When he has overtime he takes it and gets a lift home with someone from work."
Despite the pain of childcare costs until recently, the family expects the situation to ease as the younger children reach age 3 and eventually start school.