Support from near and far for victim
[Graphic content warning]
Brian Ross cannot find words to describe the pain he felt when his privates were ripped with a metal hook.
He knows he screamed f*** at the top of his lungs when 66-year-old Stephen John Docherty carried out a threat he had made moments earlier to "rip his balls out" following an argument in Kawerau on March 17.
But to this day, Mr Ross struggles to explain to others the level of excruciating pain.
In the Whakatane District Court this week, Docherty was sentenced to 12 months' home detention and 160 hours' community work and ordered to pay Mr Ross $7500 emotional-harm reparation after earlier pleading guilty to wounding with intent to injure.
The sentence handed down by Judge Louis Bidois has angered many, Mr Ross says, and left him disgusted with the country's criminal-justice system.
"My life has been changed forever and he gets to go home to his wife and live his life every day," Mr Ross said.
"He missed a major artery by a few millimetres - I honestly feel this guy came close to taking my life and he gets home detention?"
For the 50-year-old genial landscaper, who has given thousands of voluntary hours to the Kawerau community, it simply does not seem fair.
While talking to the Rotorua Daily Post yesterday, Mr Ross was unable to sit comfortably on his chair.
He broke down more than once while talking about the after-effects of Docherty's attack and struggled to regain his composure to keep going.
He does not appear to be angry, in fact he is still experiencing shock and disbelief three months after the attack.
"I'd done quite a few jobs for Steve [Docherty] during the past two to three years," Mr Ross said.
"On this occasion when I pulled up at his house, I thought he would have been rapt with what we had achieved that day.
"When he started nutting off I thought he was joking but after realising he was serious, I admit I told him to piss off."
Docherty went to his truck while Mr Ross and another contractor carried on with their duties.
"About three or four minutes later, I watched him walk toward me and didn't see a weapon, but the anger coming from him was incredible. He got right up in front of me, his face and his lips had gone white with rage, and he was shaking."
Docherty had a hand-made, flat, c-shaped, metal instrument with a sharp point in his hands, thrust it between Mr Ross' legs and pulled upward.
"And he just kept pulling it upward."
Docherty then withdrew the weapon and turned and walked away, leaving Mr Ross cupping his torn testicles in his hands and bleeding profusely.
"I was trying to push my testicles back into their bags as I called 111."
He was taken to Whakatane Hospital by ambulance and required surgery.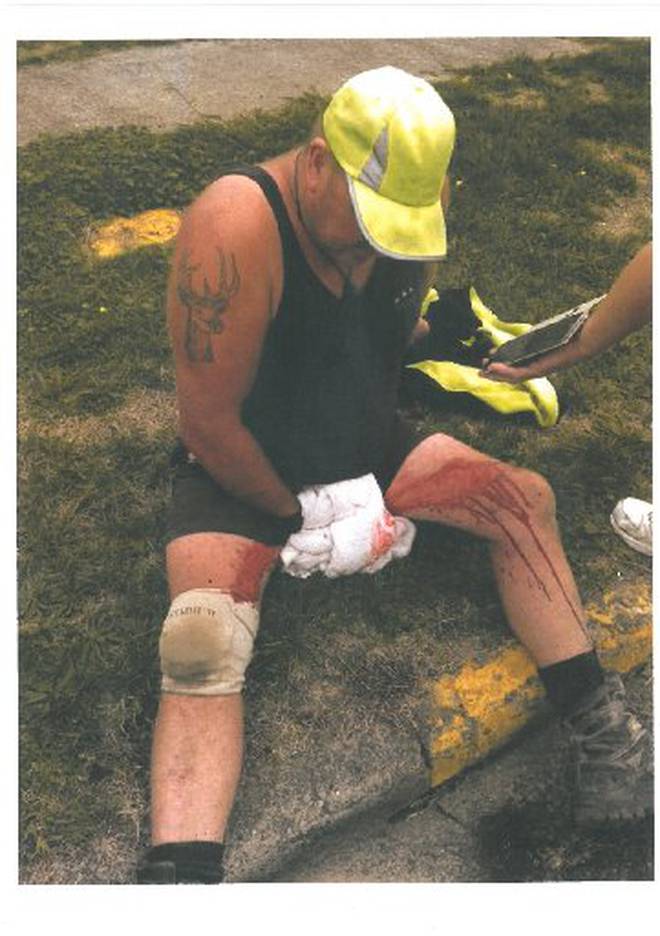 Since then, his quality of life has changed considerably.
"I've had to hire someone to keep my landscaping business going, blood poisoning resulting from the incident has left me with boils, and pain is never far away.
"I'm still struggling to get his [Docherty's] angry, angry face out of my mind."
Mr Ross is on a swag of medication and recently was referred to a psychiatrist to help him emotionally. But, he says, the overwhelming support from the Kawerau community and, more recently, from people throughout the land after he spoke on Radio Live, had helped a lot.
"I've had people ringing me up to express sympathy and to say the law is an ass, I believe someone from Kawerau has given a koha and others are following suit and I understand that chap McCready wants to talk to me."
Serial litigant Graham McCready, who took a private prosecution against John Banks which led to a trial, contacted Radio Live and expressed interest in talking to Mr Ross.
"I've been helping out in Kawerau since I got here 20 years ago so I guess know a few people."
Mr Ross has been a civil-defence traffic officer in the mill town, he has also given thousands of voluntary hours to Woodskills, the Tarawera Ultra Marathon, King of the Mountain and the World Rafting Championships on the Tarawera River.
"I've probably picked up more rubbish around this place than most," he said. "It's nice to know I have that local support and most people think of me as one of the good guys. It'll make the ongoing physical and mental effects from this attack a little bit easier to deal with."